Media Watch
1
Media City: Is Aguero PL's greatest striker?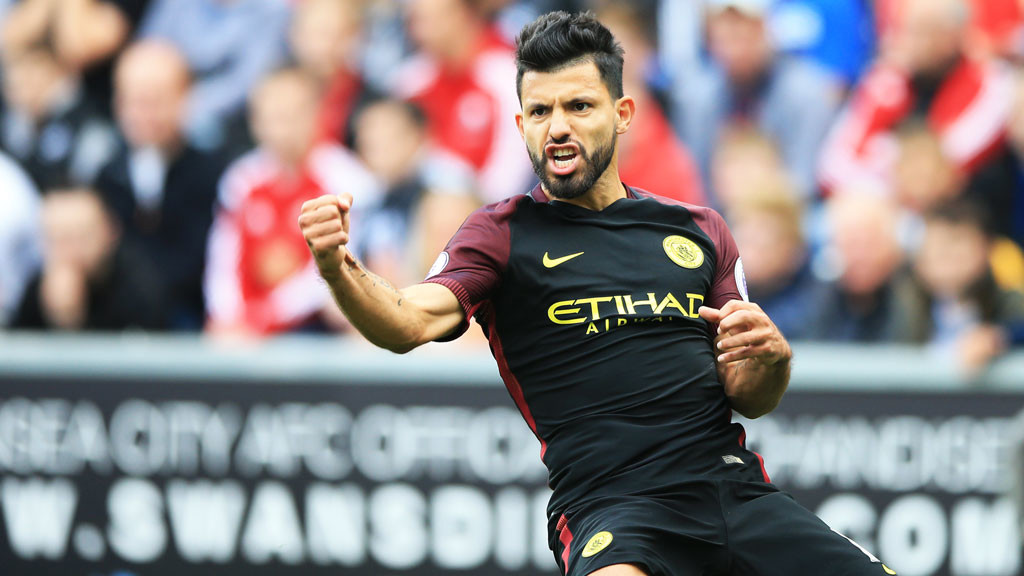 IN FORM: Sergio Aguero has been devastating so far this season
There's plenty of City copy to be found in this morning's papers and pixels as we build up to the return of the Premier League.
Sergio Aguero features prominently along with Kevin De Bruyne, while there is also high praise for an up-and-coming City striker from a Barcelona first-team star, plus a dash of Mario Balotelli and Roberto Mancini for your perusal.
Let's get to it…
First up the Daily Mail's international-break inspired series on the top 100 world footballers has reached its conclusion, with De Bruyne in at 12 and Sergio Aguero sixth – the top Premier League player in the list.
Journalist Adam Shergold reflects: "Few strikers, if any, can terrorise an opposition defence quite like Aguero. He is the quintessential defender's nightmare, a charged bundle of unpredictability, with finishing that's as sharp as a knife. What's most impressive about is the consistency with which he has delivered goals at the highest level in England and Europe.
"The goal tally speaks for itself - Aguero has 147 in 214 for Manchester City including 11 in half-a-dozen matches this season. Is Aguero the greatest striker the Premier League has ever seen? There is a very strong case to be made."
Continuing the 'best of' theme, the Independent's Mark Ogden has a go at picking his best Premier League XI, with City featuring heavily.
John Stones, Fernandinho, David Silva, Kevin De Bruyne and Sergio Aguero give his side a decidedly blue tinge.
He reasons: "For the engine room of this team, with four midfielders, you cannot look too far beyond Manchester City.
"Fernandinho has been outstanding – with the exception of a difficult afternoon at Tottenham – in defensive midfield, while Kevin De Bruyne had shown signs of becoming a new Gerrard before being injured earlier this month.
"David Silva is the best attacking midfielder in the Premier League, so the Spaniard would claim the number ten role."
Watch Aguero's Premier League goals against Swansea below
If those selections are for the here and now, there's some interesting quotes from Barcelona midfielder Arda Turan on future City prospect Enes Unal.
Emre Sarigul reports on Turkish Football: "Manchester City youngster Enes Unal has been lighting up the Eredivisie scoring six goals in six games for FC Twente.
"Unal has a total of seven goals and one assist in seven games for Twente in all competitions since joining on a one-year loan from City over the summer.
"The 19-year-old has drawn comparisons to the Bull of the Bosphorus – Hakan Sukur – and even a young Zlatan Ibrahimovic but if you ask us he looks wise he resembles Johnny Depp more than anyone else.
"Barcelona star Arda Turan became the latest player to shower Unal in praise on Turkish sports television show Beyaz Tv.
"Turan said: 'Unal is a player with amazing vision, he really does have broad vision and he is currently learning his craft and doing a great job.'"
Ex-Barca goalkeeper Claudio Bravo gets the analysis treatment in an in-depth BBC Sport column by former Everton Ladies stopper Rachel Brown-Finnis.
She reckons: "As well as shot-stopping, things like efficient communication and dominating your area are the other key skills you need as a modern goalkeeper.
"I would put distribution top of that list, however, because if you think about what skill is repeated the most during a game for a keeper nowadays, it is using your feet.
"Whoever you play for, keepers make more touches from back-passes or dead-balls than they do dealing with shots or crosses with their hands.
"I would class it is as a busy game if I made more than five saves, and it is the same in the Premier League this season where the average number of shots on target a team has managed per game is 4.3."
Plenty more on the tactics of goalkeeping via the link but, finally, Mario.
Roberto Mancini has given an interview to L'Equipe about his sometimes tempestuous relationship with the Italian striker – but it's clear to see the ex-City boss is fond of the enigmatic striker.
Mancini said: "I respect him a lot. I hope he understands that he has a chance to become a player of the highest level."
That's your lot for today, tomorrow, football!