Media Watch
1
Media City: 'Aguero is a special player'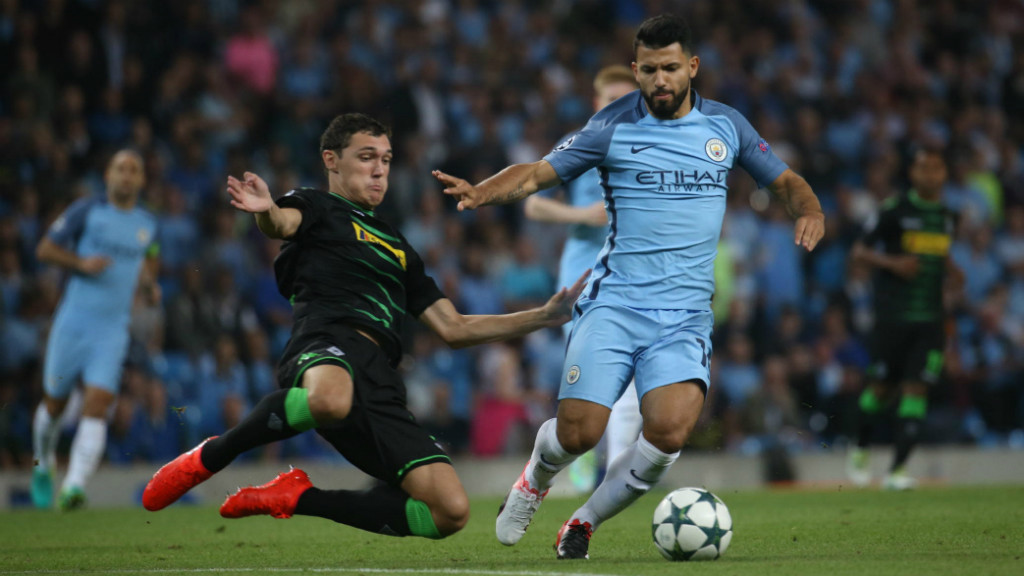 STRIKE FORCE: Sergio Aguero
The second Manchester derby in as many months provides the press with ample opportunity to fill out the papers and pixels ahead of the game at Old Trafford.
The potential for rotation for the EFL Cup fourth round tie sparked debate about possible team line-ups, while there was plenty of pick-up on boss Pep Guardiola's backing for star striker Sergio Aguero.
ESPN's Jonathan Smith reports: "Aguero is in the squad for City's EFL Cup clash with Manchester United on Wednesday and Guardiola praised the way he came back against Southampton after being left out against Barca.
"'Sergio played really well the last game. I want to be clear that I am so happy with Sergio, and hopefully he can stay for a long, long time here," he told a news conference.
"'When I said it depends on Sergio [when he leaves] it doesn't mean I don't want him to stay. I want, from deep in my heart, that he can stay here and play with us because he's a special player.'
"Guardiola has repeatedly said that Aguero can give more to the side, but the Spaniard has praised his commitment and says he wants to help him improve.
"'He is a striker who scored millions of goals in his career. I know the strikers depend on the moments, sometimes they're good, but we cannot forget how many goals he has scored for us,' he added.
"'And I'm here to help him. If the team doesn't win, for the short time I am here I think what can I help him to do individually and collectively. If we make mistakes they are my mistakes.'"
Take a look at every Aguero goal so far from this season here
Over at the Independent, chief football correspondent Mark Ogden believes Guardiola may opt to protect some of his first team stars from a hectic fixture list.
He reflected: "Despite the prospect of another failure to win – City last tasted victory away at Swansea on September 24 – Guardiola is wary of exposing his first-team players to excessive physical demands, with next Tuesday's Champions League clash at home to Barcelona set to be the sixth competitive fixture in 18 days.
"City's blossoming youth set-up has seen the club reach the FA Youth Cup Final in each of the last two seasons and Guardiola admits he has no qualms about selecting the likes of Pablo Maffeo, Alexi Garcia and Angelino at Old Trafford.
"'We are going to rotate,' Guardiola said. 'Some of them (youngsters and squad members) will play, first because they deserve and second because it was tough in last games.
"'We played 35 minutes with ten men against Barcelona and it was a tough game against Southampton. People are tired. I need to see the players in the training session and after I am going to decide.
"'They (Maffeo and Garcia) are with us and I am so happy about what they did when they played.
"'Even when they went to play in the second team, it is not easy when you train with the first team and play with the second team, they were really good.
"'Young players have to be involved in a good environment. To put 3, 4, 5 young guys in is not good because we have to protect them, but I am pretty sure we have the level to play and be good.'"
Ogden's predicted line-up for City tonight is as follows: "Manchester City (4-1-4-1): Caballero; Maffeo, Kompany, Adarabioyo, Angelino; Fernando; Sane, Alexi Garcia, Gundogan, Nolito; Iheanacho."
All will be revealed here on ManCity.com an hour before kick-off tonight!
Finally there was more praise for incoming striker Gabriel Jesus from Premier League veteran Gilberto Silva.
Guardiola himself spoke about the 19-year-old at Tuesday's press conference, and Silva told Goal.com: "England is a different environment. He will need time to adapt and it's important for him to come with an open mind to learn new things.
"This is what he needs to do in order to find himself in England. It has different weather, a different mentality. It's a great opportunity for him to become a great player."
We'll be back same time, same place tomorrow!