Media Watch
1
Have City resolved biggest worry?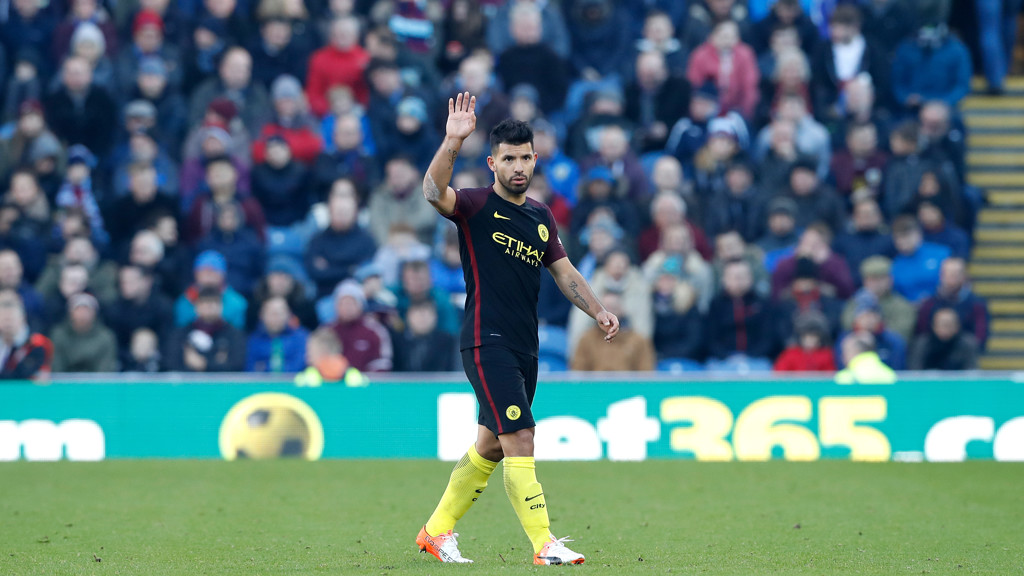 WAVE; Aguero waves to the City fans his two goal performance against Burnley at Turf Moor
The one thing we do know about Premier League football is that no matter what team you play, what location you play at or even what time of the year you play at. You will ALWAYS be in for a dog fight.
And this was exactly the case at Turf Moor yesterday afternoon as City managed to escape the Moors with a 1-2 win off the back of two goals from super striker, Sergio Aguero.
This morning, we take a look at what the papers are saying about yesterday's Premier League action as well as diving deep into the other news and gossip surrounding Manchester City and the outside world of football.
We start things off with the Manchester Evening News, where reporter Simon Bajkowski claims that "Man City resolve under Guardiola biggest worry for Premier League rivals."
Speaking about the boys in blue, Bajkowski continues with "under Guardiola, they really do fight to the end and to have come away with three points from games away at Stoke, Palace, West Brom and Burnley is no mean feat.
"Pep Guardiola wants improvements from his team but he must be happy with the resolve they have showed."
Bajkowski then goes on to focus a little more on the tactical intents of the manager; specifically looking at team rotation and movement.
"Changes were expected from City given they were coming off a European away game.
"John Stones and Ilkay Gundogan were both in the team against Gladbach, but it still raised eyebrows that they didn't make this squad given they were left out of the 18 at Crystal Palace.
"Guardiola talks about how he is still getting to know how his players react, and it may well be that the two need more time than most to recover; one is not used to the demands of the Champions League and the other missed the start of the season with injury."
Nevertheless, it was a massive win for City as we continue to stay right in the mix of things in a tightly contested Premier League season.
Moving on to the transfer rumour segment of our media review, The Mirror and The Sun are claiming that City "are all monitoring the situation of Arsenal midfielder Mesut Ozil.
"The German's failure to sign a new contract so far has alerted the Gunners' Premier League rivals.
"His current £140,000-a-week deal expires in 2018, and he is widely expected to put pen to paper on fresh terms worth £200,000-a-week."
The Mirror also claims that City are interested in young Austrian and Bayern Munich defender, David Alaba.
"The 24-year-old has been linked with a move to the Premier League in recent weeks, with United, Arsenal and Manchester City all touted as potential next destinations for the Austrian."
Finally, we head over to Goal.com where a one-off piece has been written that links City with Southampton defender, Virgil van Dijk.
"Pep Guardiola sees the Netherlands international as a long-term replacement for Vincent Kompany after a series of impressive performances in recent weeks.
"The Netherlands international has been in superb form for the Saints this season and has been linked with both Manchester United and Liverpool in recent weeks.
"But Pep Guardiola wants to step in ahead of his Premier League rivals and sign the centre-back as a long-term replacement for Vincent Kompany."
That's it from today's media talk but keep an eye out on the website today as we have a lot of video content coming your way from yesterday's win against Burnley.