Media Watch
1
Blues linked with triple North London raid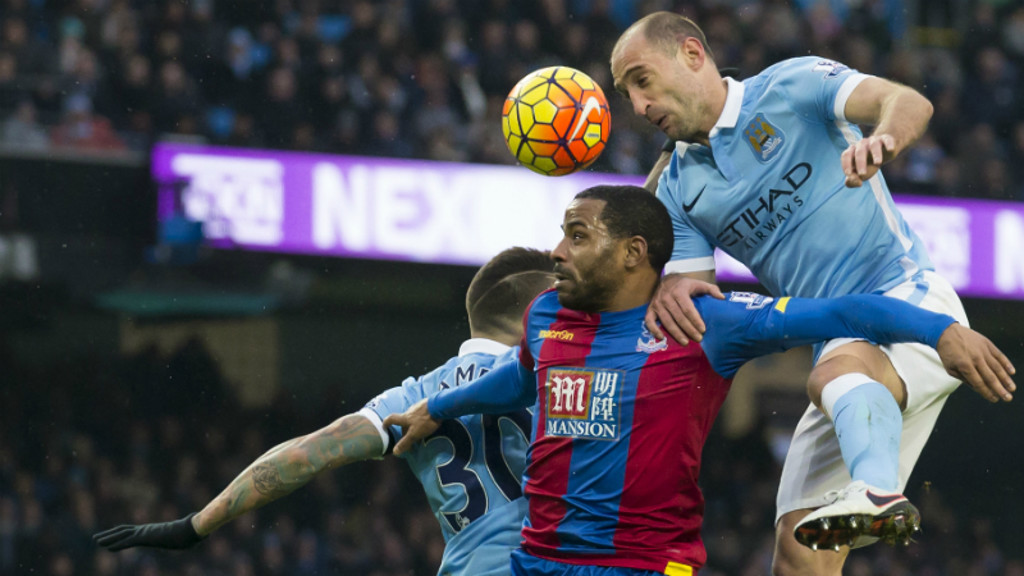 Pablo Zabaleta heads the ball
City are linked with a raid on some of North London's finest talent this Sunday morning.
Transfer speculation looks set to intensify over the coming weeks with the Blues changing managers over the summer but would two of City's title rivals would really allow some of their brightest talents to move north?
The Daily Mirror believe anything is possible. They write: "Pep Guardiola will move to the Etihad this summer and is already compiling a list of summer transfer targets.
"Jack Wilshere and Alexis Sanchez are central to his plans to dominate English football.
Wilshere has only featured twice for the Gunners this season due to injury, but Guardiola doesn't doubt his ability in midfield and is likely to see more of him at the European Championships.
"Sanchez would provide a huge boost to his attack having enjoyed another memorable season in north London with Arsenal who are said to be trying to sort out new deals for the duo but talks have stalled over wages.
"While Wilshere's situation is unclear, reports in Spain suggest Sanchez is keen on a move to the Etihad."
The Gunners' neighbours Spurs are also linked with a City raid in another Mirror story (via Caught Offside).
It reads: "Manchester City are monitoring Tottenham's Danny Rose, who they considering to be an ideal upgrade on their current left-back options.
"According to the Mirror, the Sky Blues are considering various summer transfer options, and that Rose is on their radar ahead of Pep Guardiola's arrival.
"The tabloid note that the Citizens are looking to boost their quota of 'home-grown' talent ahead of a campaign in the Europa League or—more likely—the Champions League next season.
"Following his fine season at club level for Spurs, Rose has broken into the England team, and also piqued the interest of City."
Meanwhile, the Daily Mail believe there is a possibility one of the Blues' longest-serving players may be set to move on.
Having spent eight years with City, the Mail believe Pablo Zabaleta could be heading for Serie A this summer.
They report: "Manchester City full-back Zabaleta is wanted by Roma.
"The 31-year-old is weighing up his options ahead of a key time in his career.
Zabaleta, who has played just 22 games for City this season following knee and calf injuries, is now expected to miss the Copa America with Argentina to undergo ankle surgery.
"He is keen to stay at City if he can play regularly under Pep Guardiola but accepts he may have to leave.
"His agent Federico Pastorello said: 'It's true Roma are strongly interested in signing Zabaleta. They are following him and we'll see if it's possible to seal a transfer in the next few weeks.'
"The Argentine joined City in 2008 and has gone on to play more than 300 games for the club."
Finally, Swansea's Federico Fernandez is aiming to stop his friend and compatriot Sergio Aguero ending his season on a high.
The pair have been exchanging messages via What's App and the Mail write: "Fernandez is keen to ensure Pellegrini does not sign off with a smile by keeping Aguero quiet and making a point to Argentina boss Gerardo Martino, who has left the former Napoli man out of his Copa America squad.

'Sergio and I are in touch and he is always very strong in what he has to say over text messages, but it will be good to see him,' said Fernandez.
'It is always a special challenge to face a player of his quality. He is a top player and marking him is always a difficult job.
'He is very quick over short distances and his movement around the area is difficult to follow, you have to have eyes in the back of your head.
'He is something special for sure, but it is important to do my best and perform as well as I can against a player like that.
'I love playing for my country and I want to do it again, and if I can do well against such top players it will give me the best chance to get back there.
'I will do my best to return and the only way to do that is to perform well.'"
Tomorrow we'll return to sift through the reaction to Manuel Pellegrini's final match in charge of City.