Media Watch
1
Daily Star: Toni Kroos is Pep's number one target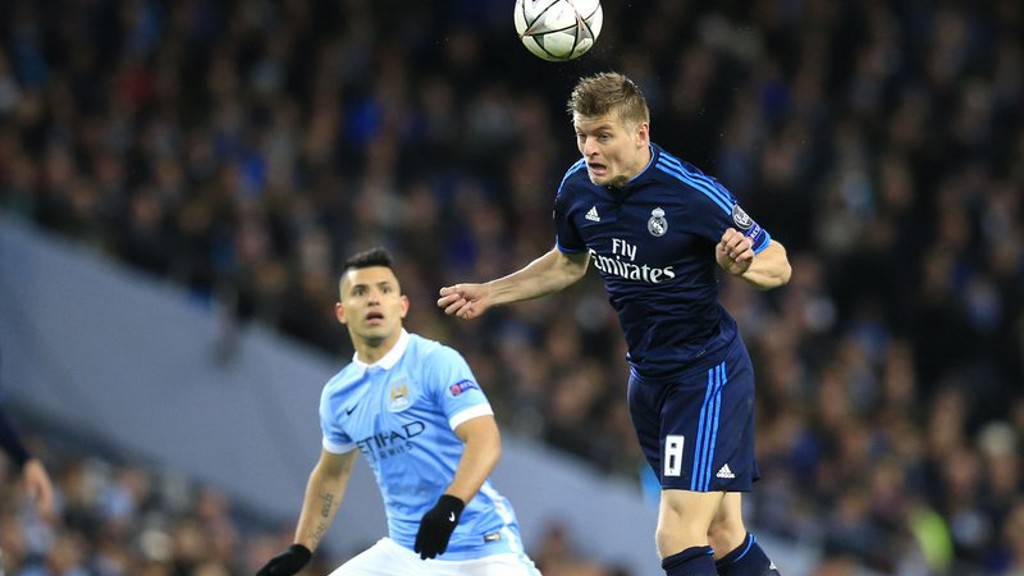 Bank Holiday Monday in the UK doesn't mean a break for transfer speculation and gossip - far from it! Here's some choice morsels carefully farmed from the paper and pixelated pages of the media to kick off your week.
"Incoming Man City boss Pep Guardiola has made Toni Kroos his number one target" declares the Daily Star's latest "exclusive".
"He wants Real Madrid's Kroos to link up with Ilkay Gundogan, 25, who is set to arrive from Borussia Dortmund for £18million.
"Guardiola worked with Kroos, 26, when he arrived at Bayern Munich three years ago.
"But he was powerless to prevent the player's move to Madrid a year later.
"Now they could be reunited at The Etihad as Real plan to sign Pogba from Juventus and look like having to sell Kroos to fund the transfer.
"Even cash-rich City have walked away from a deal for Pogba, 23, who is now valued at a world record £115m and wants a weekly wage of £325,000.
"Kroos has four years remaining on his contract in Spain and his current valuation is £37.5m.
"But City's £20m target Leroy Sane is set to keep Guardiola waiting.
"The German forward, 20, has another three years on his Schalke contract and will wait until after Euro 2016 before deciding his future.
"He said: "My goal is to be in the final Euro squad. I will make a decision after my time with the national team.""
"Raheem Sterling has turned to Dr Steve Peters, the sports psychiatrist, to improve his mental toughness ahead of Euro 2016 after seeing his England credentials hit by his record-breaking £49m move to Manchester City" reckon The Independent.
"Sterling, 21, is expected to be confirmed in Roy Hodgson's 23-man squad for the European Championships on Tuesday, with the England manager offering his public backing for the former Liverpool winger following his loss of form at club level towards the end of the season.
"But after working with Peters during his time at Anfield - Peters was employed as a part-time member of former manager Brendan Rodgers' staff - Sterling admits he has embraced the opportunity to benefit from Peters' expertise once again with England after linking up wit the national squad earlier this month.
""I feel alright," Sterling said. "Really it has been about me getting in a positive mind-set with the staff here, Dr Steve Peters, and getting my mentality strong.
""He has definitely helped me. I have been seeing him here with the national team. Most of the boys do.
""He just gets it into your head that mentality is key and a strong part of it is blocking certain things out and focusing singularly on your football.
"After making an impressive start to his City career in the wake of his acrimonious transfer last summer, scoring five goals in his first eleven appearances, Sterling was unable to sustain his form at the Etihad Stadium and ended the campaign out of the team, with manager Manuel Pellegrini favouring Spain international Jesus Navas.
"But despite the huge resources pumped into City's new training ground and the support staff available to the players, Sterling, who set up both goals during England's 2-1 win against Australia at Sunderland on Friday, admits he has missed the ability to work with Dr Peters since leaving Liverpool.
""He was with us at Liverpool and since I moved to City, I didn't have a chance to work with him," Sterling said.
""So since I joined up with England I have started speaking to him. It is a real bonus for me.
""The competition for places is really fierce. There are loads of players with ability here so no one can take anything for granted. That is one thing I am not doing.""
Following Saturday evening's fairly drab UEFA Champions League Final, the Manchester Evening News believe City's history making european campaign last season should not be dismissed.
"The underwhelming spectacle of the showpiece event should serve to offer a re-evaluation of City's performance in the competition.
"Reaching the semi-finals of the Champions League for the first time was an enormous step forward for the club but their exit to Real Madrid overshadowed the achievement.
"At the time, the drab nature of the performance in Spain left some supporters cheesed off - quite rightly - about the prioritising of a competition the majority are not overly keen on when it had resulted in throwing away the FA Cup and Premier League.
"The criticism of City was savage from many too, with fans and pundits condemning the tame nature of their last-four exit and Pellegrini having to reiterate that his side had actually tried to win the game.
"Even without mentioning that their run was easily the best from any English team in Europe this season, such a slamming seemed over the top at the time and looks more so now.
"It was far from a vintage attacking performance from the Blues over the two legs but those in the San Siro hardly got more bang for their buck over a long 120-minute final.
"Zinedine Zidane's gameplan challenged Atletico's modus operandi and large chunks of the game with the two teams cancelling each other out was exacerbated by the cramp numerous players succumbed to as it went on.
"Interestingly, tactics were largely credited with causing this unexciting game rather a terrible performance from either side. It was tactics that gave and then secured City's win over Dynamo Kiev, tactics that drove them to a quarter-final win against Paris Saint-Germain and tactics that saw them give the eventual winners a run for their money in the semi.
"Pep Guardiola has seen at Bayern that champagne football does not always win you the Champions League. Whether three semi-final exits in three years is success or failure is open to interpretation, but bosses at the Allianz seem content with his efforts.
"As the blue carpet is rolled out for the master technician at the Etihad, the team can take heart from their performances in all three knockout rounds as they look to go one (or preferably two) steps further.
"If Guardiola can make the team ever-presents in the latter stages, they will be firmly in position for glory and that will supercede any talk of style - just ask Real Madrid."