Media Watch
1
Sterling: I look up to Aguero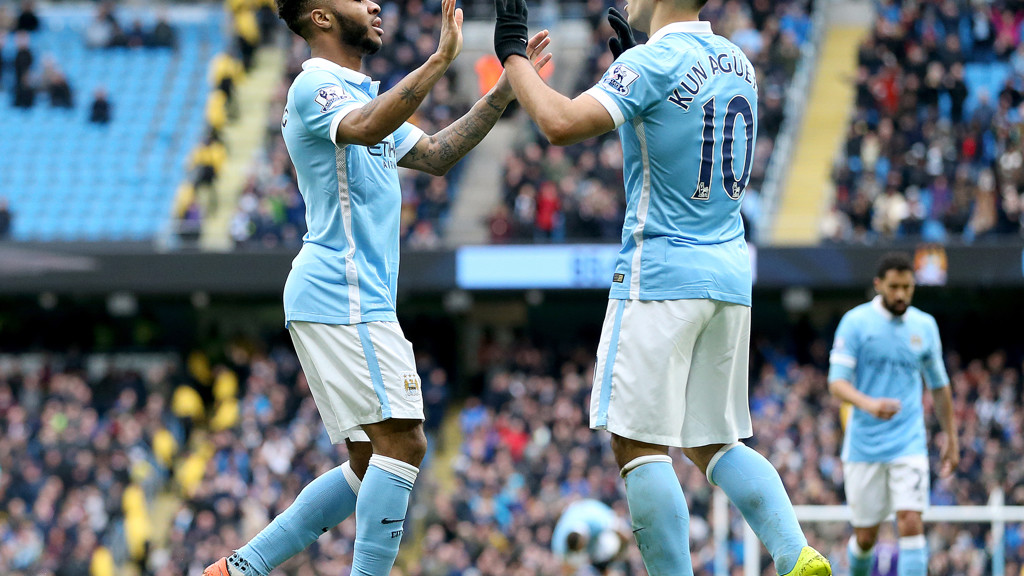 PARTNERSHIP: Raheem Sterling and Sergio Aguero celebrate a goal against Aston Villa.
Raheem Sterling on Sergio Aguero, City's title prospects analysed and a transfer rumour involving West Ham…
City's 4-0 win against Aston Villa is still making the headlines this week with the Manchester Evening News running an interview with Raheem Sterling from after the game.
The 21-year old scored 11 goals for City so far this season, including one in the victory at the Etihad, but Sterling says he isn't close to his personal target.
Raheem is quoted as saying: "It isn't near my target. But it's a personal target, not to put in the press.
"With ten games to go I have matched my record in terms of goals at Liverpool, which is 11 so far. Hopefully I can go on and reach the target I set myself for my first season.
"I could say a lot more on that (staying behind at training), but I won't say what I want to say. But I have been working on my finishing – it's something I want to do.
Obviously we have players in the team like Sergio who you can look at and improve your game, and it's no different for me.
"Every day I'm trying to improve the quality of my play, and hopefully I can continue.
"He is a world-class striker and someone I can look up to, so it's always nice to have someone like him you can watch and see how they finish."
The win against Villa closed the gap on City's title rivals and ESPN believe that the title race isn't over yet and City's big five and history could push them towards a third Premier League title in five years.
Sterling shines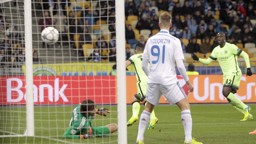 Jonathan Smith scribes: "City do at least have history on their side. They won their final six games of the season in 2012 and their last five games in 2014 to win the title on the final day of the season.
"While they would have to go even better between now and their final match at Swansea City on May 15, the Blues do have a relatively kind run-in.
"They have five fixtures against bottom-half sides, while the games against United, Stoke City and Arsenal are at the Etihad -- City still have the best home record in the league.
"One key statistic that could just swing the season in City's favour is that Pellegrini has his 'five big players' fit and available for the run-in.
"The City boss has always talked about the quality and experience of Joe Hart, Vincent Kompany, Yaya Toure, David Silva and Sergio Aguero.
"They have started just six games together in all competitions this season and City have won five of them.
"If they stay fit, the form book could yet be turned on its head and City could claim a third title in five years."
And finally, West Ham defender Angelo Ogbonna is reportedly a target for City in the summer, according to Off The Post via The Times.
The 27-year old joined the Hammers in the summer for Juventus and has made 18 league appearances this season and City are believed to be interested in the Italian defender, along with Manchester United.
Rob Parker writes: "West Ham United defender Angelo Ogbonna is a transfer target for Manchester United and Manchester City, according to The Times.
"Ogbonna, aged 27, had a shaky start to life in the Premier League but has looked increasingly assured as his debut season has worn on.
"It appears he has done enough to attract the attention of scouts from United and City."