Media Watch
1
Stones rumours rolling on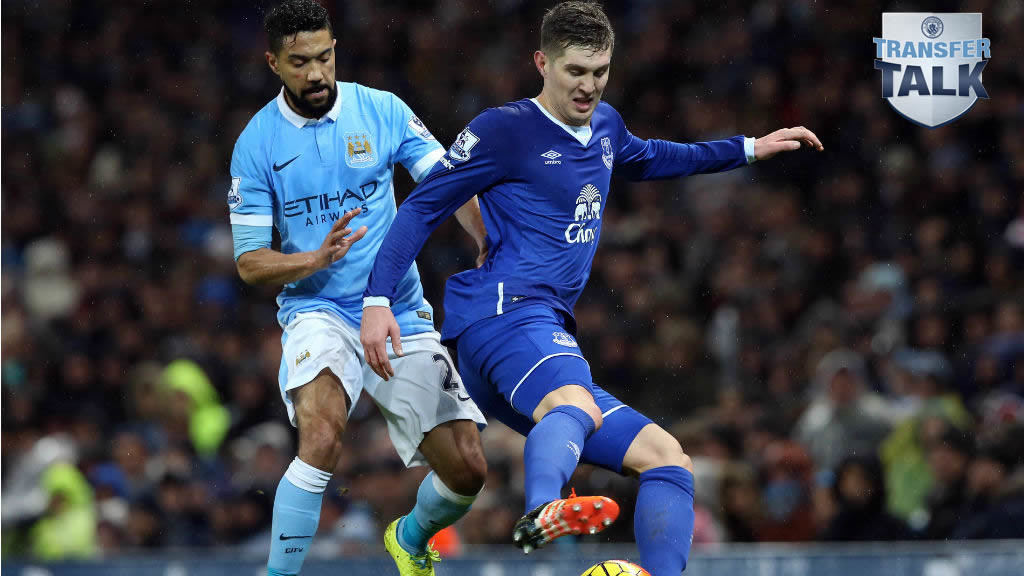 MORE RUMOURS: John Stones (right) in action against City's Gael Clichy last season
Rumours of a proposed John Stones move to City are cranking up again with a number of reports suggesting a deal could be close.
That juicy story is attracting most of the scribes' attention, but there is still space for articles on midfielder Ilkay Gundogan and Fabian Delph, and what they might bring to Pep Guardiola's side this season.
First to Stones and the BBC's Simon Stone, who writes: "Manchester City are in talks with Everton over the possible signing of England defender John Stones.
"A deal is yet to be agreed but it is thought the two Premier League clubs are not far apart in their valuations.
"It is thought City will pay about £50m to sign the 22-year-old former Barnsley player, who came close to joining Chelsea last summer.
"Stones was part of the England squad at Euro 2016 but did not feature as they were knocked out in the last 16.
"He made his debut for Barnsley in March 2012, 10 months before joining Everton for £3m."
IN OTHER NEWS: TEVEZ REJECTS CHELSEA
The Daily Mirror report that City are keeping an eye on a Serie A alternative to Stones.
David McDonnell reckons: "City are ready to switch their interest to Juventus centre-back Bonucci, regarded as one of the world's finest defenders."
Meanwhile, new City midfielder Gundogan has received a ringing endorsement from former Bundesliga rival Javi Martinez.
Goal.com report: "Bayern Munich midfielder Javi Martinez has likened Manchester City's summer signing Ilkay Gundogan to Spain legends Xavi and Andres Iniesta.
"The Germany international completed a switch to join Pep Guardiola at the Etihad Stadium back in June, and is expected to play a key role as the club look to challenge for the Premier League title.
"Gundogan missed a large chunk of the 2015-16 season through injury, and was absent from Germany's squad for Euro 2016 as a result, but Martinez has seen enough to convince him that the 25-year-old is one of the best around.
"He told Goal: 'I think Germany have a lot of good players. The most similar player to Xavi and Iniesta is Gundogan, but he has been injured. Germany also have many good young players; Joshua Kimmich, who had an amazing Euros, or Leroy Sane. So the problem [Germany losing the semi-final at Euro 2016] is not about the players, it can be as simple as sometimes you win, sometimes you don't.'"
With such competition in City's midfield ranks, it is no surprise to hear Fabian Delph is desperate to impress his new boss.
The England man is featured in an article by ESPN's Jon Smith, who writes: "Fabian Delph is looking forward to discovering just how new boss Pep Guardiola will take Manchester City forward.
"Guardiola has a reputation for attention to detail and closely analyses his opponents before each game to get his side prepared.
"It brought him huge success at previous clubs Barcelona and Bayern Munich, where he won a total of 21 trophies.
"The Spanish coach also closely evaluates the potential of his own players and will get a second chance to look at his squad in Thursday's International Champions Cup match with Borussia Dortmund in Shenzhen and Delph is keen to impress.
'"I've watched Barcelona and Bayern Munich play and I've been fascinated -- the way they adapt to play their opposition," Delph told a news conference.
'"I'm excited to play under this management and so long as I can help my teammates I'll be happy."'
That's your lot for today - keep an eye on our City Now feed for more rumours and updates as they happen.