Media Watch
1
Express: City on brink of £40m Sane deal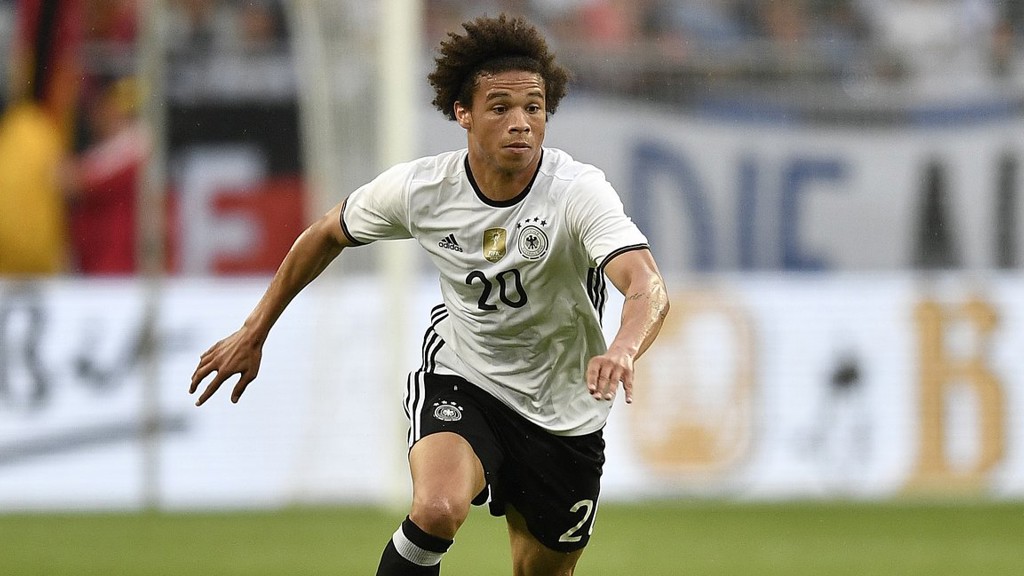 SANE: On his way to the Etihad?
City are poised to finally get their man as Leroy Sane's move from Schalke to the Etihad looks imminent.
That's what the Express' Joe Short reckons anyway in his latest piece which claimed the Blues' have tabled an increased £40m bid for the much-coveted winger.
"The 20-year-old will become the fourth new arrival at City after the club confirmed moves for Ilkay Gundogan, Nolito and Ukraine youngster Oleksandr Zinchenko.
"And City chief executive Ferran Soriano is confident of getting more transfers over the line before the start of the season.
""We believe with Pep we go one step forward in terms of tactical sophistication
""You need to change three, four or five players in a season. We have two new players, one more and maybe we're halfway," Soriano told BBC World before Zinchenko's announcement yesterday.
""There will be some more. Two deals are close, the other deals are fairly advanced. Some players don't want to announce anything until they (the Euros) are finished."
"Sane's arrival at City would be a major scoop for new manager Pep Guardiola, who appears intent on restructuring the squad's midfield and attack this summer.
"The Spanish manager has already ruled out a move for the likes of Barcelona superstar Lionel Messi.
""We believe with Pep we go one step forward in terms of tactical sophistication and playing beautiful football, which is what we want to do," Soriano added.
""It's not a massive change, just another step in the direction we want to go."
"Sane is currently with the Germany squad preparing for their Euro 2016 semi-final clash with France (Thursday, 8pm) and is unlikely to complete a switch to City until his tournament is over.
One player who has already made the switch from Bundesliga to Premier League is Ilkay Gundogan and our first summer acquisition can't wait to get started; offering an insight into exactly what Pep Guardiola will bring to the Club next season.
"I read in (Ibrahimovic's) book that he doesn't like (Pep). But he says he is the best coach he ever worked with. This is really special to read, but he is being honest. It is the same thing I heard from the players at Bayern Munich. They told me the same – that he can improve everyone. That is what is possible" quotes Jamie Jackson's Guardian piece.
"Ibrahimovic, of course, is now across town at Manchester United, where he will play for José Mourinho. The Swede adores the Portuguese but cannot stand Guardiola, adding spice to the already fractious Guardiola-Mourinho relationship. In Gundogan's case there is affection as well as admiration for City's new head coach. In early May the central midfielder dislocated a knee while playing basketball as a training warm-up exercise with Dortmund. This ruled him out of Germany's Euro 2016 campaign and caused Gundogan to wonder whether Guardiola was still intent on buying him.
"He said: "I was really curious about the reaction of not just Pep but of the club as well. What do they think now? Did anything change? Maybe they didn't want to buy me any more? But first we spoke on the phone, Pep called me, he asked me what happened. I told him, explained exactly what happened.
""I asked him if that changed anything and he said: 'No, definitely not, I am sure you'll be fit and ready in a few weeks or months, so for me it changes nothing. Of course, we need to see what the doctors say, but we still want you.' For me that was like the last sign I needed to say: 'OK, that is the right thing and this move is what I want to do.' Until now everything is going like we want. The plan was to return at the end of August, start of September and that's still the plan. No pressure from the doctors and everyone, but I want to be fit as soon as possible. So hopefully I want to be ready at the end of August."
"Gundogan will not begin training in earnest until that month so might he be targeting a return for the derby at Old Trafford on 10 September? "Could be," he said, with a grin, underlining his relaxed mood at Manchester City's Cityzen Weekend, where he was presented to close to 6,000 fans.
"Gundogan previously sustained a serious back problem that ruled him out for more than a year and also caused him to miss Germany's 2014 World Cup triumph. There are no concerns, though, regarding ongoing issues. "I had just one big injury. It was my back in 2013, when I was out for more than a year. When I had the surgery on my back it just took three months and then I was back on the field. Maybe it was my mistake not to decide on surgery earlier, but it is like it is. Now I have no problems with my back. Of course, there is the knee now, but normally I am someone who will play and has no problems with muscles or anything else. I think it will not be a problem for the future. I am quite sure."
"Gundogan cannot wait to start playing again. "Right now I am in the most exciting place on earth maybe for football," he said. "It's going to be a big fight next season in the whole Premier League – not just Manchester City and United. We have a lot of expectations."
"The acquisition of Gundogan, who will wear No16, signals how Guardiola's City are to play. This is a move from the Yaya Touré-centred wham-bam attack model to a craftier pass-and-move game. In this, Gundogan's ability as a schemer will be key.
"He said: "My favourite position is something between No6 and No8, being creative, like a playmaker, to take the ball and give it to my team-mates, to create chances, to create positions. I love to have the ball and play with the ball."
"He also likes scoring. "If I have the space, I recognise the space, I like to take the ball and go straight to the goal, if there's a chance to create something then I'll do it."
"He points to three Barcelona greats as players with a similar style to his. Of the first two he said: "Xavi is not playing at the highest stage any more but he and [Andrés] Iniesta were the best of their time, and Iniesta still. I don't expect anything, but expect that I could get to another level and to improve myself a lot."
"The third is Guardiola himself. "Definitely. I like to have the ball first of all and to pass, these short passes to create the space at the right moment. It is something which will fit really well," he said.
"City appointed Guardiola to take the club into the rarefied air occupied by Barcelona, Real Madrid and Bayern Munich.
"After reaching the Champions League semi-final last season for the first time, this means now going on to actually claiming the trophy.
"Can Guardiola do this? "It could take time, but of course it's possible," Gundogan said. "Anything is possible. I think Pep knows what he has to do and what he has to change. That's why he is the best coach on earth for me at the moment. He will know exactly what he has to do. He will bring us to the best level we can play."