Media Watch
1
Eurosport: Alcantara in 'advanced talks' with City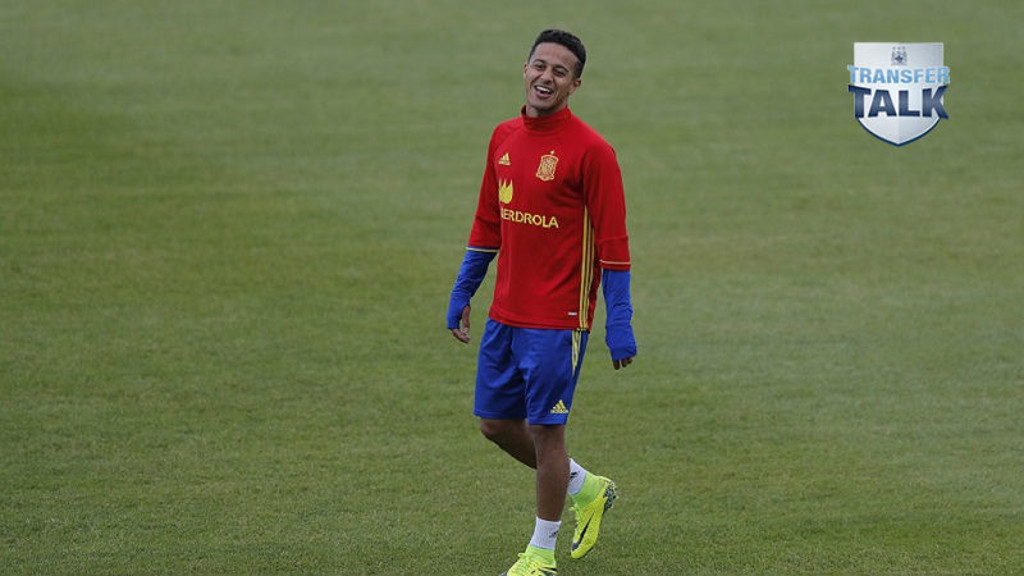 As Pep Guardiola's reign officially begins, so the transfer rumours crank up a notch
Today's is Thiago Alcantara from Bayern Munich with a couple of outlets claiming the Blues are keen to bring the midfielder to Manchester.
Eurosport (via The Sun) write: "Manchester City are attempting to bring Thiago Alcantara to his third club under Pep Guardiola. The report says that the Bayern Munich midfielder has been involved in talks between Guardiola and Munich, with the new City manager working hard to get a deal over the line.
"Alcantara got his debut under Guardiola at Barcelona, before following him to Bayern Munich. Both share the same representation in Guardiola's brother, as the former Bayern manager is said to be a 'father figure' to Alcantara."
The Daily Star follow a similar lead: "Spanish publication El Confidencial claim the new manager is ready to work with the 25-year-old at a third club after taking him to Germany from Barcelona in 2013.
"City have already signed Ilkay Gundogan from Borussia Dortmund but he wants to completely overhaul the squad he inherited from Manuel Pellegrini.
"The reports claim Fernando and Fernandinho are most at threat of losing their places but Yaya Toure is now set to stay and see out the final year of his contract at the club.
"Alcantara has struggled with injuries during his three seasons at Bayern, but that has not put Guardiola off making a swoop for the Spaniard.
"He has made just 79 appearances since his move from the Nou Camp, scoring nine goals in the process."
Looking ahead to this evening's Euro 2016 quarter-final between Wales and Belgium, Vincent Kompany believes the Red Devils can overcome The Dragons this evening.
Reuters quote Kompany saying: "Our squad is on a cloud right now and the players have every right to be positive about our form going into the quarter-finals, and about our chances of going much further in this tournament.
"The Wales team will not need to watch a lot of videos before the game, because they know us so well - and we know them so well too," Kompany added.
"Our games in qualifiers were very close and the last team to make a mistake was us, so you learn from your mistakes.
"In that sense I think and I hope it is advantage to us this time."
Continuing the theme, an interesting feature on Sky Sports this morning suggests how England might learn from Belgium's example in the years to come.
The whole piece is too long to reproduce here but well worth a read as a former Belgium youth coach reveals how the Red Devils gave young players such as Kevin De Bruyne the time to develop whereas perhaps England are less patient.
It reads: "Belgium's golden generation might have been identified early but they weren't all teenage superstars. In fact, Kevin De Bruyne and Thibaut Courtois were seen as late developers.
"Adam Bate spoke to Belgium's former Under-15, Under-16 and Under-17 coach Eric Abrams to discuss the dangers of judging talent too early – and the lessons English clubs can learn
'Everybody knows this is an important age for player development physically,' Abrams tells Sky Sports.
'For me, we have three fantastic examples in Belgium to show that late developers are very important to look after - Thibaut Courtois of Chelsea, Kevin De Bruyne of Manchester City and Dries Mertens of Napoli.
'We knew they were talented ones but they needed some time. These examples show the value in looking after these players.'
"Courtois and De Bruyne always made good decisions. Physically, they couldn't compete but their decision-making was excellent and you could see that.
"Now English clubs are realising this, too.
'I remember when we organised these sessions in Brussels for the late developers, there were always one or two scouts from Manchester City because they loved to see these players,' says Abrams, now working as the technical director of Football Federation Australia.
'They now have bio-banding tournaments for late developers, so English clubs are aware they are losing a lot of players. When you look only at those who've had their growth spurts, you miss out on a lot of talent.' Games such as those at Southampton could help make that a thing of the past. And England's answer to Kevin De Bruyne might not be far away
Finally, with our new website launched this morning and new badge beamed on to the front of the Manchester Town Hall, it's been a momentous few hours for the Club who also unveiled Nolito as the second summer signing.
The M.E.N report: "Manchester's Town Hall was lit up in Manchester City colours this evening as the club officially launched its new crest.
"The circular badge, first revealed in December after a month-long consultation with fans , was projected onto the side of the iconic Manchester building at 10pm to signal the beginning of a new era at the club.
"Replacing the Eagle badge which had been the club's crest since 1997, the Etihad Stadium has been decked out with the new badge this summer and it will be worn on next season's kits for the first time.
"Club officials including chief executive Ferran Soriano were among those who braved the pouring Manchester rain to attend the event in Albert Square.
"And it kicked off a weekend of festivities which will see the doors to the City Football Academy thrown open for a huge fan festival."
More of the same tomorrow!