Media Watch
1
Guardiola and Wenger styles compared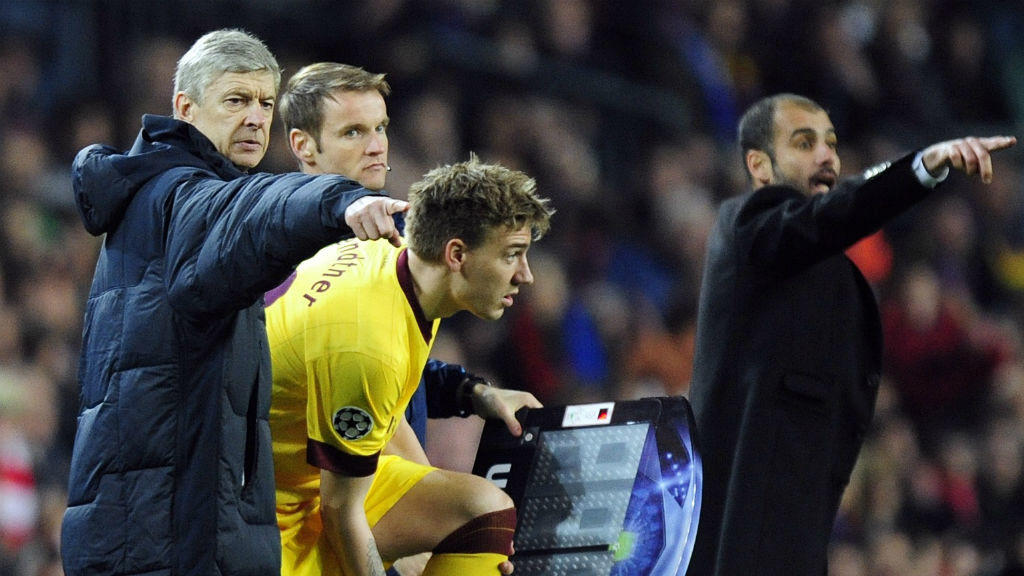 OVER THERE: Wenger and Guardiola dictate to their sides during a previous meeting
Manchester City come up against Arsenal on Sunday afternoon in a meeting between two of the most respected managers in the game.
Naturally, much of the focus ahead of kick-off at the Etihad Stadium has been on the relationship between Pep Guardiola and Arsenal boss Arsene Wenger.
First, Wenger has encouraged Guardiola to insist upon his style of play throughout his time at City in order to introduce new ideas to English football.
As reported by ESPN, he said: "People are always resistant to radical change, but they are as well ready to cope with it if it's successful. Our job is to always accept that you want your own philosophy but at the right pace.
"Sometimes you have to analyse what's going on and to bring in your own philosophy at the pace where you think they can cope with it. Every manager has a personality, and he can only act within his own personality. You cannot copy a manager, you can only be who you are."
There are many similarities between City's coach and the Arsenal manager, as the Independent discuss.
Jack Pitt-Brooke writes: "When the two managers meet Wenger will see something of his younger self in the 45-year-old furiously trying to impose his futuristic football vision onto the English game. And Guardiola will see a man who did that so well that he has three Premier Leagues and six FA Cups to show for it.
"It is Wenger's success, more than anything else, that has opened up the English game to the ideas of foreign coaches. Every foreign manager to come here since 1996, including Guardiola, is in his debt.
"The question, then, is whether Guardiola can do at City what Wenger did at Arsenal. Can he get his team to play his exciting expansive new style, and win in a way that no other team has won in England before?
"No-one expects Guardiola to still be City coach in 20 years' time, but if he is to emulate Wenger's success, if not his longevity, he may need to know what to build on and what to burn. In football, as in life, there is no such thing as a blank slate."
Elsewhere, City midfielder Kevin De Bruyne has also been talking about life under Pep Guardiola.
Speaking to Sky Sports, De Bruyne said: "I think he's a very good coach. Obviously he has a different view than a lot of people, especially in England.
"His way of playing is very different than a lot of teams in England, and I think English media and other people are trying to get into him or change his way of playing, but he's never going to do it anyway.
"So they ask him the question of whether he's going to change his playing style, but he does what he does, and I think he always sticks with it.
"I think you have to do that as a coach, you have your style of playing and I think the way he wants to play is very positive. So in that way it is very good."
That's all for this morning's round-up, we'll have more throughout the day on mancity.com!