Media Watch
1
ESPN: Pep facing Champions League squad headache?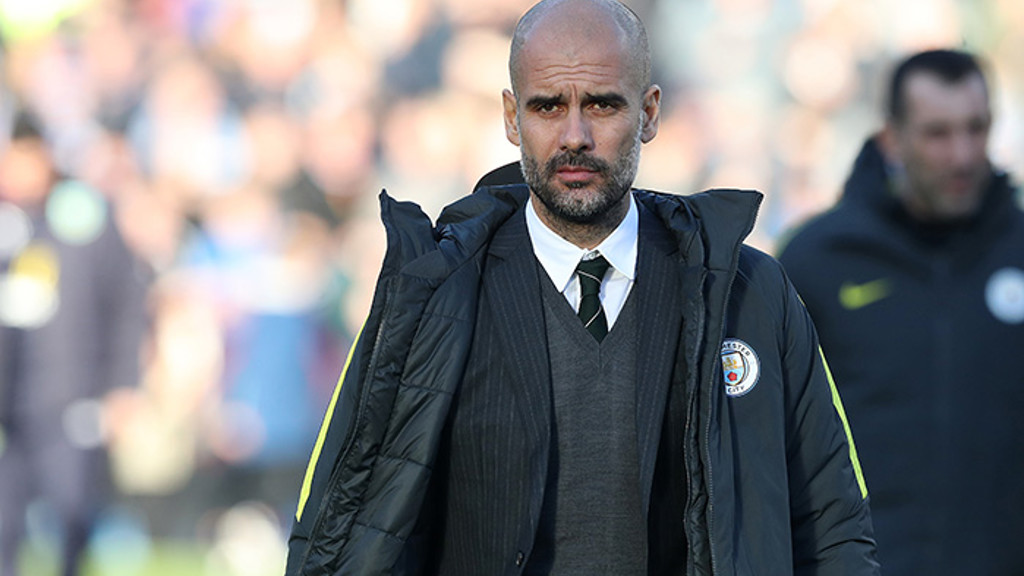 PEP: Tough decisions ahead
There's been plenty of speculation over the past few weeks about who will be named in City's Champions League squad for the knockout phase.
The deadline for submitting the squad is not until midnight on 1 February when clubs can register a maximum of three new players while three others could drop out – but that hasn't stopped journalists from asking questions.
Among them is ESPN's Jonathan Smith who writes: "Gabriel Jesus' imminent arrival at Manchester City gives manager Pep Guardiola a welcome boost in striker options but it also gives him an extra headache when the Champions League knockout stages kick off in February.
"The Brazilian forward will join up with the Premier League side in January and will be available to make his debut against Burnley on Jan. 2.
"Jesus is also expected to be added to Guardiola's European squad but the City boss faces a renewed dilemma over the makeup of that 25-man squad.
"Guardiola can only name 17 non-home-grown players and the Catalan was forced to leave out Yaya Toure and young Spanish midfielder Aleix Garcia for the group-stage games in September.
"City's issues in the New Year are eased by the fact that Nigerian striker Kelechi Iheanacho will have been with the club for two years in January and therefore qualifies to go onto the 'List B' for players aged under 21."
We'll have to wait to find out…
Meanwhile, Sky Sports pundit Graeme Souness sounds unimpressed by the Blues this season and expects Chelsea to 'do a number' on Pep's men this weekend, calling City 'predictable'. Cheers, Graeme!
He says:'I do not think there will be any surprises from City.
'They will roll the ball out and build from the back and I can see Chelsea taking advantage of that and defending really well.'
Another former Liverpool player, however, is less dismissive. Jamie Carragher has been impressed by the Blues' ability to mix up their style and tactics, saying: 'It's now Antonio Conte who has done something, not that we didn't expect it because he has done it before, but it's different to what we've seen.
'I'm sure Guardiola will have something up his sleeve and will do something a little bit different.
'I think it will be a fascinating game to look at tactically with what the two mangers try and do.
'It's a real big test for both managers and teams of course, but certainly for this Chelsea system.'
Elsewhere, City's Club Ambassador Mike Summerbee believes Vincent Kompany will come back stronger once he's managed to shake off a series of knocks.
Quoted in the M.E.N, Buzzer said. 'It's unfortunate, it's a rarity to have so many injuries as he's had.
'He's a quality player. When he came back against Swansea [in September], I thought he was outstanding and then he got a bit of an injury towards the end of the game.
'If he can get through this difficult period he's going through, he's a very, very fit lad, he knows what he wants to do. He's a determined man.
"He'll come back into the side and you'll see Vincent Kompany as he was
'He's a well-respected man, not only by City supporters but by all supporters around the country.
'When people talk about centre-halves they always talk about Vincent Kompany.'
Nicely put, Michael.
Finally, Sky Sports have produced a series of quotes tracking Kevin De Bruyne from his arrival at Chelsea to the present day – well worth a read to see how the Belgian has turned his destiny completely around.
It begins with Jose Mourinho back in 2013, then boss at Stamford Bridge: 'Kevin is showing desire and working very hard. I feel sorry for not giving him big opportunities up to now, but he's working better than ever. I like him as a player. I've learned now how to like him, also, as a kid. Hopefully I can give him enough time on the pitch so he decides to stay in a happy way.'
That's all for today – keep updated throughout the day on mancity.com for all the latest news on the Blues.