Media Watch
1
Manager praise for Guardiola philosophy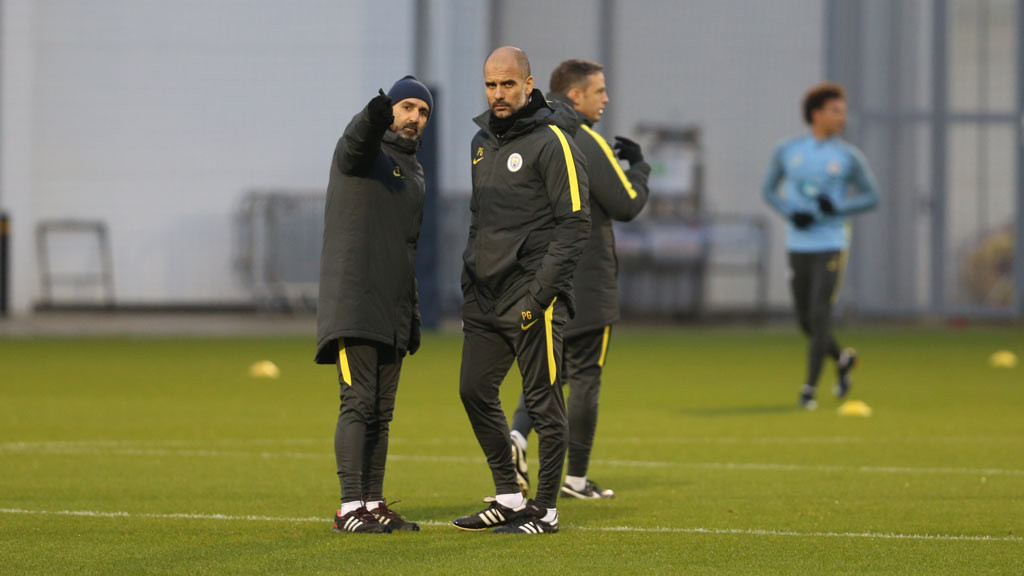 COACH: The manager in talks with his staff.
Manchester City face Watford this evening hoping to return to winning ways and they're proving to be the talking point across the Premier League.
City sit in fourth in the table and although they welcome Walter Mazzarri's Hornets to the Etihad Stadium, several of Pep Guardiola's managerial counterparts have had their say on City's form.
First, Arsenal boss Arsene Wenger believes Guardiola deserves a lot of respect for his attacking style of football.
As reported by ESPN, he said: "Pep Guardiola, like myself, we are for offensive football. And when you don't win, people question that. And that's as simple as that.
"Overall, I think what he wanted to say is that he promotes a game that is positive and I agree with him on that. You respect him for that. I believe that he doesn't forbid his players to tackle.
"It's true that in the trainings you focus on your players to play an offensive game. You look at the number of games he has lost in his career, you would think that he defends quite well."
Meanwhile, West Brom coach Tony Pulis also believes Guardiola will prove a success with City.
Speaking to Sky Sports, he said: "Pep has come out with that quote about tackling but I'm sure he didn't mean he encourages his players not to tackle.
"I think it's probably more that for him, as a coach with the teams he has worked with, possession is more important than tackling and I understand that."
Stoke City manager Mark Hughes has also had his say on the Catalan coach.
Speaking to the Stoke Sentinel, he said: "He is a coach who wants to have control through possession, rather than winning tackles, breaking, and creating chances. He is trying to create chances through possession and not giving the opposition any opportunities to attack."
Elsewhere, the Manchester Evening News believes Nicolas Otamendi will be eager to prove a point against the likes of Watford star Troy Deeney tonight.
Alex Porter writes: "The defensive horror show at Leicester occurred with a makeshift defence in the absence of the suspended Nicolas Otamendi. He is available for Watford, and as one of only two fit senior centre backs should slot straight back into the side.
"However, the Argentinian has been far from blameless as part of a disappointing run and his partnership with John Stones will come under the spotlight against an attack that found the net three times at the weekend.
"With Vincent Kompany still on the sidelines and Txiki Begiristain adamant no reinforcements are coming in January, the biggest item on Guardiola's to-do list is develop the duo, and keep them fit."
Stay tuned to ManCity.com for more build-up and Blue news, views and gossip throughout the day…