Media Watch
1
Guardiola sets Sterling target ahead of Hull test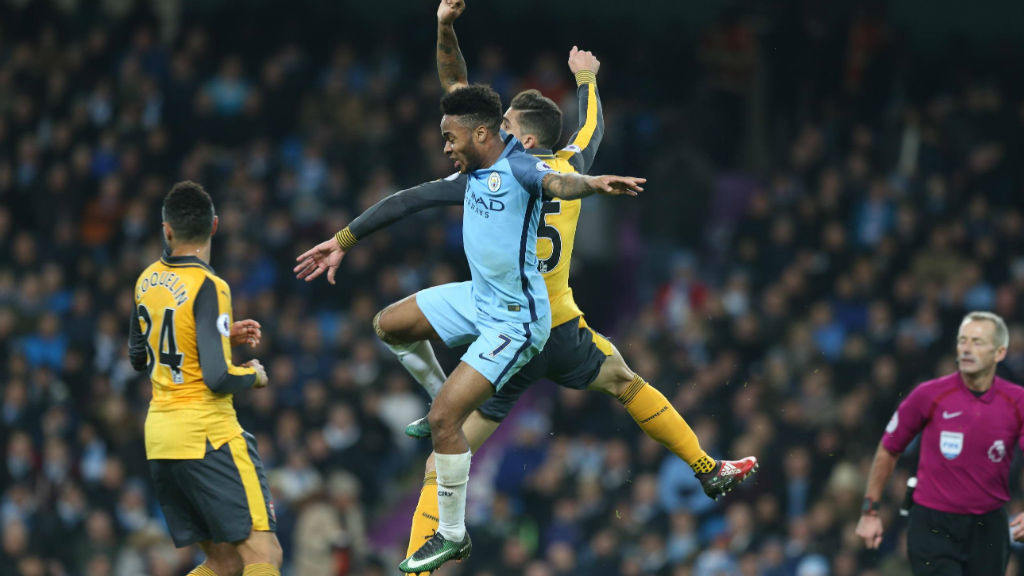 JUMP TO IT: Sterling contests an aerial ball
Manchester City boss Pep Guardiola has challenged Raheem Sterling to keep up his excellent form that saw City past Arsenal last Sunday.
Speaking at his press conference ahead of the Boxing Day test at Hull, Guardiola insisted Sterling can continue to make the difference for City following his 71st minute winner last week.
As reported by Sky Sports, he said: "The last month and a half, he was a little bit down, but you can forget how young he is. He needs to live a lot of experience to become more stable.
"In general, his performance has been high and we need this guy for one against one. Of course, he is not our top scorer, but he has to feel how beautiful it is to score goals, how important it is for the team and for him as well.
"He scored a beautiful goal in the last game and he gave us a lot during the first month and a half. He was our key, key player in front and of course we need him."
Elsewhere, Manchester Evening News decided to focus on the Catalan's search for a clean sheet as Manchester City boss.
Ciaran Kelly writes: "City have kept just three clean sheets in the league this season - which is one of the worst records in the top-flight.
"And, after tight wins over Crystal Palace, Burnley and Watford in recent weeks, Guardiola feels his team need to continue to improve at the back when they visit Hull City on Boxing Day.
""We receive two chances against Watford and against Arsenal there was the goal and a cross in the second half that Giroud did not connect with so well," he said.
""It's important to concede few [chances] like we did a few games ago. Of course against Chelsea we conceded few until the one-two. Until their goal they did not create absolutely anything."
Finally, City loanee Enes Unal has been in lethal form for FC Twente so far this season and ESPN have judged his chances of making an impact at City once he returns in the summer.
Eren Sarigul, reporting for ESPN, scribes: "Earning the title "wonder kid" often ends up being a curse for young footballers, as many struggle to cope with the pressure and expectations put on their shoulders from a young age.
"It can end up proving to be a gamble signing the next big thing but occasionally clubs strike gold and Manchester City may just have hit the jackpot with striker Enes Unal.
"The rising star of Turkish football has been tipped for greatness ever since achieving a staggering goal record at youth level.
"City are perennially linked with signing another striker but may already have the kind of goalscorer that could challenge for a place in the team in Unal."
That's all for today's media round-up! Stick around on mancity.com for more throughout the day!