Media Watch
1
Guardiola: I want the ball for 90 minutes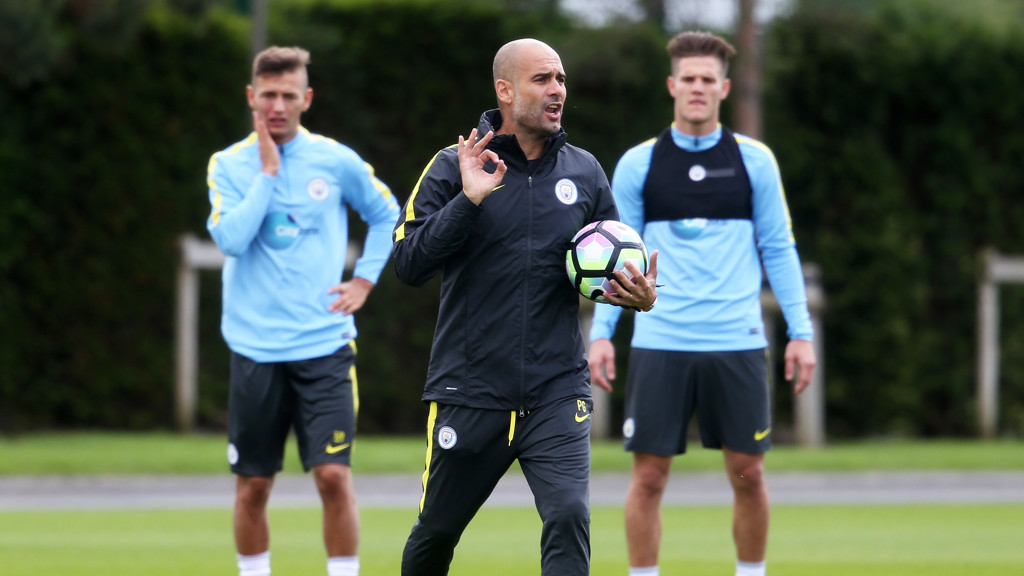 INSTRUCT: Pep giving lessons to the team during training
Pep Guardiola says he wants City in possession for the entirety of every game.
Speaking to Sky Sports, the Blues boss explained he is not used to winning games ugly, and wants his side to produce attacking, attractive football with purpose.
He told Geoff Shreeves: "I want the ball, for 90 minutes. When I don't have the ball, I go high pressing because I want the ball."
When asked if he would sacrifice his style for results, he replied: "Impossible, impossible. It's a sacrifice for what reason? If you lose a game, and you believe in it, you keep going.
"I want to win, I want to play serious, I want to be effective. If I believed in it and it wasn't productive for the team, I wouldn't do it.
"But I won [with this style] as a football player and manager, and when we did that we scored a lot of goals and conceded few."
On the subject of potential criticism and pressure, he added: "I have to handle that [pressure], and I will try and do my best.
"At the end of the season the chairman decides if I have done a good job, and decide if they trust me or not trust me anymore.
"I know the people expect the best, good. The people expect we'll play fantastic football and win games, good. I can't control that, I accept that and I just focus on my players in the games."
Elsewhere, Stoke boss Mark Hughes has been sharing his thoughts on today's clash – and he's feeling confident. The Welshman wants a repeat of last season's triumph over City.
Quoted in an article on the Premier League's website, he states: "We had some really great performances last year, but that one really figures quite high in a lot of people's lists.
"On the day we were significantly better than them, overpowered them physically and asked questions of them in key areas of the field.
"We need to do more of the same. They have new players and a new manager with new ideas which makes it a little bit more difficult to prepare for but we'll give it our best shot and we are encouraged by last week."
Finally, the Daily Mirror believe City are set to seal a £10million move for Ante Coric.
According to John Cross: "Croatia midfielder Coric, 19, is one of the most sought-after youngsters in Europe and City are hoping to finalise a deal this weekend after lengthy negotiations.
"New boss Pep Guardiola has already overseen a series of big-money deals and is putting an emphasis on recruiting young talent.
"Coric fits the bill perfectly because he is an attacking midfielder, very good technically and was in the Croatia squad for the Euros.
"Liverpool are another club who had looked at Coric but City appear to be winning the battle to get him."
That's your lot for today - we'll be back same time tomorrow but keep your eyes on our City Now feed for all the latest as it happens.