Media Watch
1
Kun: Guardiola unlike any manager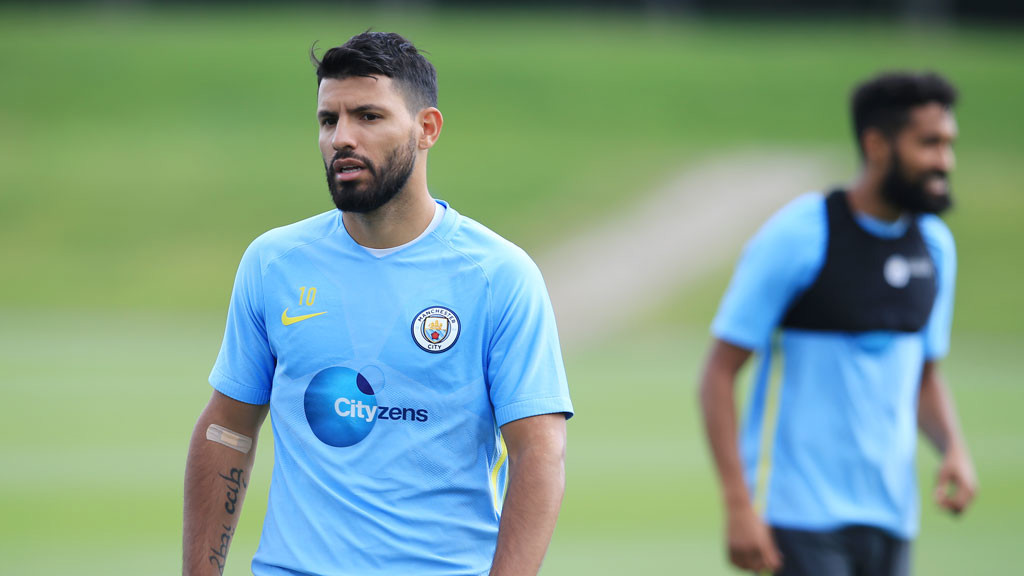 FOCUS: Sergio watches on with Gael Clichy in the background - battle of the beards!
Sergio Aguero says City are now getting used to Pep Guardiola's style.
The Blues' change in tactics has been one of the talking points of the Premier League in its first week, and two victories – one a thumping 5-0 victory in the Champions League – has had fans and journalists purring.
Kun, who bagged a hat-trick in Bucharest in midweek, believes his side are still getting to grips with his manager's alterations but adds the team are excited by them.
Quoted in an article on ESPN's website, he reflects: "We have only had two games - that's it.
"The season is very long, but we have to keep playing like this. [Against Steaua] I think that we played quite well in the first half but we played better in the second half when the space opened up and the goals came.
"He [Guardiola] employs different tactics that are different to all the coaches I have had before, but I think we are adapting to the new style of play that the coach wants.
"Little by little we are learning more, we've won our first two competitive games and we will keep on improving bit by bit. I think what he will do is improve everyone in the team."
Looking ahead to Saturday's Premier League clash at Stoke, the same source insist Guardiola's new system will be tested.
Writes Michael Cox: "And so, just one game into his career as a Premier League manager, Pep Guardiola faces the fabled 'wet and windy night at Stoke.'
"(OK, so that Andy Gray quote in 2010 actually referred specifically to Lionel Messi and, fine, Saturday's game actually kicks off at lunchtime but, with the weather forecast suggesting there will be a heavy rain shower and strong winds, two of the boxes are ticked!)
"Even though Stoke have evolved their strategy over the past couple of seasons to focus upon counter-attack rather than long-ball football, Guardiola's first away league match in England will be a perfect opportunity to assess Manchester City's new system.
"It's unlike anything the Premier League has witnessed before and proves Guardiola is living up to his billing as a tactical revolutionary, determined to find new solutions to old problems.
"It remains to be seen whether the system is successful - for all his incredible achievements at Barcelona and Bayern Munich, Guardiola's most elaborate ideas haven't always worked - but it certainly is eye-catching.
"While it was difficult to judge City's true level of performance against a startlingly disorganised Steaua side on Tuesday, some of the interplay between Silva and De Bruyne was absolutely mesmeric, with their one-touch combination play cutting through the opposition efficiently.
"Sergio Aguero hit a hat trick, yet will probably be disappointed he didn't score more considering how many clear-cut chances he enjoyed. Overall, there were certainly echoes of Guardiola's Barcelona in City's approach play which, at this early stage in his reign, is hugely impressive.
"Regardless of what happens on Saturday, Guardiola has injected new life into the Premier League with an approach not witnessed before. Modern football remains so fascinating, in part, because of the constant battle to find different styles and evolve the sport.
"Guardiola is at the forefront of tactical innovation and the Premier League is lucky to have him; the next three years should be fascinating."
Meanwhile, Sky Sports' Adam Bate asserts a trip to Stoke is not a journey into the unknown.
His piece reads: "It's not difficult to detect an appetite to see Guardiola left perplexed by the challenge.
"Indeed, some seem to be salivating at the prospect. This is the real test, they'll say. It's one thing to put continental opponents on the carousel but now it's time for a go on the bumper cars in the Potteries. This is the real test. Welcome to the Premier League.
"What's less likely to be acknowledged is that Guardiola himself is excited by it as well. He has long been fascinated by English football and been more than open about this curiosity. Conversations with the likes of Xabi Alonso have only added to his sense of anticipation.
"And so to Stoke then. But Guardiola will find they are no longer the identikit Premier League scrappers.
"Long balls might be expected but it's worth noting that Mark Hughes's men hit fewer of them (42) than any other side on the opening weekend. This is a team that's moved so far beyond the cliché that even the irony of labelling them Stokelona feels tired.
"Stoke will certainly be tough. But they don't necessarily represent a unique challenge these days either. And it's worth remembering that this is a two-way journey of discovery too.
"Judging by Manchester City's midweek hammering of Steaua Bucharest, Guardiola is likely to pose as many problems for the Premier League as the Premier League will pose for him."
Finally, there's some transfer gossip to ponder over as the Daily Mail claim City are considering a move for Fulham prospect Ryan Sessegnon.
According to Simon Jones: "Arsenal, Tottenham, Liverpool and Manchester United have all made enquiries with Arsenal having an offer rejected this year.
"City have been making overtures to sign Dinamo Zagreb's Ante Coric but with his club changing their financial demands, City are losing patience.
"Sessegnon is homegrown, is an England U17 international and can play in a more advanced role with potential to become an attacking midfielder in the long-term."
That's your lot for today - we'll be back same time tomorrow but keep your eyes on our City Now feed for all the latest as it happens.