This is why they sometimes call football 'The Beautiful Game'- nine goals, chance after chance and breath-taking football, this is a match that will live long in the memory of those who were lucky enough to witness it live.
City were scintillating and the way the league leaders were taken apart at times will give Arsenal boss Arsene Wenger sleepless nights for weeks.
The Blues eventually won this unforgettable encounter 6-3 with goals from Sergio Aguero, Alvaro Negredo, Fernandinho (2), David Silva and Yaya Toure, but it could have been so many more.
The Gunners played their part fully in this pulsating game and created enough chances of their own to have scored five or six, but this was a day when City proved they are more than a match for anybody, anywhere.
It's hard to know where to begin!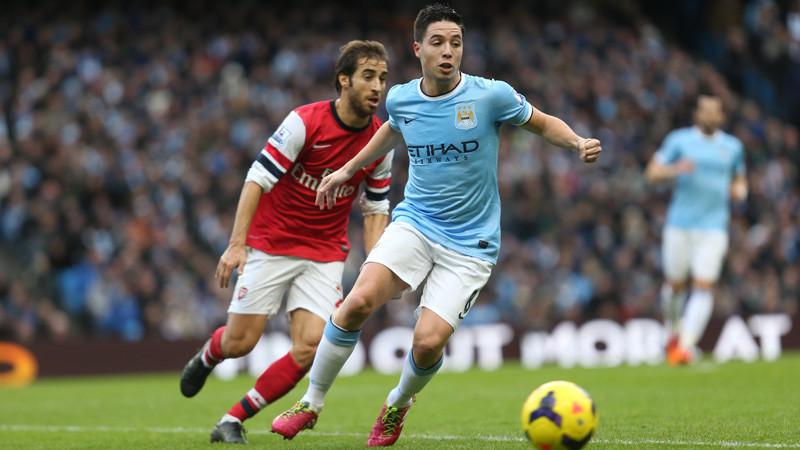 Both teams went into this game on the back of two very different Champions League performances. City, having beaten European champions Bayern Munich in their own backyard and almost stealing top spot in Group D against all the odds while Arsenal lost to Napoli - and top spot in their group as a result.
The pre-match build-up billed this as the biggest Premier League game so far this season – the league leaders facing the bookies' favourites to take the title. City with their 100% home record, Arsenal with the best away record – something, as they say, had to give.
Of course, hyperbole doesn't always make for a spectacular event, but the Blues began at a pace that quickly had the visitors on the back foot with Aguero at the heart of everything, dribbling out of seemingly impossible situations, constantly providing an option and giving defenders no time on the ball.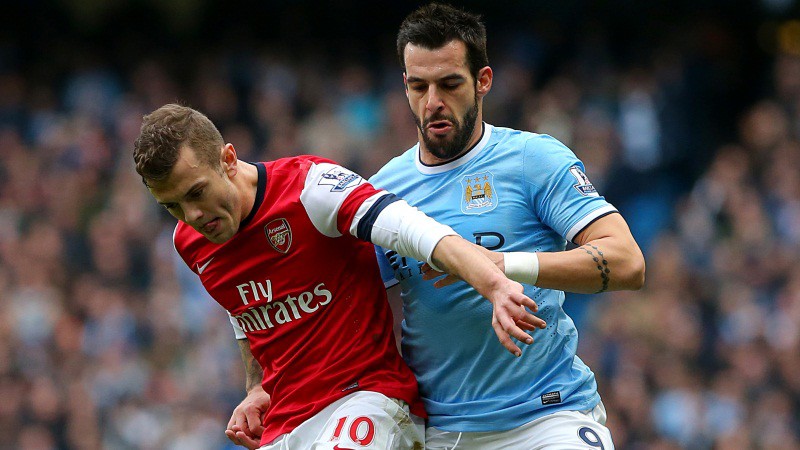 No surprise, then, that it was Kun who opened the scoring as he volleyed home a corner touched on by compatriot Martin Demichelis to put City ahead on 13 minutes - yet another early goal bit thoroughly merited nonetheless.
The Blues continued to dominate the first period with some of the football a delight to watch. The invention, creativity and skill on show, at times, breath-taking

...Match report...
Negredo might have added a second soon after but skewed his shot narrowly wide after a brilliant piece of defending and through ball by Vincent Kompany, but Arsenal haven't led the table for so long without good reason and just past the half-hour mark, they were back on level terms.
Yaya Toure was uncharacteristically caught in possession on the halfway line and from the resulting surge forward, Mesut Ozil played a square ball across the box for Theo Walcott to strike – his shot took a deflection off Demichelis and left Pantilimon flat-footed as the ball flew into the net.
It hadn't been coming, but opposition of this standard are capable of producing something seemingly out of nothing – but then so are City – and the home fans didn't have to wait long to see their side re-take the lead within eight minutes.
Toure picked the ball up 30 yards from goal and looked as though he was about to dispatch a shot before spotting Pablo Zabaleta's run down the right flank. He played it to the overlapping Argentine who sent a low ball into the six-yard box for Negredo to gleefully guide home.
Both teams then lost a player to injury either side of the break – Laurent Koscielny for the Gunners and Aguero, who may have picked up a calf strain, for City.
The Blues were looking for the goal that would give them some breathing space and it came within seconds of Aguero's departure as his replacement Jesus Navas over hit a cross which, in turn, found its way to Fernandinho from a wayward clearance.
There was still plenty to do as the Brazilian drove towards the box but he curled a beauty past Szczesny with 50 minutes on the clock - Brazil must have some midfield in Ferna isn't getting a look in!
The Gunners looked suitably punch-drunk but almost responded immediately with first Aaron Ramsey mis-hitting from a few yards out and then Olivier Giroud caressing a header inches wide – the warning signs had been posted.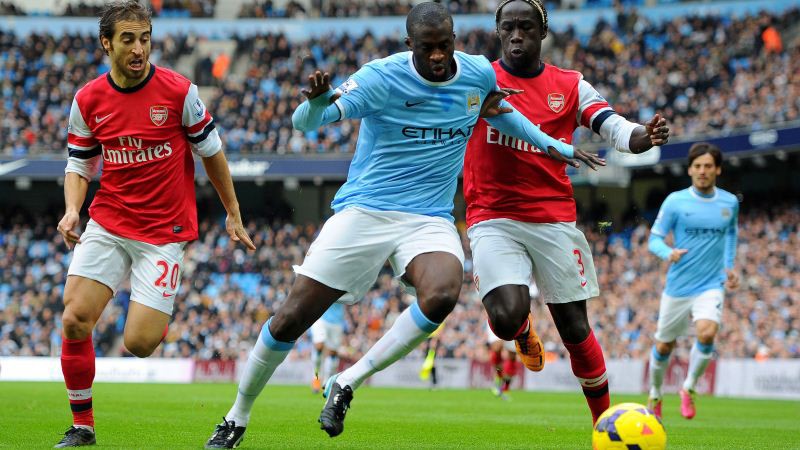 And sure enough, the Gunners carried out their threat as Walcott exquisitely curled home a shot over Pantilimon on 63 minutes to once again leave the majority of the capacity crowd biting their nails.
Of course, with this City team, they needn't have worried too much. Navas again caused panic in the visitors' defence and his superb cross found the foot of Silva who guided it into the top corner just three minutes later.
The City fans sang 'We're Man City, we score when we want!' and there's an element of truth in that, particularly at home where the Blues have been imperious all season.
Pellegrini's men began to dismantle the opposition at will as both sides tired and could have added three or four more goals as chance after chance was created.
Incredibly, with just five or so minutes to go, there was still time for another three goals including a second from Fernandinho - proving that goals are sometimes like buses; you wait for one and then two come along at once!

...Match report...
And even when the clock ticked past the 90-minute mark, the action didn't let up. Per Mertesacker pulled one back for Arsenal and Yaya Toure converted a penalty – another won by James Milner – to make it 6-3 and that was that. It had been hard to keep track of it all.
So another title rival has left fortress Etihad with their tail firmly between their legs. The goals keep flowing, too, with 72 scored so far in all competitions, home and away with no sign that they will stop anytime soon.
City have set the bar - and it's high. The sky really is the limit for this fantastic team.