Men's Team
1
Which TV channel is Man City v Burnley on?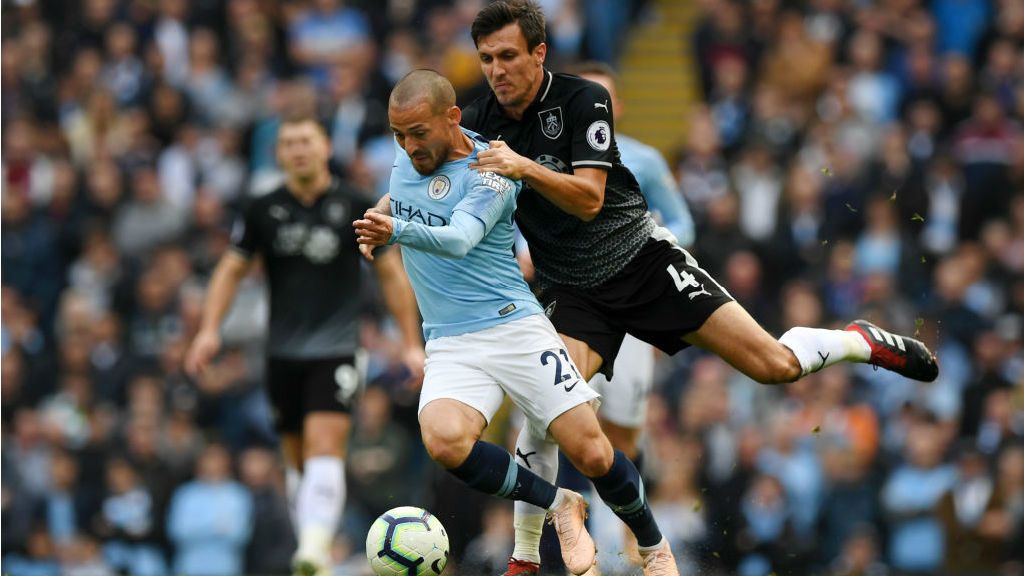 SOLID SILVA: David Silva looks to wriggle free from Burnley's Jack Crok
Find out where in the world you can watch Manchester City's FA Cup fourth-round tie against Burnley...
The game takes place on Saturday 26 January, with kick-off at 3pm.
There is no live TV coverage in the UK - but you can follow live updates via our Matchday Centre or our Twitter: @ManCity.
Fans around the world can find out where to watch the match in their country via our listing provided by liversoccertv.com
| | |
| --- | --- |
| Albania | SuperSport 4 Digitalb |
| Angola | SuperSport 5 Africa |
| Austria | DAZN |
| Belgium | Eleven Sports 1 Belgium |
| Benin | SuperSport 5 Africa |
| Bosnia and Herzegovina | SportKlub 1 Serbia |
| Botswana | SuperSport 5 Africa |
| Bulgaria | Diema Sport 2 |
| Burkina Faso | SuperSport 5 Africa |
| Burundi | SuperSport 5 Africa |
| Cameroon | SuperSport 5 Africa |
| Canada | Sportsnet Now,Sportsnet One,Sportsnet World Now |
| Cape Verde | SuperSport 5 Africa |
| Central African Republic | SuperSport 5 Africa |
| Chad | SuperSport 5 Africa |
| China | PPTV Sport China |
| Comoros | SuperSport 5 Africa |
| Congo | SuperSport 5 Africa |
| Congo DR | SuperSport 5 Africa |
| Cook Islands | Sky Sport 4 NZ |
| Cote D'Ivoire | SuperSport 5 Africa |
| Croatia | Sportklub 1 Croatia |
| Cyprus | Cytavision Sports 2,Cytavision Sports HD |
| Czech Republic | Digi Sport 4,DIGI GO |
| Denmark | Viaplay Denmark |
| Djibouti | SuperSport 5 Africa |
| Equatorial Guinea | SuperSport 5 Africa |
| Eritrea | SuperSport 5 Africa |
| Ethiopia | SuperSport 5 Africa |
| Fiji | Sky Sport 4 NZ |
| Finland | Viaplay Finland,Viasat Football HD |
| France | beIN Sports 2,beIN SPORTS CONNECT |
| Gabon | SuperSport 5 Africa |
| Gambia | SuperSport 5 Africa |
| Germany | DAZN |
| Ghana | SuperSport 5 Africa |
| Guinea | SuperSport 5 Africa |
| Guinea-Bissau | SuperSport 5 Africa |
| Iceland | Stöð 2 Sport |
| International | Bet365 |
| Italy | DAZN |
| Japan | DAZN |
| Kenya | SuperSport 5 Africa |
| Kiribati | Sky Sport 4 NZ |
| Korea Republic | SPOTV ON,SPOTV2 |
| Lesotho | SuperSport 5 Africa |
| Liberia | SuperSport 5 Africa |
| Luxembourg | Eleven Sports 1 Belgium |
| Macau | TDM Desporto |
| Macedonia | SportKlub 1 Serbia |
| Madagascar | SuperSport 5 Africa |
| Malawi | SuperSport 5 Africa |
| Malaysia | Astro SuperSport 3 |
| Mali | SuperSport 5 Africa |
| Malta | TSN2 Malta,GO TV Anywhere |
| Marshall Islands | Sky Sport 4 NZ |
| Mauritius | SuperSport 5 Africa |
| Montenegro | SportKlub 1 Serbia |
| Mozambique | SuperSport 5 Africa |
| Namibia | SuperSport 5 Africa |
| Nauru | Sky Sport 4 NZ |
| Netherlands | Ziggo Sport Voetbal |
| New Zealand | SKY Go NZ,Sky Sport 4 NZ |
| Niger | SuperSport 5 Africa |
| Nigeria | SuperSport 5 Africa,SuperSport 5 Nigeria |
| Niue | Sky Sport 4 NZ |
| Norway | Viasport 1,Viaplay Norway |
| Palau | Sky Sport 4 NZ |
| Poland | Eleven Sports 1 Poland |
| Portugal | Sport TV1 |
| Russia | Match TV Football 1,NTV+ Sport Online |
| Rwanda | SuperSport 5 Africa |
| Samoa | Sky Sport 4 NZ |
| Sao Tome And Principe | SuperSport 5 Africa |
| Senegal | SuperSport 5 Africa |
| Serbia | SportKlub 1 Serbia |
| Seychelles | SuperSport 5 Africa |
| Sierra Leone | SuperSport 5 Africa |
| Singapore | 111 mio Sports 1 |
| Slovakia | Digi Sport 4,DIGI GO |
| Slovenia | SportKlub 1 Slovenia |
| Solomon Islands | Sky Sport 4 NZ |
| South Africa | SuperSport 3,SuperSport Maximo,SuperSport 5 Africa |
| South Sudan | SuperSport 5 Africa |
| Swaziland | SuperSport 5 Africa |
| Sweden | EuroSport Nordic,Eurosport Player Sweden |
| Switzerland | DAZN |
| Tanzania | SuperSport 5 Africa |
| Togo | SuperSport 5 Africa |
| Tonga | Sky Sport 4 NZ |
| Tuvalu | Sky Sport 4 NZ |
| Uganda | SuperSport 5 Africa |
| United Kingdom | BBC Radio Manchester |
| United States | ESPN+ |
| Vanuatu | Sky Sport 4 NZ |
| Zambia | SuperSport 5 Africa |
| Zimbabwe | SuperSport 5 Africa |