Men's Team
1
Guardiola: 'We'll treat Rotherham tie as a final'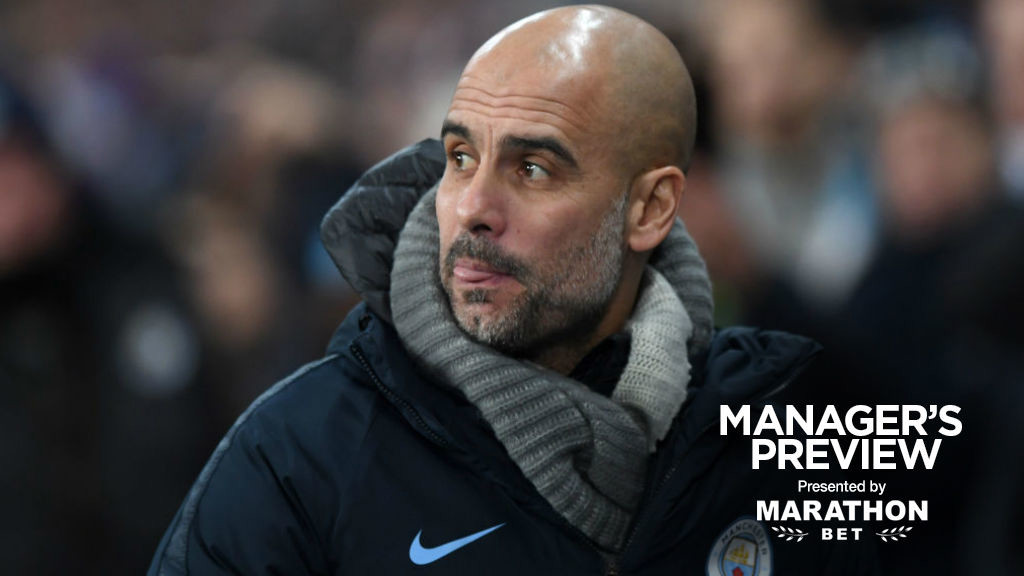 Pep Guardiola says Manchester City will approach Sunday's FA Cup third round tie at home to Rotherham as though it were a final.
The Etihad Stadium assignment against the Championship opponents heralds the start of another demanding few days for City.
There is a Carabao Cup semi-final first leg at home to Burton to follow in midweek before we return to Premier League action, again at the Etihad, against Wolves a week on Monday.
In total, the Blues could potentially face seven games in total throughout January following what was a demanding December schedule.
The start of our FA Cup campaign comes just three days after our crucial and gruelling 2-1 Premier League win over leaders Liverpool, but Guardiola says there will be no let up in intensity or desire from the City players.
READ: Kompany | City thrive on emotion
WATCH: Best of 2018 | Magic Moments
GALLERY: Man City 2-1 Liverpool | Happy Blue Year
"This month is really tough – I would like two months holiday right now - but is what it is," said the Blues boss.
"If you want to become a top, top club you can't deny any game and we can't drop any competition
"We are doing to play the FA Cup game (against Rotherham) like a final and that's going to happen.
"If we win, we go through, if we lose we are out of the second most important competition in England.
"There are a lot of games, but December and January are so tough for everybody! So tough, but we aren't special in that regard.
"For example, Liverpool is out of Carabao Cup and have a bit more time to prepare for the Premier Leagues but it is what it is.

"I prefer to be in this position and we have squad enough, Kevin (De Bruyne) and Ilkay (Gundogan) are back and we are going to rotate and everybody is going to play. That is the only way."
The clash with Rotherham is the second of four consecutive games at the Etihad, with the Carabao Cup semi-final first leg with Burton falling next Wednesday before that league assignment with Wolves.
And the boss was also full of praise for the passionate backing of the Blues faithful in last Thursday's Liverpool where the players fed off a superb atmosphere.
"On Thursday the stadium and the fans were closer to us more than I have ever seen before in my two and a half seasons here," Guardiola added.
"The opponents we met on Thursday demanded that type of game.
READ: Fernandinho | Bernardo Silva is amazing
WATCH: Man City Liverpool Tunnel Cam
"You have to live the game like it's the last game in our lives – if you don't you cannot compete in those types of games and on Thursday we were there.

"Nothing has changed – Liverpool continue to be the leaders in the Premier League end enough distance – four points is not bad.
"But for us it was a real final and we played in that way – that's why I was so pleased."
It promises to a demanding and packed New Year schedule and Guardiola says the experience of his big-game players will prove crucial – not least striker Sergio Aguero who scored his 250th career league goal in last Thursday's vital 2-1 Premier League win over Liverpool.
Remarkably, it was Aguero's seventh consecutive goal in a Premier League home game against the Anfield side – and the Blues boss said he was full of admiration for our all-time record goalscorer.
"We need him (Aguero) in these kind of games. We needed him and he responded incredible," Guardiola added.

"In these kind of games, important players make the difference and he did. Maybe he's going to help us when we reach the knockout games and repeat this kind of performance.
"He has incredible numbers, and I have a lot of respect for players who do this for 10/11 years. They are the ones I respect the most."Everyone can have an exceptional season do good moments/season but the likes of Kompany, Silva, Aguero, Otamendi… every single year they are there competing with the desire to do more and more and more.
"Winning is so addictive and when you taste it they want more!
"It (the Liverpool game) was a final for us. If we lost, we would be almost out.
"Making mistakes, that's not important but were a real team. You have to play in that way in these types of games, Champions League knockout games, important stage of the FA Cup, Carabao Cup semi-finals."