Men's Team
1
Foden: 'I'll never forget that goal'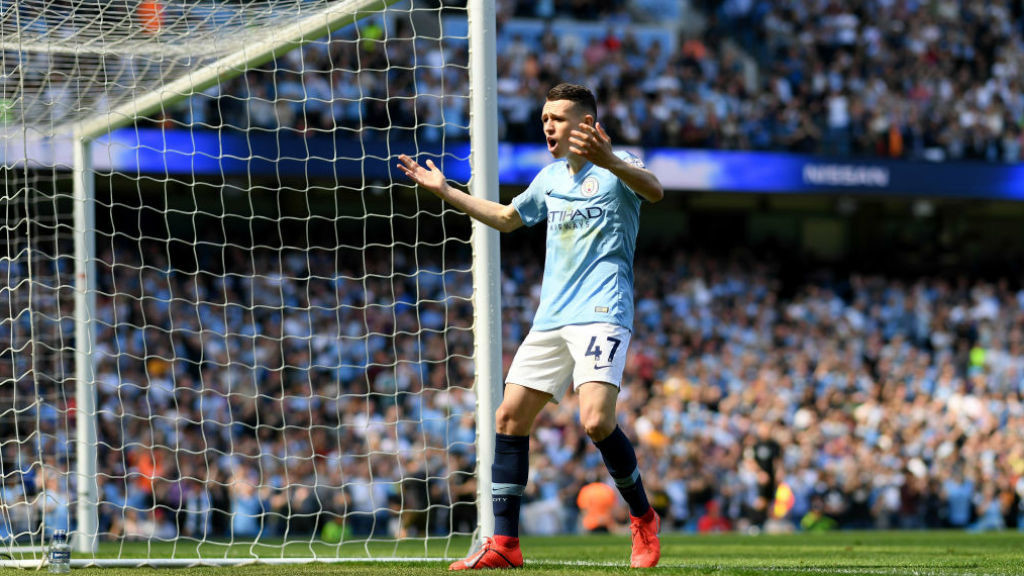 GOALDEN VISION: Phil Foden starts the celebrations after heading City into an early lead
Phil Foden said his first Premier League would live with him forever after his early header secured a priceless 1-0 win over Spurs to send Manchester City back to the top of the Premier League.
The teenager stooped to head home in the fifth minute of Saturday's lunchtime encounter at a sun-drenched Etihad Stadium as City locked horns with Tottenham for the second time in four days.
It proved a nervy affair with the visitors threatening on a number of occasions but despite tense finale, City held firm to get the win and move back to top spot.
And as he reflected on the victory, Foden said scoring the goal was a moment he would never forget.
"It still hasn't fully sunk in" Foden admitted. "Kun did great to fine me. Luckily I was on the line.
READ: Guardiola provides Kevin De Bruyne injury update
WATCH: Inside City | Episode 338
"I was happy to help the team and get the goal.
"(It's my) first Premier League goal so it will live with me forever.
"We knew what they were about because we have played them twice already. It's hard and we looked a bit leggy but we got the job done."
It was only Foden's second Premier League start and he produced a fine all-round display.
And such was his impact, official man-of-the-match Bernardo Silva refused to accept his award, handing it instead to Foden.

"It was a bit of a surprise (to start) but I am ready for whenever it comes," Foden added.
"We know we have to win every game to win the Premier League. We are taking it one game at a time so we'll see what happens."
For his part, Bernardo paid tribute to the backing of City's supporters who again provided a superb atmosphere and backdrop.
READ: City players lead way in PFA nominations
WATCH: City Academy Road to Youth Cup Final
"We knew after the game on Wednesday, we wanted to give response. Especially here with the fans (to) keep the title alive," Bernardo said.
"That's what we needed. It was a great game for us. Very difficult.
"Maybe there was a little bit of anxiety. Pressure fighting for the Premier League.
"Always pressure in games. We felt the atmosphere, felt support. Amazing once again today like Wednesday and we have to thank the fans.
"Without them impossible to fight for title or win these kind of games."