Men's Team
1
City's greatest-ever comeback?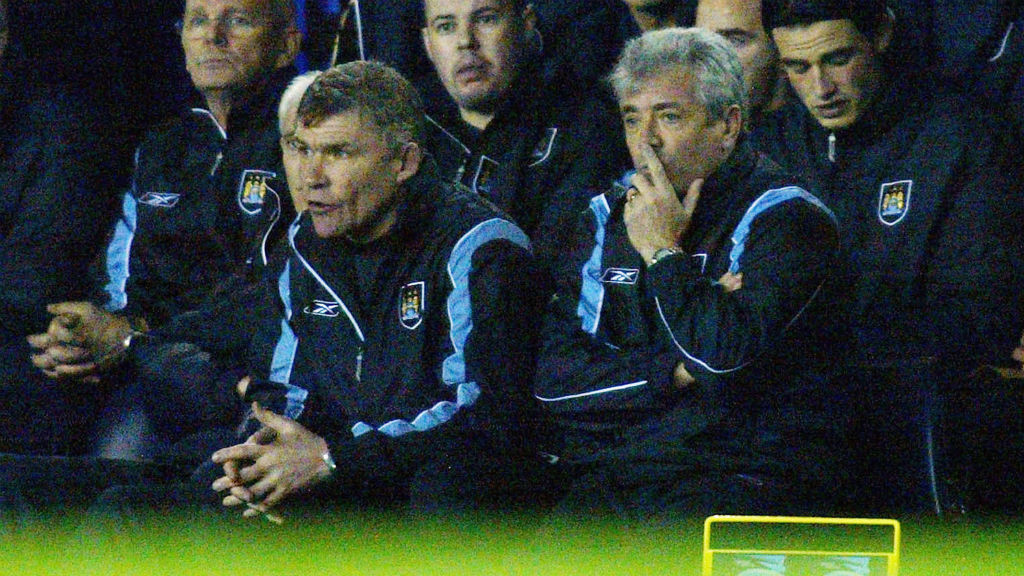 COMEBACK KINGS: Derek Fazackerley (left) was Kevin Keegan's assistant on a memorable night in 2004
Ahead of tonight's game away at Tottenham, we spoke to Derek Fazackerley about one of the most memorable matches between the two sides.
It was an FA Cup fourth-round replay back in 2004. The first game at the Etihad Stadium had finished 1-1, Gary Doherty's goal cancelling out Nicolas Anelka's opener, and City travelled to White Hart Lane knowing they faced a difficult task.
First-choice goalkeeper David James was cup-tied, so in came little-known Icelandic stopper Arni Arason for his debut. City, managed by Kevin Keegan, were 16th in the Premier League table, four points above the relegation zone.
"You always go into a game thinking you've got a chance," says Derek Fazackerley, Keegan's assistant on the night. "Obviously, we knew we were going away from home against a decent side and it's going to be a tough match."
However, no-one could have predicted how tough City would find it in the first half. Tottenham completely dominated from the off and were superior in every area of the pitch. City, battered and bruised, were 3-0 down at half-time after goals from Ledley King, Robbie Keane and Christian Ziege. Nicolas Anelka, City's most potent weapon, had gone off injured after 27 minutes, and to make matters even more desperate, midfielder Joey Barton was sent off during the interval for dissent. Three down and a man down after 45 minutes. Mission impossible.
READ: Guardiola | Games against rivals will determine title
WATCH: Guardiola reveals Laporte's special qualities
"Not everyone was aware of the red card when we went into the dressing room at half-time," Fazackerley recalls. "Obviously, he'd said something to the referee and there was a bit of a discussion and altercation going on while some of the players and staff were in the dressing room. Then Joey comes in and tells us he's been sent off. So, it's difficult!
"But to be 3-0 down at half-time – Jesus, we were awful in the first half. I remember saying to Kevin these are the sort of nights you get your P45! It's damage limitation then. You don't think in your wildest dreams you're going to get anything out of the game, all you're looking to do is salvage a little bit of pride."
City, of course, did more than salvage pride and limit the damage. They scored four goals and completed arguably the greatest-ever FA Cup comeback, grasping victory with an injury-time winner from substitute Jon Macken. It was an awe-inspiring, superhuman second-half display that will never be forgotten.
"The turnaround in the game was amazing. And winning it, well…I remember when Jon Macken scored the header, you just think 'Christ almighty what's happened here!'

"I don't think there was anything scientific or tactical spoken about [during half-time]. Minimise their opportunities, don't go chasing the game or leave yourself open and come off having been beaten five or six."
Sylvain Distin scored three minutes after the restart to add some respectability to the scoreline, before Paul Bosvlet made it 3-2 with just over 20 minutes left on the clock. Having been completely outplayed in the first-half, City were very much in the ascendancy. You could almost feel the Tottenham nerves.
The ten men of City were the dominant force, and Shaun Wright-Phillips made it 3-3 with 10 minutes to go. Cue delirium in the away end. The City fans, many of whom had considered making the journey home at half-time, were being rewarded for their stoicism.
And then the unthinkable, an injury-time winner from Macken, a player who had failed to establish himself in the side after his move from Preston in 2002. The greatest comeback in the world's most distinguished knock-out club competition was complete.
"There wouldn't be too many comebacks involving any team as good as that and to be involved in it on the night was incredible," Fazackerley says. "But as happy as you were and as excited as you were, it was more a feeling of relief to have salvaged something from the game because, seriously speaking, at half-time it was dire. To put a performance like we had done in the first half where we never really laid a glove on Tottenham and then have Joey sent off…you're looking at the worst.
"The players showed incredible spirit and resilience to get back into the game and then eventually go on and win it. It was incredible how that second half unfolded. It was a real team effort to get back into, as it would have to be to pull back a scoreline like that.
"I've been involved in a couple of games where we've come back from 2-0 down and won 3-2, or been 3-0 down and drew three apiece, but with the circumstances of having Joey sent off obviously makes it great."
Have you seen...
There were so many subplots in the script it would have been rejected by Holywood executives for being too outrageous. Macken, only on because of Anelka's injury, hitting the winner, one of the most iconic FA Cup goals in history. Bosvelt grabbing his only goal of the season. The homegrown Wright-Phillips with the equaliser.

And then there was Arason, who at 3-1 made a double save that defied belief, tipping Ziege's free-kick onto the crossbar before gathering Gustavo Poyet's header on his goaline. It kept City in the match. At 4-1 down, even this group of players would have been dead and buried. An unknown before the game, his place in City's list of cult heroes was secure at full-time.
"He played brilliantly," says Fazackerley. "He made two or three outstanding saves that kept us in the game."
"It was the Cup tie of my lifetime," Keegan said afterwards. He spoke on behalf of everyone who witnessed it.
Tottenham: Keller, Carr, Richards, Gardner, Ziege (Jackson 60), Dalmat, King, Brown, Davies, Postiga (Poyet 9), Keane.
Subs Not Used: Burch, Yeates, Kelly.
Man City: Arason, Jihai, Dunne, Distin, Tarnat, Wright-Phillips, Barton, Bosvelt (Sibierski 80), Sinclair (McManaman 80), Fowler, Anelka (Macken 27).
Subs Not Used: Stuhr-Ellegaard, Jordan.
Sent Off: Barton (45).
Booked: Barton, Bosvelt, Jihai.
Attendance: 30,400.
Referee: R Styles (Hampshire).