Men's Team
1
Reaction: Shakhtar win is 'statement of intent'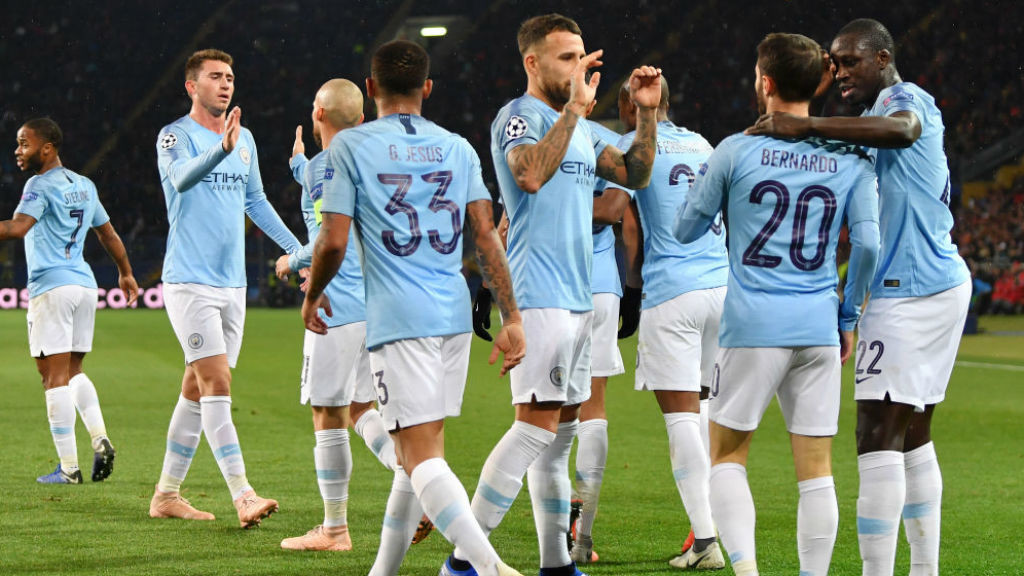 JOB DONE: The City players salute Bernardo Silva after his smart finish
Following City's superb Champions League display in Ukraine, we take a look at what pundits, broadcasters and former players had to say about our performance.
A dominant display saw the Blues brush Shakhtar Donetsk aside as goals from David Silva, Aymeric Laporte and Bernardo Silva saw City become the first English side to beat the Ukrainian Champions on their own-turf.

READ: Match Report | Shakhtar 0-3 City
READ: David Silva | We are improving every game
Pep Guardiola's side received plenty of plaudits for a mesmerising masterclass at the Metalist Stadium, and we've collated some of the best below…
First up, Telegraph journalist Luke Edwards called our win a "statement of intent".
This is not just a win for Manchester City in Ukraine, it is a statement of intent. You are not supposed to win this easily away from home in the Champions League... #mcfc

— Luke Edwards (@LukeEdwardsTele) October 23, 2018
City skipper, Steph Houghton was on the BT Sport panel last night for the first time and had plenty of praise for the Blues.
Really enjoyed my @btsport #ChampionsLeague debut last night with @mrjakehumphrey #Dunne + #McManaman .. what a performance by @ManCity ⚽️📺 pic.twitter.com/czYhdSxTOY

— Steph Houghton MBE (@stephhoughton2) October 24, 2018
Although he didn't travel due to a hamstring injury, Ilkay Gundogan was impressed with his fellow team mates.
We dominated this game from start to finish. 👌🏼 Pace and power ... 💯💯 Great football again, amazing job boys ⚽👏🏼 #SHKMCI #UCL @ManCity

— Ilkay Gündogan (@IlkayGuendogan) October 23, 2018
City legend, Paul Dickov, was impressed by one player in particular…
Magnificent by @Laporte been magnificent since he came to @ManCity 💙 #worldclasss 💙

— Paul Dickov (@OfficialPDickov) October 23, 2018
The Telegraph's Pippa Field remarked on City's quick start and attacking prowess on Tuesday night.
Field reflected: "It took City just three minutes to demonstrate their attacking intent on Tuesday as David Silva acrobatically tried his luck from an impossible angle.
"It flew harmlessly over but unfortunately for Shakhtar, it was just the start of things to come as City rained down attack after attack on them in the opening 45 minutes.
"The striking prowess among the City ranks is not in question although sometimes the team, particularly in the Champions League, struggle to hit top gear - September's insipid defeat to Lyon a case in point.
"In comparison, Guardiola's side scored twice before half-time through Silva and Aymeric Laporte and could, and should, have had more given the 14 shots they registered before the break."
Meanwhile, an opinion piece in the Manchester Evening News stated that our upcoming Premier League opponents should "watch out" after our Shakhtar win.

"Maybe it was the returning presence of Kevin De Bruyne, nutmegging opponents nonchalantly before outrageously picking passes out. It could have been Riyad Mahrez, emboldened by his performance at the weekend and growing into his role with the champions. David Silva's enduring class can't be ruled out either as the Spaniard ran yet another game," Simon Bajkowski scribes.
"Either way, Manchester City are back to teasing, tormenting and killing off opponents with all the power and flair of Jodie Comer's Villanelle.
"So dominant have Guardiola's team become that some are turned off by the mismatches they create, but nobody that watched this game can have come away and not enjoyed it. It's not pointless tiki-taka, it's relentless attacking with a spread of positions and paces.
"Watch out Tottenham and the rest, because this team are well into their groove."
READ: Report | Shakhtar 0-3 City
While the goalscorers were praised and De Bruyne's return to the starting XI was well highlighted, Raheem Sterling was named the BBC's Man of the Match due to his individual performance.
Neil Johnston explains: "There were some excellent individual City performances at the Metalist Stadium.
"David Silva and Riyad Mahrez were impressive at one end of the pitch while John Stones was solid at the other.
"Meanwhile, Raheem Sterling did everything but score as he teased and tormented the Shakhtar defence from start to finish."
Finally, we look at some of ther players' reactions to picking up three points and moving to the top of Group F in the competition.
Great game against a tough opponent, happy to help the team with another goal ⚽️🙌🏽 pic.twitter.com/1GXrKxuizz

— David Silva (@21LVA) October 23, 2018
What a performance and 3 more points! We're on the right path @ManCity 🔵🔵#ucl #mancity #mcfc pic.twitter.com/94602fv54N

— Bernardo Silva (@BernardoCSilva) October 23, 2018
A dream night! My first goal in the champions league! Great win and top of the group, what more can a player ask for! Amazing away team performace from the boys, onwards n upwards 💪🏼💪🏼 #AL14 @ManCity pic.twitter.com/cO3XfSWpPi

— Aymeric Laporte (@Laporte) October 23, 2018
European wins, lucky to be involved 🙌🏼 Safe journey home to the fans that made the trip 💙 pic.twitter.com/wy7O2Q7dBI

— Phil Foden (@PhilFoden) October 23, 2018