Men's Team
1
The stats behind Bernardo Silva's improvement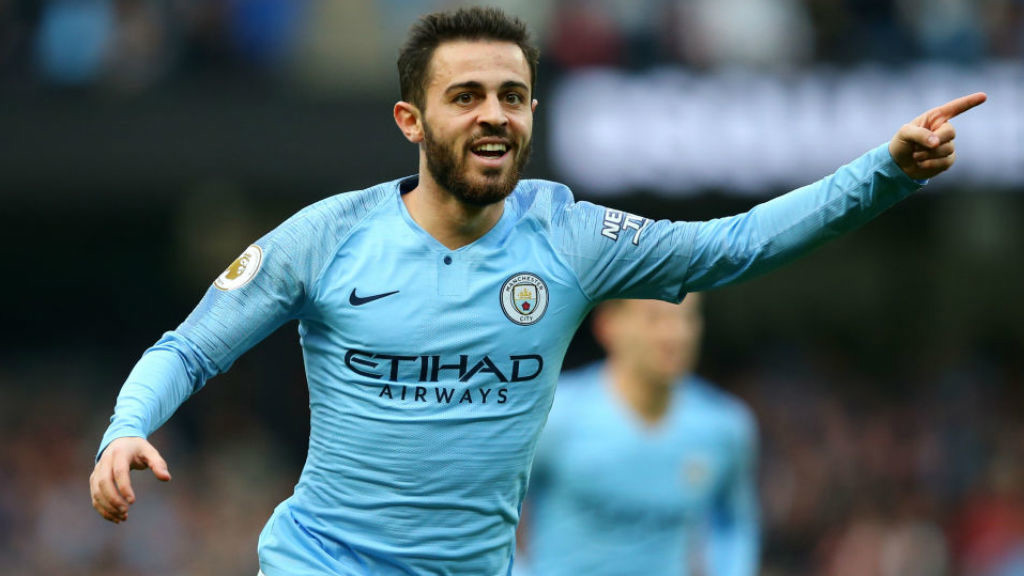 SOLID SILVA: Bernardo celebrates after firing home City's second against Burnley recently
Bernardo Silva has been winning plaudits for his performances so far this season. Club journalist Rob Pollard takes a closer look at his form. ​
If the current campaign ended today, there's a good chance Bernardo Silva would win the Etihad Player of the Season. Manchester City have made a fine start and the Portuguese playmaker has been central to our form.
His influence is growing with each passing game. Whether he plays as a forward – left, right or central – or in a deeper midfielder role, he is consistently providing key moments of quality. Always wanting the ball and looking to create, he's become one of our most consistent and important players - and one look at his statistics this season shows his performance level has increased.
He's scored five and assisted two in 13 appearances so far this season, a goal involvement every 70 minutes, up significantly on his rate of one every 140 minutes last term.
READ: City target more Wembley success
READ: Guardiola: Title race is wide open
After a year of settling into life at City, it's clear the 24-year-old is now more comfortable and well versed in the way Pep Guardiola wants his side to play. He is running further and making more challenges than last season, which in Pep's high-pressing side is vital. In his first six full Premier League matches this season, Bernardo covered more distance than any other City player. That kind of work rate is likely to endear you to a manager with Guardiola's principles, which are a key reason City have conceded just five goals in all competitions.
Bernardo's versatility, too, adds to his allure. He has occupied four different roles already this season, playing on the left and right of a front three, as a No. 10 and as a more traditional central midfielder. That gives the manager options to make subtle changes during matches, an invaluable commodity when trying to gain an advantage against the best sides in the Premier League and Champions League.
At this stage last season, he'd played just two full 90 minutes, and by the season's end had started 15. He was generally a player used from the bench in a bid to change a game or see a result out.
But this season has been completely different. He's already managed eight starts from nine Premier League matches this term, as well as two from three in the Champions League. His 692 minutes of Premier League football is the fourth-highest in our squad, with only Aymeric Laporte, Ederson and Fernandinho clocking up more.
And away from statistics, his artistry is what really excites. His first touch defies belief, a thing of rare beauty. Few footballers can match his ability to bring a ball under control.
He produces nutmegs, trickery and no-look passes. Vision, work-rate, passing quality, desire – he possesses everything needed to be a world-class creative midfielder. He's a joy to watch.
"He'll stay a long time, while I'm here he will not move on, he will stay with me," Guardiola said in February. It's just about the most emphatic vote of confidence a player will ever receive, and he's justifying his manager's unwavering belief.
Have you seen...
So why is Pep such a fan?

"I think firstly it's about my work rate," Silva told the i newspaper recently. "I've always tried to play for the team, not just for myself but for the whole team. But I think I have the qualities that the manager wants: pressing high, creating chances, enjoying having it and enjoying controlling the game."
And to top it all, Bernardo is probably the most well-liked member of the squad. "I haven't seen him sad, even for one day – always in a good mood, and you cannot imagine how important that is," Pep said recently.
"When he didn't play too much, you cannot imagine how important he is in the locker room and he's this kind of guy, his mood is always in the right place."
City fans are now seeing the best of Bernardo, a player with a very bright future in the game. Have we found the heir to David Silva's throne?