Men's Team
1
Arsenal v City: Key battles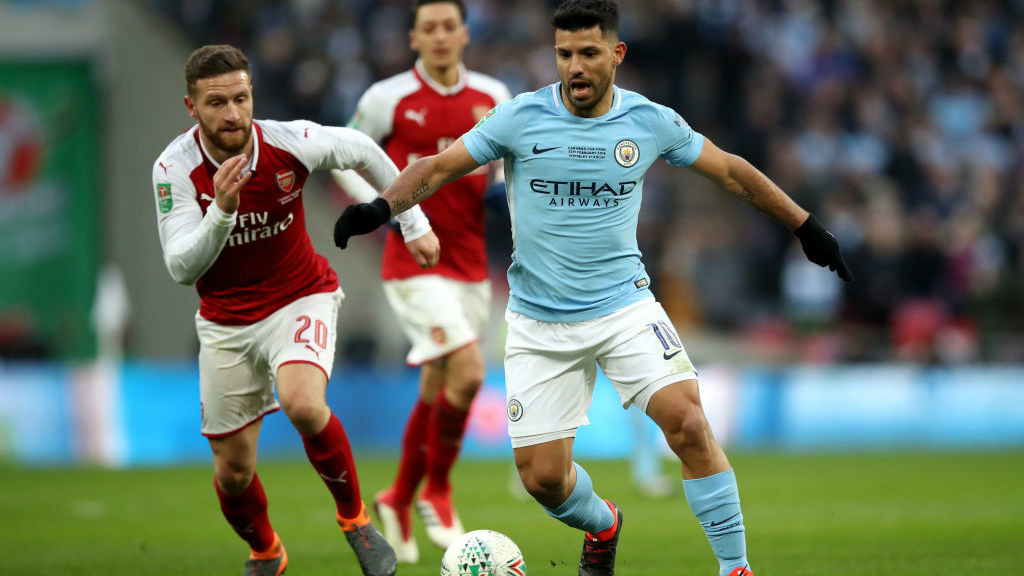 BATTLE: Sergio Aguero and Shkodran Mustafi could lock horns again.
Manchester City will be looking to make it two wins in four days against Arsenal at the Emirates Stadium on Thursday evening.
It was a relatively comfortable 3-0 victory at Wembley, but the Gunners will no doubt present a stern test in front of their own fans.
Arsene Wenger's men boast an array of talent in their line up and ahead of the game we take a look at the key duels which could go some way to deciding the result…
It remains to be seen who Pep Guardiola will choose to replace Fernandinho, but that responsibility could well fall to Gundogan.
And it will be a crucial role if his Germany team-mate is on song.
When Arsenal are at their best, which they so often are at home, you can usually find Ozil dictating proceedings.
Thriving in the pocket of space between defence and attack, he'll look to exploit any momentary lapses in concentration and it could be Gundogan's job to nullify this threat.
Do that and our next battle may be less significant on the game's outcome…
WATCH: Pep praises 'special' Fernandinho
READ: Arsenal v City - Talking Points
The focal point of the Gunners' attack and undoubtedly their main threat, Aubameyang will be hoping Ozil can release the sort of balls which will allow him to utilise his pace.
Kyle Walker's inch-perfect saving tackle prevented him opening the scoring in the Carabao Cup final, while Vincent Kompany displayed his own speed to thwart him in the second half.
The Belgian may not be used twice in a week, so that responsibility could fall to Otamendi.
Aerially and in the tackle, he is more than a match for Arsenal's January recruit, but the Argentine will need to be alert at all times to balls in behind, which Aubameyang will constantly be looking to latch on to.
After a remarkably quick return from injury, Sane has shown glimpses of the trickery that make him such a threat.
Twisting and turning at Wembley, he left Bellerin on the seat of his pants on one occasion.
His attacking threat is obvious, but against a full-back who loves to get forward, Sane's willingness to commit his opposite man can aid City defensively, too.
Arsenal will be looking for an immediate response and at their best that sees the Spaniard roaming forward to support the attack, but with Sane to worry about, he'll have to be more cautious, which eases the burden on whoever Guardiola selects at left-back.
It was Aguero who profited at the German's expense in one of the pivotal moments of the Carabao Cup final and Mustafi will no doubt want to make amends.
He'll be determined not to let City's No.10 get goal side of him as he did on Sunday and, as a combative defender, that could see the Arsenal man try and win the ball early.
More intelligent movement from Aguero may render those attempts futile and such is the quality of the supply line, you would expect him to have the opportunity to cause Mustafi problems again.