Men's Team
1
City launch Centurions trophy tour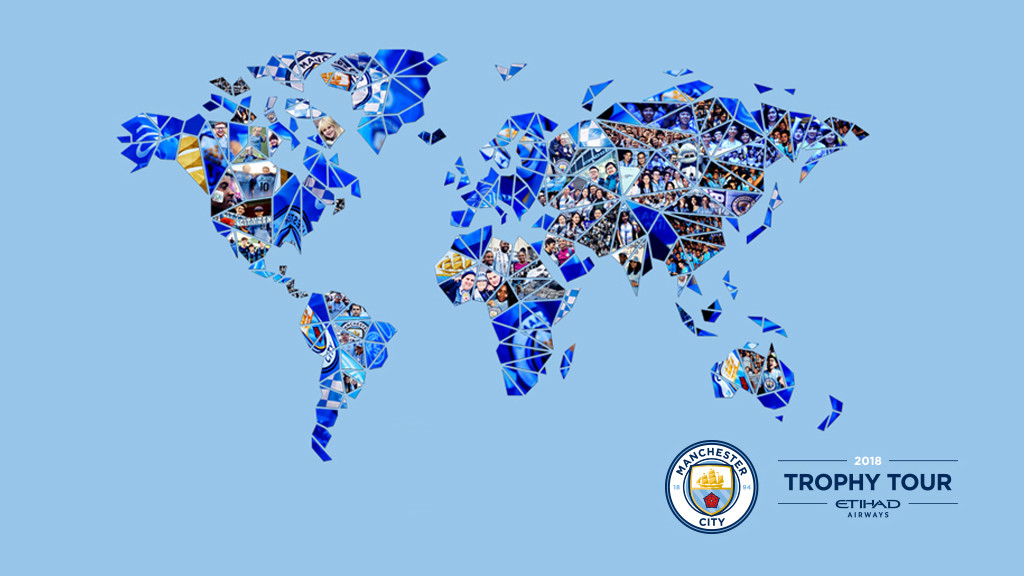 WORLD VIEW: We'll be celebrating our Centurions' season with a global trophy tour!
To celebrate Manchester City's Premier League and Carabao Cup victories last season, the Club will be taking the trophies on the road for the Centurions Trophy Tour, presented by Etihad Airways.
The trophies will visit 15 cities over the coming weeks to celebrate the Club's record-breaking season with fans around the world.
Through the Club's Cityzens membership platform, fans will get to nominate their locations for the tour to visit. The Club will also be surprising some of its biggest fans with amazing experiences to recognise their loyal support.
The tour will showcase the record-breaking 'Centurions' season which saw the team reach 100 points in its Premier League campaign. Across the tour destinations, there will be a series of exciting fan events and match screenings as well as visits to the Club's community projects across the globe.
The tour kicked off in Abu Dhabi today as Club legend, Paul Dickov, attended a launch event hosted by Club partner Etihad Airways. Over the coming weeks, the tour will visit cities across China, the United States, South America and south east Asia with more destinations being revealed as the tour progresses.

Omar Berrada, Chief Operating Officer at Manchester City, said: "We are delighted to launch Manchester City's Centurions Trophy Tour, presented by Etihad Airways.
"Our record-breaking 'Centurions' season was a great achievement for the Club and we are excited to be able to celebrate this with fans in their home cities around the world.
"We wanted to make sure that our fans were at the heart of all of the celebrations and this tour is extra special as fans will get the chance to decide where the trophies visit. We have some exciting plans to create great City experiences for fans on every stop of the tour and bring them closer than ever to the Club they love."
Patrick Pierce, Vice President Marketing Partnerships at Etihad Airways, said: "As Manchester City Football Club's main partner, Etihad Airways is thrilled to celebrate the team's success and reward their fans around the world.
"This initiative is a perfect reflection of the airline's role to promote global connectivity through football."
Fans can find out more about where the Trophy Tour will visit by visiting www.mancity.com/trophytour and via the Club's Cityzens membership platform.