Men's Team
1
Things We Love: City at Wembley and Kompany's joy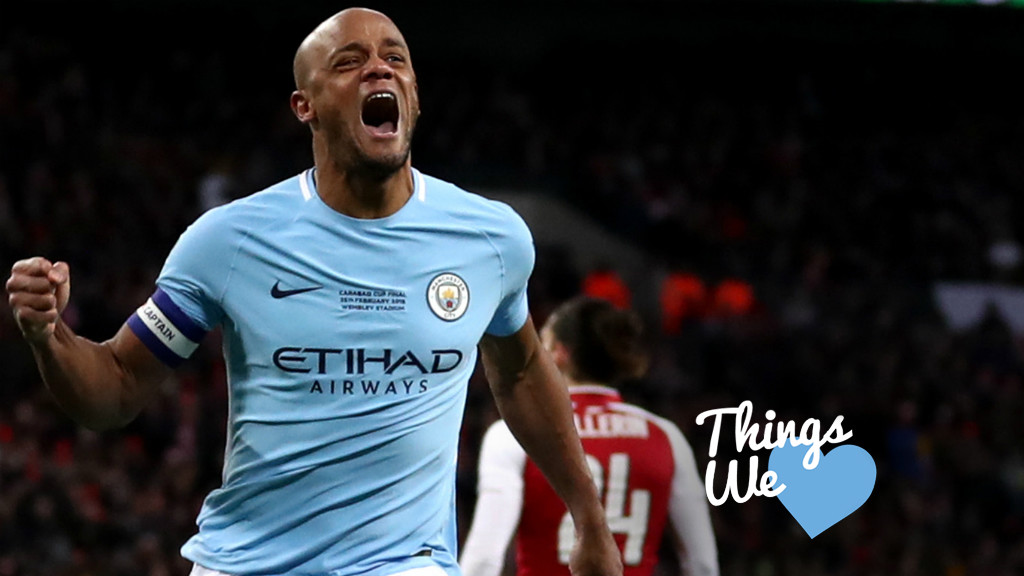 COMETH THE CAPTAIN: Vincent Kompany wheels away in elation following his goal at Wembley
Our favourite City-centric findings from across the world wide web...
The rib-tickling and the thought-provoking... The heart-warming and the joyous... What's caught our attention this week?
League Cup Champions!
League Cup winners: 1970, 1976, 2014, 2016, 2018.
Enough said!

Cometh the captain…
I mean, can we talk about THAT Vincent Kompany celebration for a sec?
The absolute outpouring of emotion. The jumps. The run to the fans.
THIS from the very man who lives and breathes Manchester City. The man who has been through so much and has played such a key role in our recent success.
WHAT A MOMENT.
That @VincentKompany celebration 💙 pic.twitter.com/jM8h6wsIFh

— Manchester City (@ManCity) February 25, 2018
Feel like we've seen that celebration before somewhere, you know. Can't put my finger on it though…
Oh captain, my captain
"Find someone who looks at you like Benjamin Mendy looks at Vincent Kompany."
When you know your captain did perfect today 😍😏 .. @VincentKompany 😂❤️ pic.twitter.com/G3FfI6pZVb

— Benjamin Mendy (@benmendy23) February 25, 2018
<script async src="https://platform.twitter.com/widgets.js" charset="utf-8"></script>
Baby Blue
Like father, like son…
After helping City to League Cup success at Wembley, Kevin De Bruyne shared this adorable snap of little Mason – his biggest fan – sporting a City kit and cheering on his dad.
All together now… Awwwwwwwwwwwww!
Headlock
There's a time and a place, lads! Priorities?!
It's very important to settle your argument right on the spot, regardless of what else is going on! 👊🏻😂💙 #inSané pic.twitter.com/KeyrjAeCVj

— Ilkay Gündogan (@IlkayGuendogan) February 26, 2018
Bobby Manc
Always nice to receive messages of congratulations from former players and managers.
Roberto Mancini still holds his former club in high regard…
Congratulations to @ManCity for #CarabaoCup. I'm happy for @aguerosergiokun, @VincentKompany and @21LVA who have already made the history of the #ManCity and keep winning new trophies! pic.twitter.com/mD3KVYZ1Ph

— Roberto Mancini (@robymancio) February 25, 2018
Feed the Goat… some birthday cake!
On the subject of former employees, the Goat enjoyed one hell of a birthday!
What a Birthday I've had @ManCity winning 3-0 Great evening in a cozy bar and then a few photos after. Happy Birthday to me! pic.twitter.com/xnNsAfNd3y

— Shaun Goater MBE (@OfficialSGoater) February 26, 2018
Phil of the Future
Sunday marked another unforgettable day for Phil Foden.
The Stockport-born City fan stepped out onto the pitch at Wembley as the Blues claimed a fifth League Cup triumph.
It's really is the stuff of dreams – and it's richly deserved for the teenager.
Bleacher Report clipped up some of his best moments…
The touch of an Argentinian. The skill of a Brazilian. Born in England. It is time to get excited about @PhilFoden.

(Footage via: @ManCity) pic.twitter.com/3LN6lHLrva

— B/R Football (@brfootball) February 23, 2018
National treasures
There has been further cause for celebration, as our amputee team clinched the National Amputee Cup! Congratulations to all involved.
The @Carabao_Cup wasn't the only trophy @ManCity won yesterday...

Congratulations to our amputee team for winning the National Amputee Cup #OneCity 💙 pic.twitter.com/DgquT0Oyai

— CityintheCommunity (@citctweets) February 26, 2018
Stanway screamer
Georgia Stanway, she scores when she wants… and the youngster picked the perfect time to net an absolute worldie at the weekend.
With City trailing 2-1 at home to title rivals Chelsea, the 19-year-old was introduced from the bench and made a sensational impact, rifling home a long-range rocket into the top corner to level the score and keep our title hopes alive.
Can't. Stop. Watching.
Rock'n'Roll stars
Just John Stones and Noel Gallagher, sitting having a chat about music. No big deal.
As part of EA Sports' Match-ups series, the pair talk Oasis songs in the dressing room and Pep Guardiola's current favourite tune.
A must-watch.
Snapper Shaz
Shoutout to former Club Photographer Sharon Latham, who has been shadowing Noel Gallagher during his tour of the USA.
More exclusive live pics from @NoelGallagher USA tour including some BTS dressing room shots. Check out noels social media and web site #NoelGallagher #live #tour pic.twitter.com/xJCyYEJ8in

— Sharon Latham (@snappershaz) February 27, 2018
Danilo has built a snowmaaaan
'Do you wanna build a snowmaaaan? Come on, let's go and plaaay…'
I can only imagine that's how Danilo alerted his family to the fact it was snowing this morning.
Anyway, here is a lovely family snap of him, his wife and his son – and their new friend.
Where are Blossoms?
'Brilliantly bizarre'.
So, over the last week or so, fans of indie rock five-piece Blossoms (two of which are City fans - Tom Ogden and Joe Donovan), have been speculating on the band's whereabouts after they announced a new album last summer.
In response, a light-hearted documentary entitled: 'Where are Blossoms?' has been created to explain.
As NME's Nick Reilly explains: "In the short film, it's claimed that each member has gone off to pursue their own individual passions after the success of their 2016 debut, and there's some unexpected new ventures in store.
"It's initially revealed that bassist Charlie Salt now 'works' as a mascot for Stockport County FC, while drummer Joe Donovan now runs an ice cream van that chimes out to the sound of their very own 'Charlemagne'.
"As the documentary progresses, the new occupations become increasingly bizarre – and it culminates in a clip that sees Myles Kellock undertaking an unlikely foray into hip-hop as he records a 'Fire In The Booth' session with Radio 1 Xtra's Charlie Sloth.
"But the clip also teases that a return could be on the horizon, with the date '01.03.2018' briefly flashing on screen at the very end of the documentary."