Men's Team
1
Guardiola: Jesus' family key to his form
GLOVE STORY: Pep Guardiola is well wrapped up as he fires out instructions
Pep Guardiola believes Gabriel Jesus will benefit from having his family living with him in England.
The Brazil striker bagged a brace in the 3-1 win over Everton on Saturday, his first league goals since August, a run of 11 matches.
His goals capped a man-of-the-match display, and he admitted afterwards that having his family join him in Manchester has been a huge boost.
Guardiola says it will be good for him to be surrounded by his loved ones, and praised his desire to integrate himself into English culture.
"It is much better [to have his family here]," the boss said.
"He is living alone, no girlfriend, he is not married - so to have his family here is so important.
"I think it's going to help him to have his mum here and his family are going to be so important.
"Gabriel today what he has done is the effort he always does.
"I like that it was the first time I heard him speaking to the media in English, and that's cool. That's what I insist of them, they have to learn because sometimes I have a feeling they don't understand me when I speak in English!
"It's important to have that feeling. Every time he speaks much, much better."
READ: City 3-1 Everton | Leroy City's form man
WATCH: City 3-1 Everton | Extended highlights
Jesus has made no secret of the close relationship he has with his mother, Vera Lucia, with his 'telephone' celebration signifying their pre- and post-match phone calls.
Guardiola believes having her closer will help him, and says a stable family life is vital for footballers to achieve their best.
"At the end we cannot forget football players are human beings," he said.
Have you seen...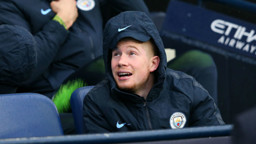 "There are many players who have the talent but have bad form for personal issues, maybe getting divorced or problems with their mum and dad.

"That influences a lot on the pitch, more than people expect and sometimes we don't know it.
"That's why he has the feeling the family here it is calm. I could not be here in England without my family.
"I always had the feeling in the past he was a good lad. It will be good."