Men's Team
1
Guardiola hails 'marvellous' response
GLOVE STORY: Pep Guardiola is well wrapped up as he fires out instructions
Pep Guardiola lauded City's 'marvellous' response, as the Champions returned to winning ways in the Premier League with a hard-earned 3-1 triumph over Everton.
Gabriel Jesus bagged a brace, before Raheem Sterling sealed the points with a header, as the Blues moved back top of the table, emerging victorious in an entertaining clash.
In the midst of a packed schedule and with the squad suffering a spate of injuries, Guardiola spoke of his pride for the way his team handled a 'dangerous' encounter.
"The players responded [to the defeat at Chelsea] in a marvellous way," he stated.
READ: City bounce back as Gabriel Jesus brace downs Everton
WATCH: Inside City | Episode 321
GALLERY: Slick City seal Toffees win
"Everton have top players. Today was tricky – a dangerous, dangerous game – especially with less than three days of recovery
"They draw at Stamford Bridge and at Liverpool, it came down to the last second.
"They have experienced players and it was something on our minds. The game wasn't over until the end.
"Of course, we can improve and do better. Spaces were there today but there was a problem with our process. After Hoffenheim, I'm very pleased.
"Hopefully, we can improve. Spaces were there but we didn't find them. Against Chelsea, it was more complicated to find them.
"The three centre-backs and people in front – incredible top players, who are strong in the air and set-pieces – they are massive and tall.

"That's why we didn't find the right moments. We were lucky after their goal that Raheem scored. They had two or three chances.
"We have fantastic players, incredible human beings, and we keep on track with three more points. I am very pleased."
Guardiola was especially delighted with Gabriel Jesus' performance, as the Brazilian ended his goal drought with an impressive brace.
The opener marked the striker's first Premier League goal since August, halting a run of 11 games, 487 minutes and 18 shots without one, but the manager asserted he never lost faith in his forward.
"Of course, he is so important," he added. "Strikers need to score goals. The difference today was that he scored as he was in better positions.
"It's so good for him and our team. It was so valuable, his performance.
"He settled so well from the beginning but it is better his family is here and strikers need to score goals.
"I am pretty sure he scored two nice goals that will be important for him."
NEXT UP...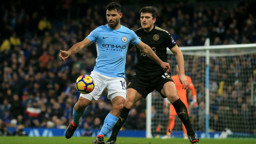 Sterling also continued his fine form, bagging the clincher with his first touch, having been introduced from the bench.

Since the start of last season, the forward has been directly involved in 26 goals in 21 Premier League home matches, with 17 strikes and nine assists, and Guardiola highlighted his crucial impact.
"For Raheem, when he has no time to think in front of goal, he's always good," the Catalan stated.
"The cross was amazing from Fernandinho and it was a great finish. We are not the tallest team in the world but after just a few minutes, it was an important goal for him and everyone.
"I see him so calm. I think he has handled the last years in many situations and rumours – not nice things about him or his family or the colour of his skin.
"I admire him and appreciate that it's not easy for him. He's loved by all staff and in the locker room."