Men's Team
1
Which TV channel is Leicester v City on?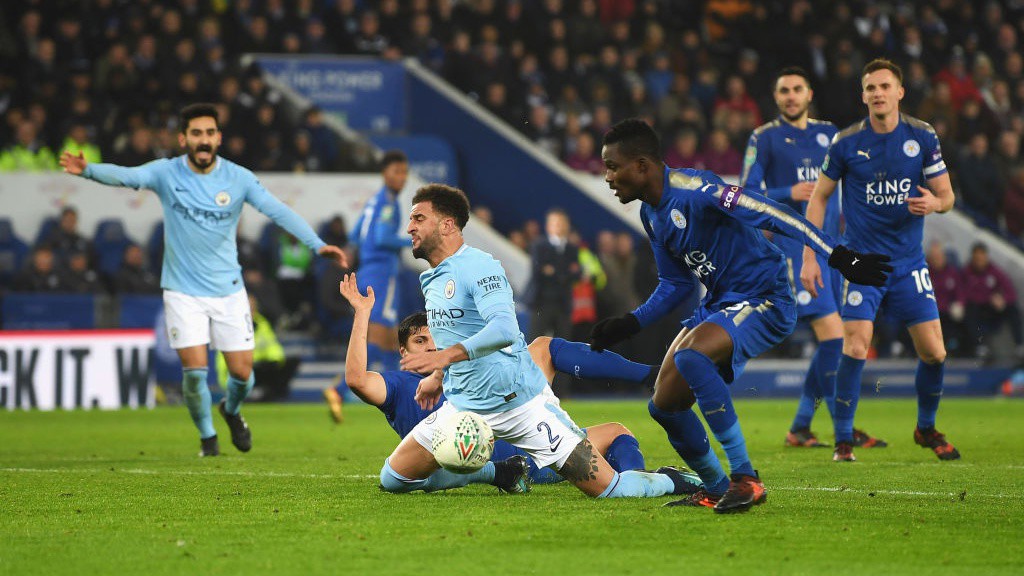 เอาคืนบ้าง! หลังจากที่เจ้าตัวทำเสียจุดโทษนาทีสุดท้าย ช็อตนี้ก็บุกขึ้นหวังจะได้จุดโทษคืนเหมือนกัน
Find out how you can keep up-to-date with City's Boxing Day clash at Leicester City...
The Premier League game is set to take place at the King Power Stadium on Wednesday 26 December, with kick-off scheduled for 3.00pm GMT.
The game is not being shown live on TV in the UK. Fans can follow our live Matchday Centre or our Twitter @ManCity for updates throughout the game.
Fans based outside the UK can find out where they can watch the match with our global TV listings, courtesy of liversoccertv...
| | |
| --- | --- |
| Algeria | beIN SPORTS CONNECT |
| Andorra | RMC Sport 1 |
| Angola | SuperSport 5 Africa |
| Anguilla | Flow Sports App,Flow Sports Premier |
| Antigua and Barbuda | Flow Sports App,Flow Sports Premier |
| Argentina | ESPN Play Sur,ESPN Sur |
| Aruba | Flow Sports App,Flow Sports Premier |
| Australia | Optus Sport |
| Bahamas | Flow Sports App,Flow Sports Premier |
| Bahrain | beIN SPORTS CONNECT |
| Barbados | Flow Sports Premier,Flow Sports App |
| Benin | SuperSport 5 Africa,Canal+ Sport 2 Afrique |
| Bermuda | Flow Sports Premier,Flow Sports App |
| Bolivia | ESPN Play Sur,ESPN Sur |
| Bosnia and Herzegovina | SportKlub 1 Serbia |
| Botswana | SuperSport 5 Africa |
| Brazil | Watch ESPN Brasil,ESPN Brasil |
| British Virgin Islands | Flow Sports App,Flow Sports Premier |
| Brunei | beIN Sports Connect,Astro Go |
| Bulgaria | Nova Sport Bulgaria |
| Burkina Faso | Canal+ Sport 2 Afrique,SuperSport 5 Africa |
| Burundi | Canal+ Sport 2 Afrique,SuperSport 5 Africa |
| Cambodia | beIN Sports Connect |
| Cameroon | Canal+ Sport 2 Afrique,SuperSport 5 Africa |
| Canada | Sportsnet World Now,Sportsnet West,Sportsnet East,Sportsnet Ontario,Sportsnet Pacific |
| Cape Verde | Canal+ Sport 2 Afrique,SuperSport 5 Africa |
| Cayman Islands | Flow Sports Premier,Flow Sports App |
| Central African Republic | Canal+ Sport 2 Afrique,SuperSport 5 Africa |
| Chad | beIN SPORTS CONNECT,Canal+ Sport 2 Afrique,SuperSport 5 Africa |
| Chile | ESPN Play Sur,ESPN Sur |
| China | Ssports Live,QQ Sports Live,BesTV |
| Colombia | ESPN Sur,ESPN Play Sur,ESPN Andina |
| Comoros | SuperSport 5 Africa |
| Congo | Canal+ Sport 2 Afrique,SuperSport 5 Africa |
| Congo DR | SuperSport 5 Africa |
| Costa Rica | Sky HD |
| Cote D'Ivoire | SuperSport 5 Africa,Canal+ Sport 2 Afrique |
| Croatia | Sportklub 1 Croatia |
| Djibouti | beIN SPORTS CONNECT,Canal+ Sport 2 Afrique,SuperSport 5 Africa |
| Dominica | Flow Sports App |
| Dominican Republic | Flow Sports Premier,Sky HD |
| Ecuador | ESPN Sur,ESPN Play Sur,ESPN Andina |
| Egypt | beIN SPORTS CONNECT |
| El Salvador | Sky HD |
| Equatorial Guinea | Canal+ Sport 2 Afrique,SuperSport 5 Africa |
| Eritrea | SuperSport 5 Africa |
| Ethiopia | SuperSport 5 Africa |
| France | RMC Sport en direct,RMC Sport 1 |
| Gabon | SuperSport 5 Africa,Canal+ Sport 2 Afrique |
| Gambia | Canal+ Sport 2 Afrique,SuperSport 5 Africa |
| Ghana | SuperSport 5 Africa,Canal+ Sport 2 Afrique |
| Grenada | Flow Sports Premier,Flow Sports App |
| Guatemala | Sky HD |
| Guinea | SuperSport 5 Africa,Canal+ Sport 2 Afrique |
| Guinea-Bissau | Canal+ Sport 2 Afrique,SuperSport 5 Africa |
| Honduras | Sky HD |
| Hong Kong | Now E |
| India | Hotstar |
| Indonesia | beIN Sports Connect Indonesia |
| International | LCFC Radio,TalkSport Radio World |
| Iran | beIN SPORTS CONNECT |
| Iraq | beIN SPORTS CONNECT |
| Ireland | BBC Radio |
| Jamaica | Flow Sports Premier,Flow Sports App |
| Japan | DAZN,SportsNavi Live |
| Jordan | beIN SPORTS CONNECT |
| Kenya | SuperSport 5 Africa |
| Kuwait | beIN SPORTS CONNECT |
| Laos | beIN Sports Connect |
| Lebanon | beIN SPORTS CONNECT |
| Lesotho | SuperSport 5 Africa |
| Liberia | SuperSport 5 Africa |
| Libya | beIN SPORTS CONNECT |
| Luxembourg | RMC Sport 1 |
| Macau | Ssports Live |
| Macedonia | SportKlub 1 Serbia |
| Madagascar | SuperSport 5 Africa |
| Malawi | SuperSport 5 Africa |
| Malaysia | Astro Go |
| Mali | Canal+ Sport 2 Afrique,SuperSport 5 Africa |
| Mauritania | Canal+ Sport 2 Afrique,beIN SPORTS CONNECT |
| Mauritius | SuperSport 5 Africa,RMC Sport 1 |
| Mexico | Blue To Go Video Everywhere,Sky HD |
| Monaco | RMC Sport 1 |
| Mongolia | SPS HD |
| Montenegro | SportKlub 1 Serbia |
| Montserrat | Flow Sports Premier,Flow Sports App |
| Morocco | beIN SPORTS CONNECT |
| Mozambique | SuperSport 5 Africa |
| Myanmar | Skynet Sports 6 |
| Namibia | SuperSport 5 Africa |
| Nicaragua | Sky HD |
| Niger | Canal+ Sport 2 Afrique,SuperSport 5 Africa |
| Nigeria | SuperSport 5 Nigeria,Canal+ Sport 2 Afrique,SuperSport 5 Africa |
| Oman | beIN SPORTS CONNECT |
| Palestinian Territory | beIN SPORTS CONNECT |
| Panama | Flow Sports Premier,Flow Sports App,Sky HD |
| Paraguay | ESPN Sur,ESPN Play Sur |
| Peru | ESPN Play Sur,ESPN Sur |
| Poland | Canal+ Sport Online |
| Portugal | Sport TV2 |
| Qatar | beIN SPORTS CONNECT |
| Rwanda | Canal+ Sport 2 Afrique,SuperSport 5 Africa |
| Saint Kitts and Nevis | Flow Sports App,Flow Sports Premier |
| Saint Lucia | Flow Sports App,Flow Sports Premier |
| Saint Vincent and the Grenadines | Flow Sports Premier,Flow Sports App |
| Sao Tome And Principe | SuperSport 5 Africa |
| Saudi Arabia | beIN SPORTS CONNECT |
| Senegal | Canal+ Sport 2 Afrique,SuperSport 5 Africa |
| Serbia | SportKlub 1 Serbia |
| Seychelles | Flow Sports Premier,Flow Sports App,SuperSport 5 Africa |
| Sierra Leone | SuperSport 5 Africa,Canal+ Sport 2 Afrique |
| Somalia | beIN SPORTS CONNECT |
| South Africa | SuperSport 5 Africa,SuperSport 5 |
| South Sudan | SuperSport 5 Africa,beIN SPORTS CONNECT |
| Spain | Movistar Liga de Campeones,Movistar+ |
| Sudan | beIN SPORTS CONNECT |
| Swaziland | SuperSport 5 Africa |
| Switzerland | RMC Sport 1 |
| Syria | beIN SPORTS CONNECT |
| Tanzania | SuperSport 5 Africa |
| Thailand | beIN Sports Connect |
| Togo | Canal+ Sport 2 Afrique,SuperSport 5 Africa |
| Trinidad and Tobago | Flow Sports App,Flow Sports Premier |
| Tunisia | beIN SPORTS CONNECT |
| Turkey | Digiturk Play,S Sport+,S Sport |
| Turks and Caicos Islands | Flow Sports App,Flow Sports Premier |
| Uganda | SuperSport 5 Africa |
| United Arab Emirates | beIN SPORTS CONNECT |
| United Kingdom | BBC Radio,BBC Radio Manchester |
| United States | NBC Sports Gold |
| Uruguay | ESPN Sur,ESPN Play Sur |
| Venezuela | ESPN Sur,ESPN Andina,ESPN Play Sur |
| Yemen | beIN SPORTS CONNECT |
| Zambia | SuperSport 5 Africa |
| Zimbabwe | SuperSport 5 Africa |