Men's Team
1
Mahrez versatility a boost for City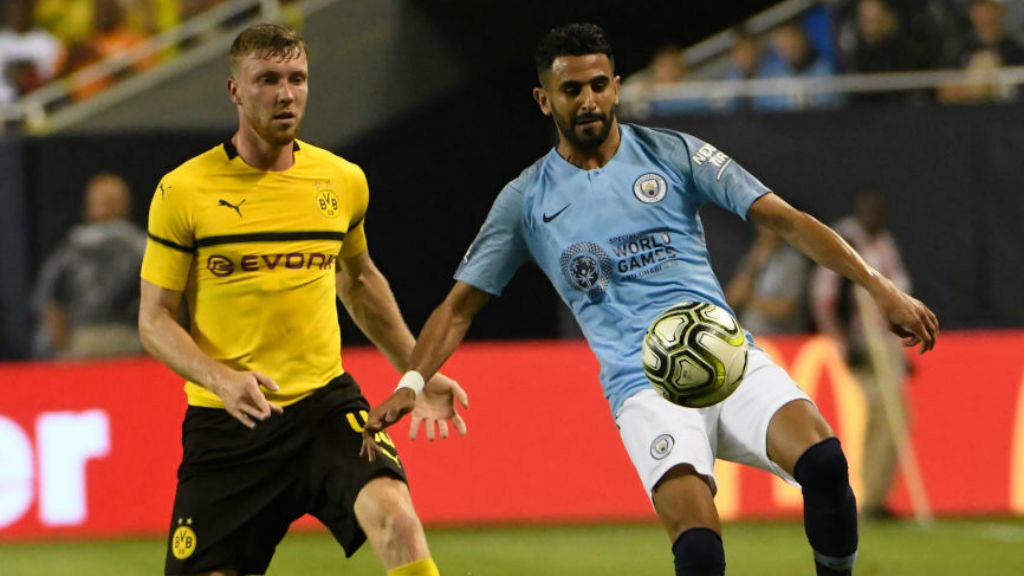 QUALITY STREET: Riyad Mahrez will offer Manchester City a host of attacking options once the 2018/19 campaign gets underway
Amongst the myriad qualities Riyad Mahrez has brought to Manchester City, his versatility promises to be a key factor going into the 2018/19 campaign.
The quality of the attacking Algerian winger, who sealed his move to the Club from Leicester last month, is without question.
Riyad's sublime skills, marvellous technique and ability to effortlessly ghost past opposition defenders proved to be crucial cornerstones in Leicester's remarkable 2015/16 Premier League title triumph.
Over the course of his time in the East Midlands Mahrez also constantly demonstrated his penchant for delivering a regular supply of goals – more often than not important ones too - so he will only add to City's extensive arsenal in that regard as well.
READ: Riyad Mahrez injury update
WATCH: Man City Riyad Mahrez Borussia Dortmund post match reaction interview
But arguably the other vital attribute that Riyad offers manager Pep Guardiola lies in his versatility.
In many ways Mahrez could well become City's very own flexible friend such is his ability to operate effectively across numerous areas.
In one of his first interviews after signing his five-year contract with the Club, Riyad was keen to stress that he was happy to play anywhere to fit in with Pep's plans.
"I'm an offensive-minded player," he told press. "(In the role of) attacking, right or left midfield.

"I have no problem with positions. I will play wherever the manager wants me to."
During the course of our record-breaking 20-17/18 campaign, Raheem Sterling tended to play on the right wing, with Bernardo Silva another option.
READ: Ali Benarbia says Riyad Mahrez will be a huge success at Man City
READ: Man City Riyad Mahrez expert view Leicester
However, if Mahrez is deployed on the right flank - as he regularly was at Leicester - it could free Sterling up to adopt a more central attacking role, a role that Guardiola occasionally opted to employ.
However, Riyad's creativity and vision means he could equally shine by fitting in as an orthodox number 10 for the Blues.
Given his attacking quality and eye for an opening - allied to City's devastating capacity to break teams down with quick passing and movement in the final third of the field - Mahrez could well prove a revelation in that all-important role.
However, there is little doubt that the 27-year-old also possesses the skill, speed and technical ability should he be required to operate as an orthodox winger over on the Blues' left flank.

The positive news from a City perspective is that given his experience of thriving at the highest level in England over the past three years, Riyad will be able to hit the ground running with City once the new Premier League campaign gets underway later this month.
Given Guardiola's ability to help make great players become even better, there is little doubt that Mahrez's assured presence will only help bring an even keener cutting edge to City's already devastating arsenal of attacking weaponry.
But seeing quite how and where he will be deployed will be both fascinating and exciting to witness.