Men's Team
1
What TV channel is City v United on?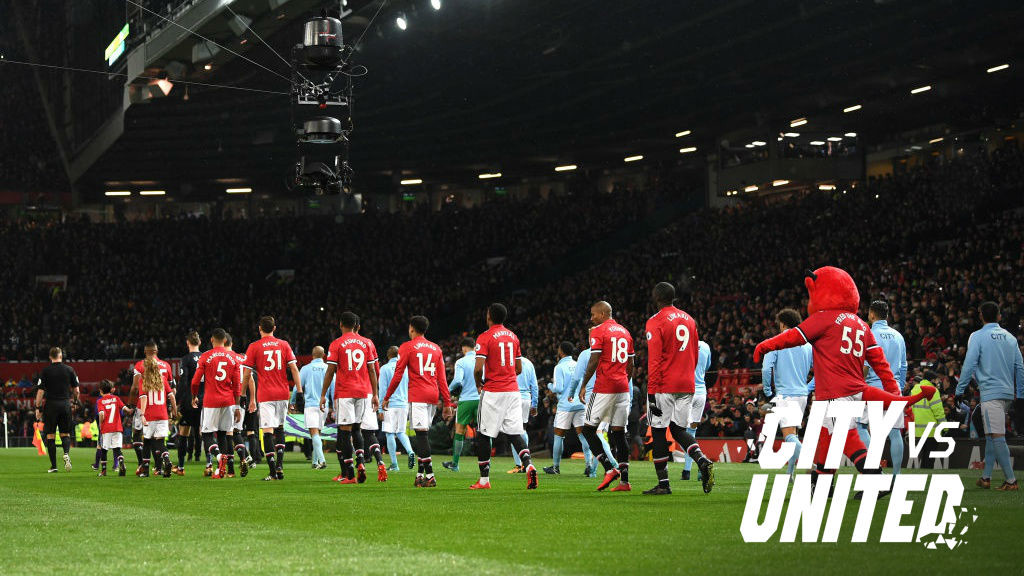 Find out where you can watch the Manchester derby wherever you are in the world...
Pep's side welcome Manchester United to the Etihad on Saturday 7 April, kick-off at 5.30pm, knowing that just one more win will secure the Premier League trophy.
For viewers in the UK, the big game will be shown live on Sky Sports Premier League and Main Event channels. If you can't watch the game on TV, we'll have live radio commentary right here on mancity.com.
You can also get live updates on the City Matchday App and Twitter.
For viewers around the world, check out our global TV listings, courtesy of livesoccertv.com...
| | |
| --- | --- |
| Algeria | beIN SPORTS CONNECT |
| Andorra | SFR Sport 1 |
| Angola | SuperSport 3 Africa |
| Anguilla | Flow Sports App |
| Antigua and Barbuda | Flow Sports App |
| Aruba | Flow Sports App |
| Australia | Optus Sport |
| Austria | DAZN Europe |
| Azerbaijan | Idman TV |
| Bahamas | Flow Sports App |
| Bahrain | beIN SPORTS CONNECT |
| Bangladesh | Star Sports Select HD2 |
| Barbados | Flow Sports App |
| Benin | SuperSport 3 Africa,Canal+ Sport 2 Afrique |
| Bermuda | Flow Sports App |
| Bhutan | Star Sports Select HD2 |
| Botswana | SuperSport 3 Africa |
| Brazil | Watch ESPN Brasil |
| British Virgin Islands | Flow Sports App |
| Brunei | beIN Sports 1 Thailand,beIN Sports Connect Thailand |
| Bulgaria | Diema Sport 2 |
| Burkina Faso | SuperSport 3 Africa,Canal+ Sport 2 Afrique |
| Burundi | SuperSport 3 Africa,Canal+ Sport 2 Afrique |
| Cambodia | beIN Sports Connect Thailand,beIN Sports 1 Thailand |
| Cameroon | Canal+ Sport 2 Afrique,SuperSport 3 Africa |
| Canada | Sportsnet World Now,Sportsnet World,Sportsnet Now |
| Cape Verde | Canal+ Sport 2 Afrique,SuperSport 3 Africa |
| Cayman Islands | Flow Sports App |
| Central African Republic | Canal+ Sport 2 Afrique,SuperSport 3 Africa |
| Chad | SuperSport 3 Africa,Canal+ Sport 2 Afrique,beIN SPORTS CONNECT |
| China | QQ Sports Live,PPTV Sport China,BesTV,Ssports Live |
| Colombia | ESPN2 Andina |
| Comoros | SuperSport 3 Africa |
| Congo | SuperSport 3 Africa,Canal+ Sport 2 Afrique |
| Congo DR | SuperSport 3 Africa |
| Costa Rica | Sky HD,SKY Planeta Fútbol |
| Cote D'Ivoire | Canal+ Sport 2 Afrique,SuperSport 3 Africa |
| Czech Republic | Digi Sport 1 |
| Denmark | Viaplay Denmark |
| Djibouti | SuperSport 3 Africa,beIN SPORTS CONNECT,Canal+ Sport 2 Afrique |
| Dominica | Flow Sports App |
| Dominican Republic | Sky HD,SKY Planeta Fútbol |
| Ecuador | ESPN2 Andina |
| Egypt | beIN SPORTS CONNECT |
| El Salvador | Sky HD,SKY Planeta Fútbol |
| Equatorial Guinea | SuperSport 3 Africa,Canal+ Sport 2 Afrique |
| Eritrea | SuperSport 3 Africa |
| Estonia | Viasat Sport Baltic |
| Ethiopia | SuperSport 3 Africa |
| Finland | Viaplay Finland,Viasat Football HD,Viasat Sports Premium |
| France | SFR Sport 1 |
| Gabon | SuperSport 3 Africa,Canal+ Sport 2 Afrique |
| Gambia | SuperSport 3 Africa,Canal+ Sport 2 Afrique |
| Germany | DAZN Europe |
| Ghana | SuperSport 3 Africa,Canal+ Sport 2 Afrique |
| Greece | Cosmote Sport 1 HD |
| Grenada | Flow Sports App |
| Guatemala | Sky HD,SKY Planeta Fútbol |
| Guinea | Canal+ Sport 2 Afrique,SuperSport 3 Africa |
| Guinea-Bissau | Canal+ Sport 2 Afrique,SuperSport 3 Africa |
| Honduras | SKY Planeta Fútbol,Sky HD |
| Hong Kong | LeTV Sports Hong Kong,620 PLTV |
| Iceland | Stöð 2 Sport |
| India | Star Sports Select 2,Star Sports Select HD2,Hotstar |
| Indonesia | beIN Sports 1 Indonesia |
| International | TalkSport Radio World,MUTV App,MUTV Online |
| Iran | beIN SPORTS CONNECT |
| Iraq | beIN SPORTS CONNECT |
| Ireland | SKY GO Extra,Sky Sports Premier League,Sky Go UK,Sky Sports Main Event,NOW TV,Sky Sports Premier League Ireland |
| Italy | Sky Sport 3 HD Italia |
| Jamaica | Flow Sports App |
| Japan | J Sports 2,SportsNavi Live |
| Jordan | beIN SPORTS CONNECT |
| Kenya | SuperSport 3 Africa |
| Kuwait | beIN SPORTS CONNECT |
| Laos | beIN Sports Connect Thailand,beIN Sports 1 Thailand |
| Latvia | Viasat Sport Baltic |
| Lebanon | beIN SPORTS CONNECT |
| Lesotho | SuperSport 3 Africa |
| Liberia | SuperSport 3 Africa |
| Libya | beIN SPORTS CONNECT |
| Lithuania | Viasat Sport Baltic |
| Luxembourg | SFR Sport 1 |
| Macau | Ssports Live |
| Madagascar | SuperSport 3 Africa |
| Malawi | SuperSport 3 Africa |
| Maldives | Star Sports Select HD2 |
| Mali | SuperSport 3 Africa,Canal+ Sport 2 Afrique |
| Mauritania | beIN SPORTS CONNECT,Canal+ Sport 2 Afrique |
| Mauritius | SuperSport 3 Africa,SFR Sport 1 |
| Mexico | Sky HD,SKY Planeta Fútbol |
| Monaco | SFR Sport 1 |
| Mongolia | SPS HD |
| Montserrat | Flow Sports App |
| Morocco | beIN SPORTS CONNECT |
| Mozambique | SuperSport 3 Africa |
| Namibia | SuperSport 3 Africa |
| Nepal | Star Sports Select HD2 |
| Nicaragua | Sky HD,SKY Planeta Fútbol |
| Niger | SuperSport 3 Africa,Canal+ Sport 2 Afrique |
| Nigeria | SuperSport 3 Nigeria,Canal+ Sport 2 Afrique,SuperSport 3 Africa |
| Oman | beIN SPORTS CONNECT |
| Pakistan | Star Sports Select HD2 |
| Palestinian Territory | beIN SPORTS CONNECT |
| Panama | SKY Planeta Fútbol,Sky HD,Flow Sports App |
| Philippines | beIN Sports 1 HD |
| Poland | Canal+ Sport Online |
| Portugal | Sport TV3 |
| Qatar | beIN SPORTS CONNECT |
| Russia | Match TV Football 1 |
| Rwanda | Canal+ Sport 2 Afrique,SuperSport 3 Africa |
| Saint Kitts and Nevis | Flow Sports App |
| Saint Lucia | Flow Sports App |
| Saint Vincent and the Grenadines | Flow Sports App |
| Sao Tome And Principe | SuperSport 3 Africa |
| Saudi Arabia | beIN SPORTS CONNECT |
| Senegal | Canal+ Sport 2 Afrique,SuperSport 3 Africa |
| Seychelles | Flow Sports App,SuperSport 3 Africa |
| Sierra Leone | Canal+ Sport 2 Afrique,SuperSport 3 Africa |
| Slovakia | Digi Sport 1 |
| Slovenia | SportKlub 1 Slovenia |
| Somalia | beIN SPORTS CONNECT |
| South Africa | SuperSport 3,SuperSport Maximo,SuperSport 3 Africa |
| South Sudan | beIN SPORTS CONNECT,SuperSport 3 Africa |
| Spain | Movistar TV Fútbol,Movistar+ |
| Sri Lanka | Star Sports Select HD2 |
| Sudan | beIN SPORTS CONNECT |
| Swaziland | SuperSport 3 Africa |
| Sweden | Viasat Sports Premium,Viaplay Sweden |
| Switzerland | DAZN Europe,SFR Sport 1 |
| Syria | beIN SPORTS CONNECT |
| Tanzania | SuperSport 3 Africa |
| Thailand | beIN Sports 1 Thailand,beIN Sports Connect Thailand |
| Togo | Canal+ Sport 2 Afrique,SuperSport 3 Africa |
| Trinidad and Tobago | Flow Sports App |
| Tunisia | beIN SPORTS CONNECT |
| Turkey | Idman TV,Digiturk Play |
| Turks and Caicos Islands | Flow Sports App |
| Uganda | SuperSport 3 Africa |
| Ukraine | Futbol 1 |
| United Arab Emirates | beIN SPORTS CONNECT |
| United Kingdom | Sky Go UK,BBC Radio Manchester,NOW TV,SKY GO Extra,Sky Sports Main Event,Sky Sports Premier League |
| United States | fuboTV,Telemundo,Telemundo Deportes En Vivo |
| Venezuela | ESPN2 Andina |
| Yemen | beIN SPORTS CONNECT |
| Zambia | SuperSport 3 Africa |
| Zimbabwe | SuperSport 3 Africa |