Men's Team
1
Guardiola praise for Mendy and Sane
PREVIEW: Pep Guardiola shares his thoughts ahead of Spurs v City.
Pep Guardiola declared it has been a 'joy' to have Benjamin Mendy back in training.
The left-back returned to first-team action for the first time since September – introduced from the bench in the 5-0 triumph over Swansea – following his cruciate ligament knee injury.
With the Frenchman having suffered such a lengthy lay-off, the manager admitted this summer's World Cup may arrive too soon but expressed his delight to have the defender back in contention for the final games of the Champions' Premier League campaign.
"It's a joy to train with him," Guardiola told press.
"I can't decide (if the World Cup is too soon) – I don't know. After six or seven months, you need a bit of time to get your brain, knee and football skills back."
Guardiola also spoke highly of PFA Young Player of the Season Leroy Sane, adding he is excited by the German's potential.
"I think the most important thing is his consistency during the game," he continued. "His quality for itself.
"Like we said with Raheem Sterling, for me the most exciting part as a manager is that he has a gap and space to become a better player – in every training session, better and better. He has huge potential.

"Leroy has a good target to emulate Ryan Giggs."
With the league title wrapped up, Guardiola said his team are motivated by the desire to continue to break records.
"If the numbers help us to keep focused, that is perfect," he stated.
Beautiful Football hub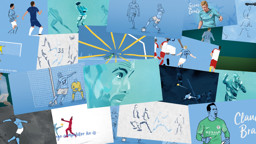 "Records will be broken. If you break a record, sooner or later, it will be broken. Records are not forever but they help us to keep focused on what we have to do.

"Playing football with no intention is unwise – sometimes, you play lazy.
"We have four games left – we want to finish high and in a good way by trying to win the games."
If you want to relive the best moments from a truly memorable season, visit our Beautiful Football hub: www.mancity.com/beautifulfootball