Men's Team
1
Talking Points: Blues need to rattle Liverpool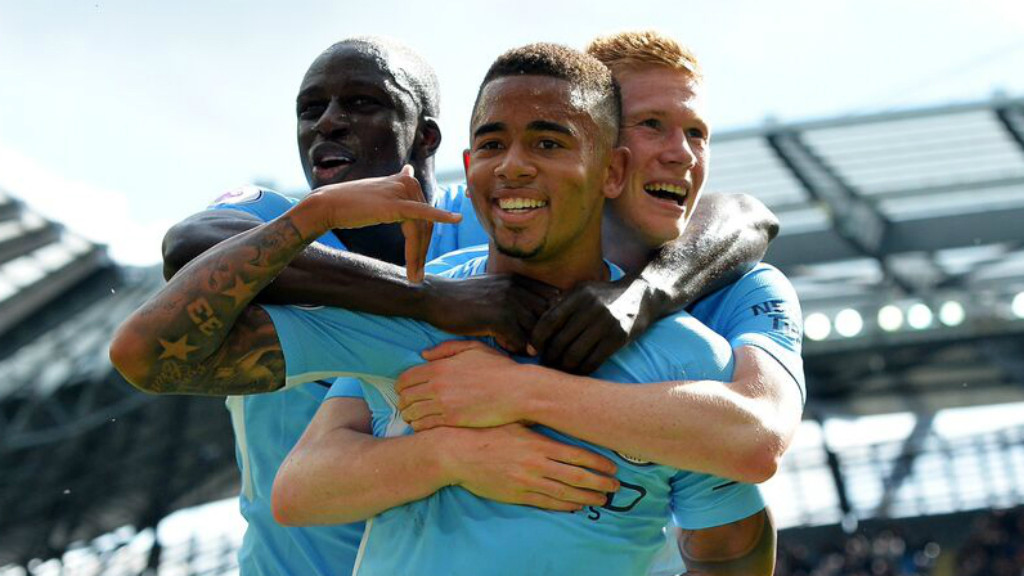 ALO MÃE: Gabriel Jesus with his trademark celebration against Liverpool earlier this season
Five talking points ahead of our Champions League quarter-final second leg...
1

Early goal essential

If City go in at the break goalless against Liverpool, there would still be time to get the score needed to at least take the game to extra time and possibly penalties.


A score of 3-0 after extra time is the only scenario that could result in a penalty shoot-out deciding the tie – a victory of 4-1 for the Blues after 90 minutes would still see Liverpool progress to the semi-finals on away goals.

The ideal scenario is that City score an early goal to unsettle the Reds and plant a seed of doubt in their mind – and the season stats suggest the Blues will most certainly make opportunities.

Over the three matches against Liverpool this season, the Blues have had 35 shots, 14 of which have been on target with 22 corners.

Liverpool have had 32 shots with 15 on target and just eight corners – so while not impossible, a 0-0 draw is unlikely.

Possible scenarios, fascinating stats and cause for optimism...

TV: Which channel is City v Liverpool on?

CITY v LIVERPOOL: Need to know
2

Stick or twist?

It will be interesting to see how Liverpool approach the second leg.


Under normal circumstances, a team leading 3-0 from the first leg would be expected to defend and sit deep, but it's unlikely Jurgen Klopp will ask his players to do that.

On the other hand, going gung-ho at City and leaving gaps at the back would be dangerous against an attack that has already scored 126 goals in all competitions, so expect a degree of caution from the visitors.

While it certainly wouldn't end the Blues' hopes if Liverpool do score, the already sizeable task would take on even greater difficulty as only a score of at least 5-1 would then be needed.
3

Home advantage

Though we'll never know what the score against Liverpool at the Etihad might have been is Sadio Mane hadn't been sent off, the Blues still won 5-0 and were already ahead before the dismissal.


That scoreline could be in the minds of the visitors when they step out on the turf on Tuesday evening.

Though the Blues lost the Manchester derby at the weekend and our unbeaten Premier League home record, it's worth remembering that the opening 45 minutes against United saw some of the most exhilarating football this season.

Two goals could easily have been five.


The Blues average slightly under three goals per home game this season (65 from 23 games in all competitions) and have won 20 of our 23 matches at the Etihad.

With the City fans in full voice and the players at their best, the Etihad Stadium could be every bit as intimidating as Anfield was last Wednesday.

One thing seems certain, Pep Guardiola's side will go for broke and it will be fascinating to see how the game unfurls.
4

Sergio factor

If Sergio Aguero starts, Liverpool have good reason to be unnerved.


Aguero's goal against Klopp's side in September was his seventh in succession against the Reds at the Etihad and while he's yet to score at Anfield, on home turf, it's a different story.

Pep played both Gabriel Jesus and Aguero in the 5-0 September victory and he could do the same again – but if the Blues can turn this game around, it's likely Sergio and his knack of scoring in this fixture, will be central to any triumph.

5

Reaction

Our players have proved their quality beyond doubt so far this season with the football simply breathtaking at times. So despite two successive defeats, fans can look forward to a strong reaction from such a talented group.

The last week has been a punishing schedule for the players but there are relatively fresh legs to bring in - Kevin De Bruyne, Gabriel Jesus, Sergio Aguero and Kyle Walker started on the bench against United and will be in the frame to start.

The Blues will be hurting and backed by a strong home crowd the motivation could not be stronger.