Men's Team
1
What channel is Man City v Crystal Palace on?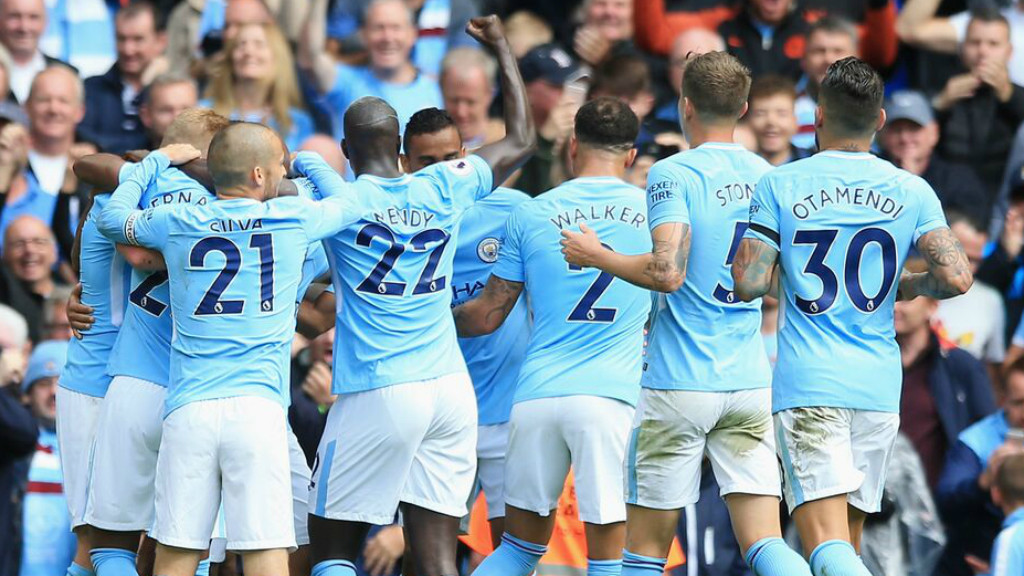 SEA OF BLUE: The team rush over to congratulate Sergio Aguero on the opener
Find out how you can watch Manchester City v Crystal Palace on TV, wherever you are in the world.
The Blues currently top the Premier League table after an unbeaten start to the new campaign, and they will be looking to continue their fine form when Palace visit the Etihad Stadium on Saturday.
Pep Guardiola's side have taken 13 points from their first five league matches, and have also registered Champions League and Carabao Cup victories, too.
Palace have had a difficult start and sit bottom of the table, with no points and no goals from their opening five games. New manager Roy Hodgson will be desperate to see an improvement as quickly as possible.
You can follow the game live via our Matchday Centre right here on mancity.com or on the CityMatchdayApp. Alternatively, we'll be tweeting live updates throughout.
Check out where you can watch the game around the globe, courtesy of livesoccertv.com.
| | |
| --- | --- |
| Algeria | beIN SPORTS CONNECT Arabia |
| Angola | SuperSport 2 Africa |
| Anguilla | Flow Sports Premier,Flow Sports App |
| Antigua and Barbuda | Flow Sports Premier,Flow Sports App |
| Australia | Optus Sport |
| Bahamas | Flow Sports App,Flow Sports Premier |
| Bahrain | beIN SPORTS CONNECT Arabia |
| Barbados | Flow Sports App,Flow Sports Premier |
| Benin | SuperSport 2 Africa |
| Bermuda | Flow Sports Premier,Flow Sports App |
| Botswana | SuperSport 2 Africa |
| Brazil | Watch ESPN Brasil |
| British Virgin Islands | Flow Sports App,Flow Sports Premier |
| Brunei | beIN Sports Connect Thailand,Astro Go,beIN Sports 3 Thailand |
| Burkina Faso | SuperSport 2 Africa |
| Burundi | SuperSport 2 Africa |
| Cambodia | beIN Sports Connect Thailand,beIN Sports 3 Thailand |
| Cameroon | SuperSport 2 Africa |
| Canada | Sportsnet East,Sportsnet Pacific,Sportsnet Ontario,Sportsnet World Now,Sportsnet Now,Sportsnet West |
| Cape Verde | SuperSport 2 Africa |
| Cayman Islands | Flow Sports App,Flow Sports Premier |
| Central African Republic | SuperSport 2 Africa |
| Chad | SuperSport 2 Africa,beIN SPORTS CONNECT Arabia |
| China | PPTV Sport China,BesTV,Ssports Live,QQ Sports Live |
| Comoros | SuperSport 2 Africa |
| Congo | SuperSport 2 Africa |
| Congo DR | SuperSport 2 Africa |
| Costa Rica | SKY Planeta Fútbol,Sky HD |
| Cote D'Ivoire | SuperSport 2 Africa |
| Djibouti | beIN SPORTS CONNECT Arabia,SuperSport 2 Africa |
| Dominica | Flow Sports App |
| Dominican Republic | Sky HD,Flow Sports Premier,SKY Planeta Fútbol |
| Egypt | beIN SPORTS CONNECT Arabia |
| El Salvador | SKY Planeta Fútbol,Sky HD |
| Equatorial Guinea | SuperSport 2 Africa |
| Eritrea | SuperSport 2 Africa |
| Ethiopia | SuperSport 2 Africa |
| Finland | Viasat Football HD,Viaplay Finland |
| Gabon | SuperSport 2 Africa |
| Gambia | SuperSport 2 Africa |
| Ghana | SuperSport 2 Africa |
| Grenada | Flow Sports Premier,Flow Sports App |
| Guatemala | Sky HD,SKY Planeta Fútbol |
| Guinea | SuperSport 2 Africa |
| Guinea-Bissau | SuperSport 2 Africa |
| Honduras | Sky HD,SKY Planeta Fútbol |
| Hong Kong | LeTV Sports Hong Kong |
| India | Hotstar |
| International | Palace PlayerHD Live,TalkSport Radio World |
| Iran | beIN SPORTS CONNECT Arabia |
| Iraq | beIN SPORTS CONNECT Arabia |
| Ireland | Talksport 2 Radio UK |
| Jamaica | Flow Sports Premier,Flow Sports App |
| Japan | SportsNavi Live |
| Jordan | beIN SPORTS CONNECT Arabia |
| Kenya | SuperSport 2 Africa |
| Kuwait | beIN SPORTS CONNECT Arabia |
| Laos | beIN Sports 3 Thailand,beIN Sports Connect Thailand |
| Lebanon | beIN SPORTS CONNECT Arabia |
| Lesotho | SuperSport 2 Africa |
| Liberia | SuperSport 2 Africa |
| Libya | beIN SPORTS CONNECT Arabia |
| Macau | Ssports Live |
| Madagascar | SuperSport 2 Africa |
| Malawi | SuperSport 2 Africa |
| Malaysia | Astro Go,Astro Supersport |
| Mali | SuperSport 2 Africa |
| Mauritania | beIN SPORTS CONNECT Arabia |
| Mauritius | SuperSport 2 Africa |
| Mexico | Sky HD,SKY Planeta Fútbol |
| Mongolia | SPS HD |
| Montserrat | Flow Sports App,Flow Sports Premier |
| Morocco | beIN SPORTS CONNECT Arabia |
| Mozambique | SuperSport 2 Africa |
| Myanmar | Skynet Myanmar |
| Namibia | SuperSport 2 Africa |
| Nicaragua | Sky HD,SKY Planeta Fútbol |
| Niger | SuperSport 2 Africa |
| Nigeria | SuperSport 2 Africa |
| Oman | beIN SPORTS CONNECT Arabia |
| Palestinian Territory | beIN SPORTS CONNECT Arabia |
| Panama | SKY Planeta Fútbol,Flow Sports Premier,Flow Sports App,Sky HD |
| Qatar | beIN SPORTS CONNECT Arabia |
| Rwanda | SuperSport 2 Africa |
| Saint Kitts and Nevis | Flow Sports Premier,Flow Sports App |
| Saint Lucia | Flow Sports App,Flow Sports Premier |
| Saint Vincent and the Grenadines | Flow Sports Premier,Flow Sports App |
| Sao Tome And Principe | SuperSport 2 Africa |
| Saudi Arabia | beIN SPORTS CONNECT Arabia |
| Senegal | SuperSport 2 Africa |
| Seychelles | Flow Sports App,Flow Sports Premier,SuperSport 2 Africa |
| Sierra Leone | SuperSport 2 Africa |
| Somalia | beIN SPORTS CONNECT Arabia |
| South Africa | SuperSport 2 Africa,SuperSport Maximo 2 |
| South Sudan | SuperSport 2 Africa,beIN SPORTS CONNECT Arabia |
| Sudan | beIN SPORTS CONNECT Arabia |
| Swaziland | SuperSport 2 Africa |
| Syria | beIN SPORTS CONNECT Arabia |
| Tanzania | SuperSport 2 Africa |
| Thailand | beIN Sports Connect Thailand,beIN Sports 3 Thailand |
| Togo | SuperSport 2 Africa |
| Trinidad and Tobago | Flow Sports App,Flow Sports Premier |
| Tunisia | beIN SPORTS CONNECT Arabia |
| Turks and Caicos Islands | Flow Sports Premier,Flow Sports App |
| Uganda | SuperSport 2 Africa |
| United Arab Emirates | beIN SPORTS CONNECT Arabia |
| United Kingdom | BBC Radio Manchester,Talksport 2 Radio UK |
| United States | NBCSports.com,NBCSN,NBC Sports Live,UNIVERSO,fuboTV,Telemundo Deportes En Vivo,UNIVERSO NOW |
| Yemen | beIN SPORTS CONNECT Arabia |
| Zambia | SuperSport 2 Africa |
| Zimbabwe | SuperSport 2 Africa |