Men's Team
1
Things we love: Aguero tattoos and Twitter games!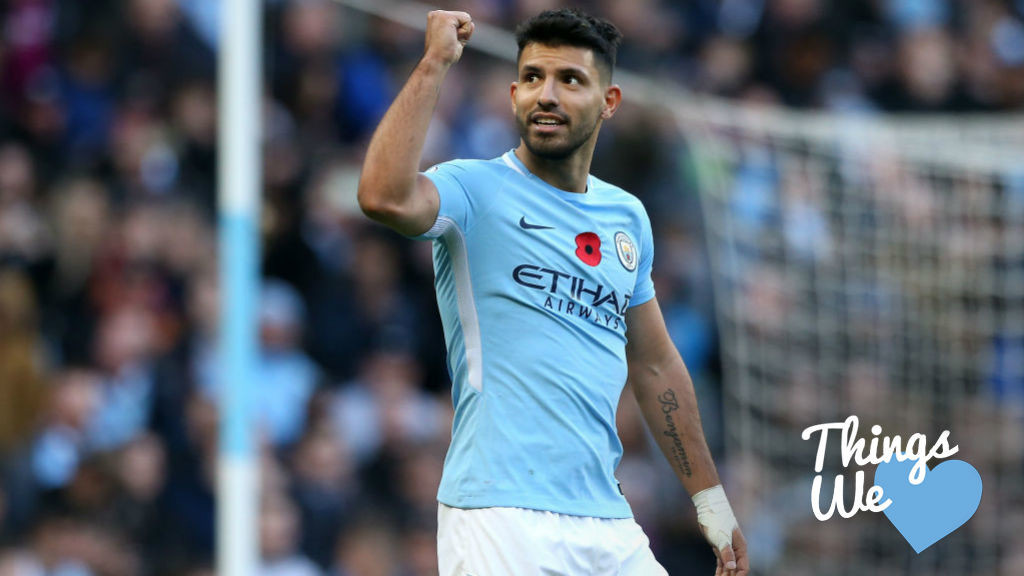 THINGS WE LOVE: Aguero tattoos, Twitter character games and more!
Tattoos of Sergio Aguero, a Twitter character competition and Eliaqium Mangala and Yaya Toure protecting our Cityzens all feature in our latest edition of Things We Love…
King Kun
Sergio Aguero recently made City history as he broke Eric Brook's goalscoring record to become the Club's top scorer of all-time!
His 178th goal came during City's 4-2 win over Napoli in the Champions League at the beginning of November, and since then fans have certainly been showing their love for our goal-machine.
One fan in particular wanted to grab Sergio's attention with a tattoo of another historic moment in the Club's history.
City supporter, Craig, tweeted a picture of his Aguero tat – which marks his title-winning strike against QPR back in 2012!
Don't think Craig will ever forget that goal…
Please show Kun 🙏🏼🤗 Help a brother out 😂 #kingkun #178 #mcfc #sharkteam 🦈 pic.twitter.com/AUsTWQ1uLk

— Craig Aggett 🇬🇧 (@CraigMCFC1) November 2, 2017
Character count
Twitter recently doubled its character count, giving users an extra 140 characters to tweet with.
Here at City, we put the bumper 280 characters to good use and it seems as though the Bleacher Report were particularly impressed with our first extended tweet…
Manchester City have won the #280Character game 😂 pic.twitter.com/b324KKj6zi

— B/R Football (@brfootball) November 8, 2017
Cityzen security
Our very own Eliaquim Mangala took security into his own hands recently… well, he jokingly posted a photo of Yaya Toure and himself looking like a detective duo!
Mangala shared the picture with a 'Police line do not cross' banner added for extra effect and declared that the pair were "Private security for Cityzens".
I think we are in safe hands!
Everything is under control don't panic.🚔🚨💪🏾 #RAS #MangaANDYaya #PrivateSecurityOfCityzens 🤣 pic.twitter.com/XTTdNmv4Zh

— Eliaquim Mangala (@Elia22Mangala) November 2, 2017
Dominating team of the season
Finally, City players have dominated Sam Tighe's Team of the Season so far, with seven out of the 11 players coming from Pep Guardiola's side!
The Blues have made an incredible start to the season and remain unbeaten across all competitions so far.
In the Premier League, we are currently sat at the summit of the table on 31 points – eight points clear of second place United.
Leroy Sane, Raheem Sterling, David Silva, Kevin De Bruyne, Fernandinho, John Stones an Kyle Walker all made it in the Bleacher Report's Premier League team of the season (so far).
What an achievement for our lads!
🔝 of the league and +31 goal-difference: Of course @ManCity dominate @stighefootball's Team of the Season (so far): https://t.co/lbk1SxJAYT pic.twitter.com/f47MFeaYJu

— B/R Football (@brfootball) November 7, 2017
Captain Doyle
City starlet, Tommy Doyle, captained the England Under 17s during their recent 3-2 win over Portugal on Wednesday.
The Young Lions were trailing 2-0 at half-time, but the young skipper started their comeback by scoring within the opening minutes of the second half.
A great result for the Under 17s... and well done Tommy!