Men's Team
1
Kolarov: City heading in right direction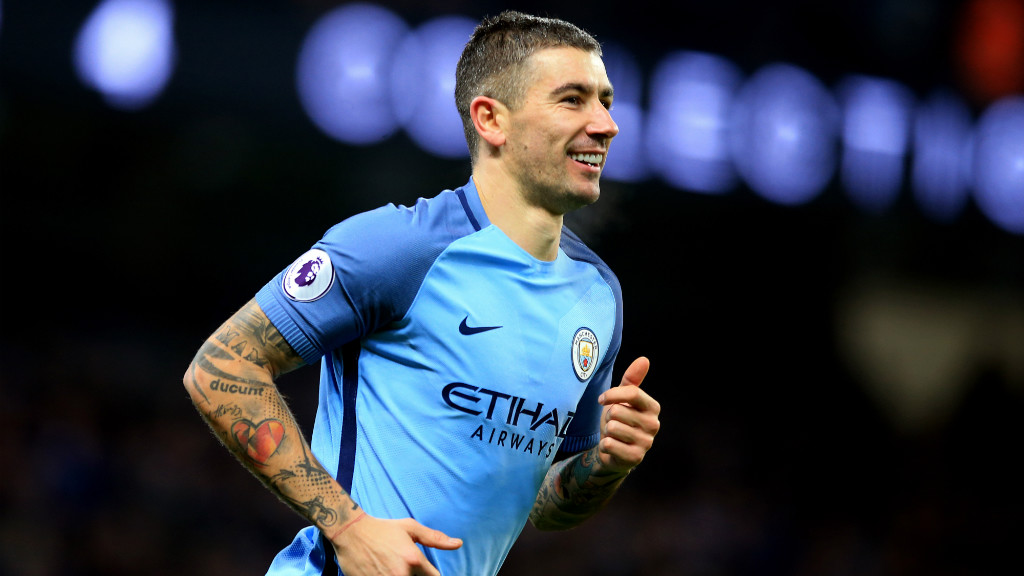 SEASON FINALE: Aleks Kolarov is hoping to end the season on a high on Sunday.
Aleks Kolarov believes City are on an upwards trajectory and that the Club is building something special.
The 31-year old has been with the Blues since 2010 and knows that City are heading in the right direction.
He stated: "Over the last 10 years, City has gone in the right direction. At the moment we are one of the best clubs in Europe so I am sure that with more trophies we will become what the people want from us.
"I agree 100% [with Vincent Kompany's suggestion that we are building something special.] We are improving and I am sure that the owners and the people within the club want to make special things.
"The way City was 10 years ago and where it is now, it's a massive improvement."
Pep Guardiola's side travel to Vicarage Road on Sunday for the final game of the season and Kolarov echoed Pep's statement about it being 'a final'.
A win for the Blues and third place in the Premier League will be confirmed, but our number 11 knows it won't be an easy game.
He commented: "With three points we are 100% third so it's not a big difference between games. We have this kind of pressure every game.
"It's a final because it's the last game."
Kolarov continued: "It [the Walter Mazzarri announcement] will probably make them more difficult to beat but even if he wasn't going, this will be their last home game of the season and they are going to give us a tough game.
"We knew that already. Every game we have played there has been difficult and it's the Premier League, there are no easy games."
The competition for a top four place in the Premier League has increased year on year and Aleks knows that you have to be on your A-game week in, week out in order to succeed.
He remarked: "Every year even the smaller teams are becoming stronger. Obviously you now have six very, very strong teams.
"Two of those teams are not going to play Champions League next season which is a big disappointment but that is the Premier League and every game is like that.
"You have to be focused every game and try to take three points if you want to be at the top."
Reflecting on the season as a whole, the 31-year old admits that City weren't at their best but believes that the Club will be stronger in the 2017/18 campaign.
Kolarov said: "We weren't good enough to win the title but we have improved a lot this season and we will be stronger next season to try and hit our targets.
"To win something you have to win all your home games if possible. At 1-0 in some games we missed the chance to put the second goal in and finish the game and then conceded goals in the last minutes.
He continued: "If you draw at home maybe you are not going away with 100% confidence. We had a couple of not very good games, but we always dominate the games and I am sure we will be much, much stronger next season."
Pep's style of play has received plaudits all over the world and that style has been implemented in his first season in charge at the Etihad Stadium.
Aleks highlighted the playing style as the reason as why the Blues have dominated so many games this season and believes that Pep will guide the Club to success in the years to come.
Kolarov said: "I am very happy to play with that style and I think 90% of the games we have dominated. If we keep our ideas and try to do what we have been doing the results will come.
"One season without trophies cannot delete what Pep did in his past. For me, he's the best I've ever worked with. I am sure he is going to win a lot of things with City.
"He has improved our players here, he has improved our game, improved our mentality. That is what a coach has to do. He improves a lot of players and I am sure City will have success with him."