Men's Team
1
Attack is the best form of defence for Caballero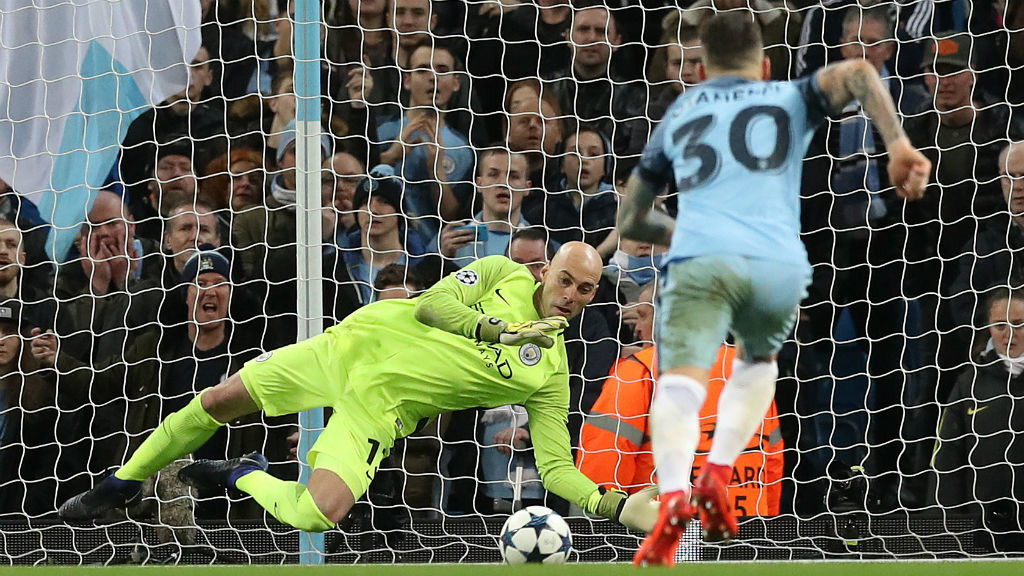 SAVE: Caballero saves Falcao's penalty
Willy Caballero says Manchester City will not alter their style in a bid to secure their spot in the Champions League quarter-finals.
The Blues head to Monaco with a two goal advantage, but the 'keeper believes maintaining a commitment to attacking football, rather than setting up to protect the 5-3 lead, will be crucial if City are to progress from the last 16.
Monaco evidenced their much-heralded attacking threat in the first leg, but the Argentine shot-stopper insists the away side must utilise their own rich array of talent going forward, if they are to reach the last eight.
"We have to play in a very professional way, trying to control the game and showing our experience," he said.
"Keeping our style will be very important if we want to be in the next round.
"We are always focused on our attack and scoring goals. This is Pep's main idea.
"His way of understanding football is very clear and we try to develop this idea on the pitch."
Offensively, City were devastating against the Red and Whites at the Etihad last month, and while the 35-year-old wants to see more of the same, he's called for an improvement at the back.
The first leg penalty hero will no doubt be buoyed by City's six consecutive clean sheets away from home, but is targeting a complete performance at the Stade Louis II.
"We have to attack in the same way that we did here at the Etihad and if we do we'll create chances and score goals."
"But the most important thing is to defend better than we did in the first leg."
Do just that and City will give themselves an excellent opportunity to make the quarter-finals of the competition for a second time.
Of course, Monaco harbour last eight ambitions of their own and with the threat of Radamel Falcao, Bernardo Silva and Kylian Mbappe to contend with, there's no chance of Guardiola's men taking their lead for granted, particularly with Barcelona's stunning fightback still fresh in everyone's mind.
"We have a two-goal difference from the home game, but we should not be overconfident," added Willy.
"We have to think about what happened to PSG against Barcelona and think that nothing is done yet."