Men's Team
1
Where to watch Monaco v Manchester City in the UCL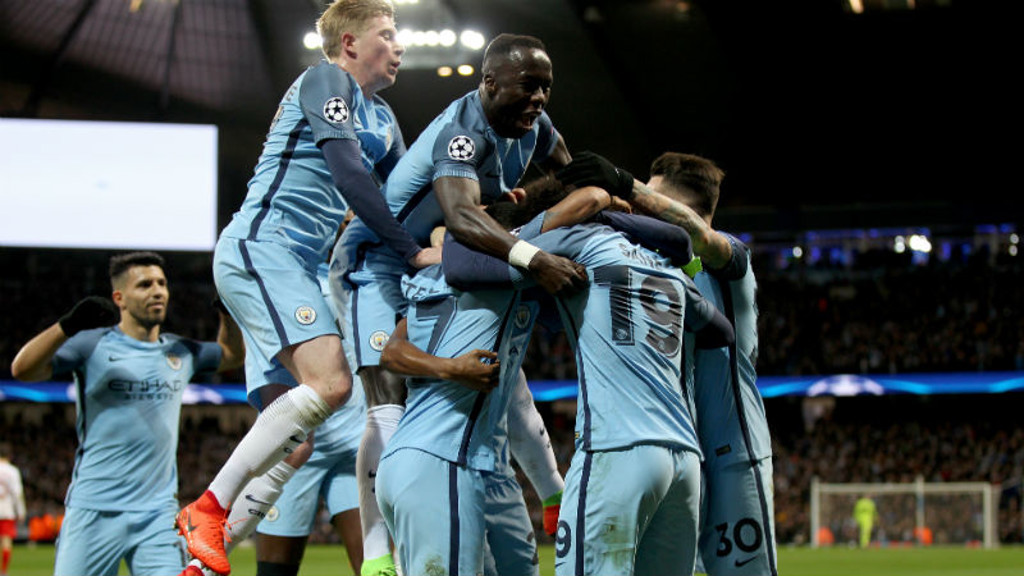 CRAZY NIGHTS! City celebrate
Find out how you can tune in to watch Monaco v Man City in the UEFA Champions League.
The hotly anticipated second leg of Man City's UEFA Champions League last 16 showdown with Monaco is on Wednesday 15 March with a 19:45 UK time kick-off at Stade Louis II.
Blues living in the UK can catch all the action live on BT Sport 2, while our fans around the world can find out how they can watch the game courtesy of livesoccertv.com...
| | |
| --- | --- |
| Algeria | beIN SPORTS CONNECT Arabia |
| Angola | SuperSport 3 Africa |
| Argentina | ESPN2 Argentina,ESPN Cono Norte |
| Australia | beIN Sports Connect Australia,beIN Sports 1 Australia |
| Austria | Sky Sport 4/HD,SRF zwei,Sky Go Deutschland,Sky Sport 1 HD,ORF 1 |
| Azerbaijan | Idman TV |
| Bahrain | beIN SPORTS CONNECT Arabia |
| Belgium | Club RTL,Proximus 11+ |
| Benin | SuperSport 3 Africa |
| Bolivia | ESPN Cono Norte |
| Bosnia and Herzegovina | HRT 2,OBN |
| Botswana | SuperSport 3 Africa |
| Bulgaria | bTV Action,Voyo Sport |
| Burkina Faso | SuperSport 3 Africa |
| Burundi | SuperSport 3 Africa |
| Cameroon | SuperSport 3 Africa |
| Canada | TSN3,RDS 2,TSN GO,TSN4 |
| Cape Verde | SuperSport 3 Africa |
| Central African Republic | SuperSport 3 Africa |
| Chad | beIN SPORTS CONNECT Arabia,SuperSport 3 Africa |
| Chile | ESPN Cono Norte |
| Colombia | ESPN Cono Norte,ESPN2 Colombia |
| Comoros | SuperSport 3 Africa |
| Congo | SuperSport 3 Africa |
| Congo DR | SuperSport 3 Africa |
| Cote D'Ivoire | SuperSport 3 Africa |
| Croatia | HRT 2 |
| Cyprus | Cytavision Sports HD,Cytavision Sports 1 |
| Denmark | TV3+ HD,Viaplay Denmark |
| Djibouti | SuperSport 3 Africa,beIN SPORTS CONNECT Arabia |
| Ecuador | ESPN Cono Norte |
| Egypt | beIN SPORTS CONNECT Arabia |
| El Salvador | ESPN Cono Norte |
| Equatorial Guinea | SuperSport 3 Africa |
| Eritrea | SuperSport 3 Africa |
| Estonia | Viasat Sport Baltic |
| Ethiopia | SuperSport 3 Africa |
| Finland | Viaplay Finland,Viasat Sport Premium,Viasat Football HD |
| France | Canal+ France |
| Gabon | SuperSport 3 Africa |
| Gambia | SuperSport 3 Africa |
| Georgia | 1TV |
| Germany | Sky Sport 4/HD,Sky Sport 1 HD,Sky Go Deutschland,ORF 1,SRF zwei,TeleClub Sport Live |
| Ghana | SuperSport 3 Africa |
| Greece | OTE Sport 1 |
| Guinea | SuperSport 3 Africa |
| Guinea-Bissau | SuperSport 3 Africa |
| Hungary | M4 Sports |
| Iceland | Stöð 2 Sport 2 |
| Indonesia | beIN Sports 1 |
| Iran | beIN SPORTS CONNECT Arabia |
| Iraq | beIN SPORTS CONNECT Arabia |
| Ireland | BBC Radio 5 Live,BT Sport Live Streaming,BT Sport 2 |
| Italy | PremiumSport HD,Premium Play,RSI La 2 |
| Jordan | beIN SPORTS CONNECT Arabia |
| Kenya | SuperSport 3 Africa |
| Kuwait | beIN SPORTS CONNECT Arabia |
| Latvia | Viasat Sport Baltic |
| Lebanon | beIN SPORTS CONNECT Arabia |
| Lesotho | SuperSport 3 Africa |
| Liberia | SuperSport 3 Africa |
| Libya | beIN SPORTS CONNECT Arabia |
| Lithuania | Viasat Sport Baltic |
| Macedonia | MRT1 |
| Madagascar | SuperSport 3 Africa |
| Malawi | SuperSport 3 Africa |
| Mali | SuperSport 3 Africa |
| Mauritania | beIN SPORTS CONNECT Arabia |
| Mauritius | SuperSport 3 Africa |
| Mexico | ESPN Mexico |
| Montenegro | HRT 2 |
| Morocco | beIN SPORTS CONNECT Arabia |
| Mozambique | SuperSport 3 Africa |
| Namibia | SuperSport 3 Africa |
| Netherlands | Ziggo Sport Voetbal |
| Niger | SuperSport 3 Africa |
| Nigeria | SuperSport 3 Africa,SuperSport 3 Nigeria |
| Norway | Viaplay Norway,Viasat Fotball Norway |
| Oman | beIN SPORTS CONNECT Arabia |
| Palestinian Territory | beIN SPORTS CONNECT Arabia |
| Paraguay | ESPN Cono Norte |
| Peru | ESPN Cono Norte |
| Philippines | beIN Sports 1 |
| Poland | Canal+ Polska |
| Portugal | Sport TV1 |
| Qatar | beIN SPORTS CONNECT Arabia |
| Romania | Dolce Sport 1 |
| Rwanda | SuperSport 3 Africa |
| Sao Tome And Principe | SuperSport 3 Africa |
| Saudi Arabia | beIN SPORTS CONNECT Arabia |
| Senegal | SuperSport 3 Africa |
| Serbia | HRT 2 |
| Seychelles | SuperSport 3 Africa |
| Sierra Leone | SuperSport 3 Africa |
| Slovenia | Kanal A,HRT 2 |
| Somalia | beIN SPORTS CONNECT Arabia |
| South Africa | SuperSport Maximo,SuperSport 3,SuperSport 3 Africa |
| South Sudan | beIN SPORTS CONNECT Arabia,SuperSport 3 Africa |
| Spain | Movistar+,beIN Sports MAX 1,beIN Sports Connect España |
| Sudan | beIN SPORTS CONNECT Arabia |
| Swaziland | SuperSport 3 Africa |
| Sweden | Viaplay Sweden,Viasat Sport Premium |
| Switzerland | RTS Sport,RSI La 2,Sky Sports 1 Switzerland,SRF zwei,RTS Deux,ORF 1,TeleClub Sport Live |
| Syria | beIN SPORTS CONNECT Arabia |
| Tanzania | SuperSport 3 Africa |
| Togo | SuperSport 3 Africa |
| Tunisia | beIN SPORTS CONNECT Arabia |
| Turkey | Idman TV |
| Uganda | SuperSport 3 Africa |
| Ukraine | Futbol 2 |
| United Arab Emirates | beIN SPORTS CONNECT Arabia |
| United Kingdom | BBC Radio Manchester,BBC Radio 5 Live,BT Sport Live Streaming,BT Sport 2 |
| United States | Fox Soccer 2GO USA,ESPN Deportes+ USA,Fox Sports 1 USA,Fox Sports GO,ESPN Deportes USA,WatchESPN,fuboTV |
| Uruguay | ESPN Cono Norte |
| Venezuela | ESPN Dos Venezuela,ESPN Cono Norte |
| Yemen | beIN SPORTS CONNECT Arabia |
| Zambia | SuperSport 3 Africa |
| Zimbabwe | SuperSport 3 Africa |