Men's Team
1
Man City injury update ahead of FA Cup test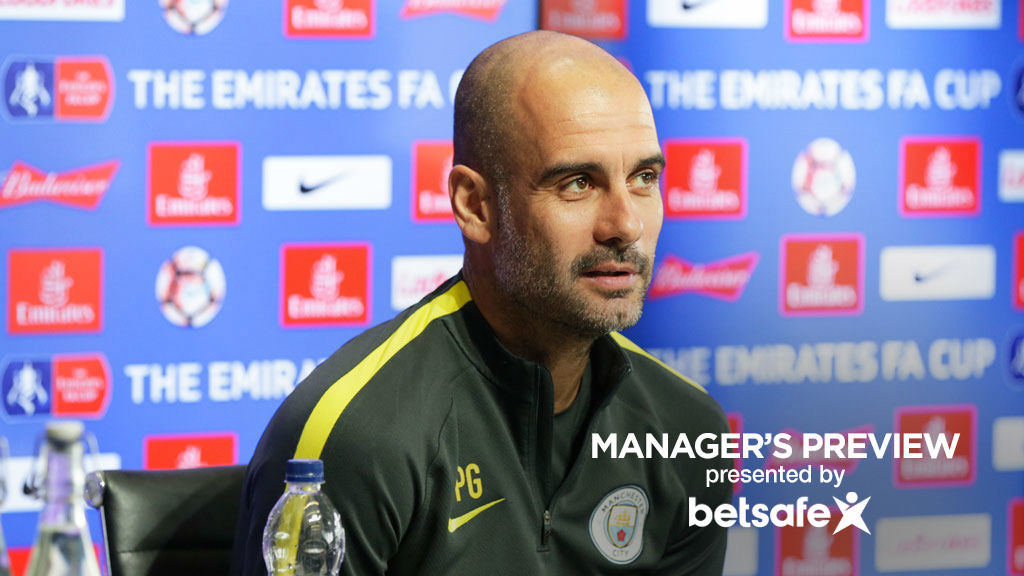 UP FOR THE CUP: Guardiola wants to experience Wembley Stadium again
Manchester City manager Pep Guardiola has no new injury concerns ahead of his side's FA Cup quarter-final with Middlesbrough on Saturday.
Vincent Kompany is fully fit and ready for selection after taking part in training throughout the week, while Raheem Sterling, rested for the draw with Stoke City on Wednesday, is also available.
Only long-term injury victims Ilkay Gundogan and Gabriel Jesus will miss the game at the Riverside Stadium as City look to book a date at Wembley in next month's semi-final - and Guardiola says he expects to name a strong team.
"Kompany is already back," the manager confirmed. "He trained three days, four days with us. He has already come back in the training sessions with the team.
"I trust in all the players. Of course I trust more in [certain] ones because I normally play more players than the other ones, but what we decided against Stoke City was to win the game, not just thinking about Middlesbrough.
"Of course it's a final, away game, we would prefer to play just one game in the cup at home with our fans, it was not possible this year. It's a final, you have to put the best squad as possible."
Guardiola has twice experienced playing Wembley and a win over Middlesbrough on Saturday would see him return for a third time next month for a showpiece FA Cup semi-final.
He was part of the Barcelona side that beat Sampdoria to win the European Cup in 1992 at the old Wembley - and he returned to the new stadium as a manager as his Barcelona side defeated Manchester United to win the Champions League in 2011.
Guardiola says he wants to go there again, this time with his improving City side.
"As a football player, I won my first Champions League at the old Wembley, and then as a manager won my second Champions League there. Of course, Wembley is special for me, definitely.
"When I was a kid seeing the English football playing in Wembley in all competitions, important games, the tradition there with the two managers going out, I loved that.
"It's a traditional stadium and of course we'll be pleased, not just to come back and remember what we have done, especially to be there because playing the semi-finals there will be nice, and after, if we are able, to play the final."