Men's Team
1
Man City v Liverpool: Expert View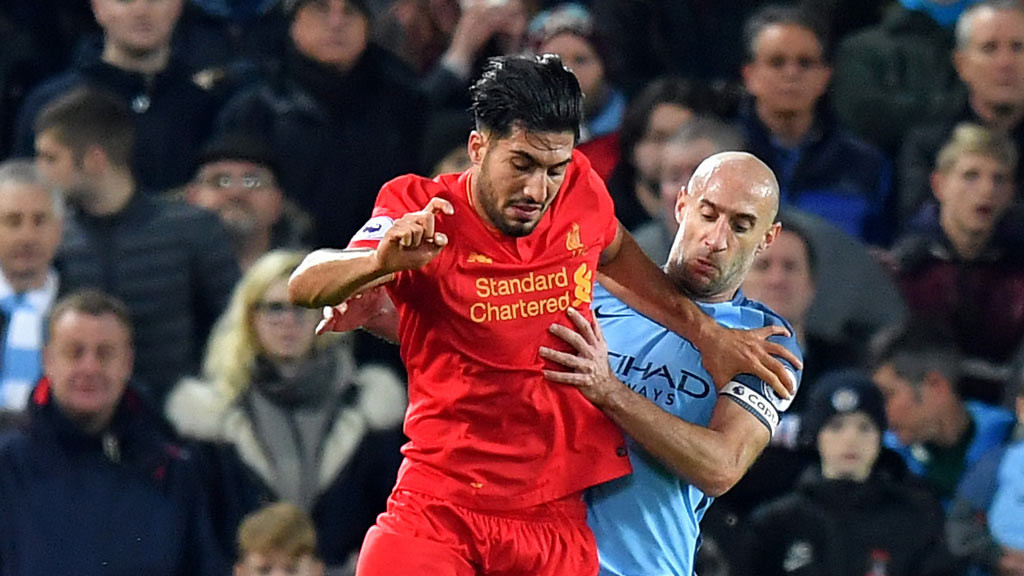 COMPETE - Zabaleta competes with Can
Manchester City host Liverpool this Sunday in a crucial Premier League game. We spoke to Richard Jolly to get the inside track on the goings on at Anfield this season.
Liverpool appear to have had a mixed season. You watch them closely, Richard. What have you made of them?
It's been a very mixed season because up until the new year they were outstanding, with just the two anomalies: the defeat at Burnely where they had 82 per cent possession and didn't look like scoring, and the Bournemouth one where they were 3-1 up and then lost.
And 2017 has been a real struggle where the only good performances have come against the good teams. The wins against Arsenal and Tottenham and the draws against Manchester United and Chelsea. Maybe the first half of the season Liverpool played above themselves, and I think of late they've played below themselves. It's a question of finding out where their level is.
They're very, very reliant on their strongest XI. There's a real chemistry when they play and there isn't when they don't. They've got a good enough starting XI to finish in the top four. In terms of a squad, it's definitely the sixth best. It's not as good as City, United, Arsenal, Chelsea or Tottenham.
Klopp's admitted that they probably should strengthened in January. In the summer, I think they need to make signings in several key positions. Centre-back, left-back, at least one winger, maybe a midfielder, a goalkeeper, possibly another striker, depending on whether Sturridge goes. But when that starting XI play, they're a very, very good team.
Sadio Mane looks to have made a huge difference for them.
Mane is the player who gives them another dimension – and he's also the hardest player to replace, which is what they found when he was at the Africa Cup of Nations. He frightens teams and he can frighten the very best teams, which is crucial.
If you go back to the Tottenham game where Liverpool had gone for a while without a win, they go 2-0 up, Mane gets both, terrorises the Tottenham defence.
The impressive thing about him is he has kicked on. Whereas at Southampton on his day he was very good – and he could be very good against the top teams there, as he showed with that hattrick against City last season – he was also quite inconsistent at Southampton.
At Liverpool, he has been more consistent. That pace is something that really gives them an extra element because he runs in behind defences in a way that Philippe Coutinho and Adam Lallana don't, and with Roberto Firmino as the False 9 it helps to have someone making those runs past the opposition centre-backs.
You mentioned Coutinho there...he's a fine player when fit and in form. How important is he for them?
He played terrifically well until he got injured in November. He's got an outstanding record in big games – that's one of the reasons I really rate him. I think he's scored more goals against City than any other team, for instance.
But since he came back to fitness, he's not been in form at all. Last week against Burnley was one of the poorest performances he's put in for Liverpool and it was really telling he got taken off at 1-1 and replaced by a 17-year-old Ben Woodburn. You just wouldn't expect that to happen but the way he was playing it made sense.
Strangely, there have been a few dissenting voices where Jurgen Klopp's position is concerned in recent weeks - but from my perspective he looks like a great fit for Liverpool.
He's a good fit in more than one respect. His personality, for one. He helped rouse the club which was at a pretty low ebb after the Brendan Rodgers regime. I think he understands the fan base to quite a degree and he does galvanise quite a lot of people.
He also suits the owners in the sense he isn't one of those managers who just wants to spend more and more money. He is happy to work with the players he's got. He doesn't sign players for the sake of it. He made a transfer market profit last summer, he made another one in January.
You will always get people being contrary, so when people are praising Klopp you'll get people who criticise him. There's been an element of that.
Klopp's got a lot of praise, partly because the results against the big teams have been outstanding during his reign. What he hasn't had so far is the consistency against the lesser teams and that's one of the reasons Liverpool are in a battle for fourth rather than going for the title.
Pep Guardiola and Jurgen Klopp are often compared in terms of the style of football they promote but there are big differences, aren't there?
The biggest difference is the wingers. Guardiola wants his wingers really wide to stretch the game, which, in turn, opens up space inside for the likes of Silva and De Bruyne.
Klopp plays his wingers really narrow and they interchange positons. The real width at Liverpool comes from the full-backs. He plays Milner left-back. Milner isn't a left-back and Klopp has admitted he isn't looking for one – Milner's basically a one-man left flank who has to supply all the width because Coutinho plays further in.
That's the biggest difference. Klopp obviously plays a very high-paced pressing game – I think Guardiola would like to as well and is more likely to play that way next season when he's got some younger players in.
Liverpool's defence appears to be their biggest weakness. Is that how you see it?
If you look at the goals conceded, 35, I think Chelsea have conceded 20, so it's getting in for twice as many, which tells a story in itself.
Part of the issue is the goalkeeping situation, which they haven't resolved and looks like they won't resolve.
Part of the problem is the centre-backs in that when Lovren and Matip play together, the record is very good, when you take one of them out it gets a lot worse. Klavan has had some really good games but also some really poor games.
They also have the tactical problem of the full-backs playing so high up the pitch, opponents look to get in behind them and that's what I think City will try and do.
If you go back to the game on New Year's Eve, Liverpool got the early goal and that meant the full-back stayed back more than usual. It would have been interesting to see if it had of remained 0-0 for longer what Milner and Clyne would have done then.
I would suspect they won't be quite as adventurous as normal on Sunday. I think they'll do a partial pressing game where the front for will look to press high up the pitch but the rest of the team might be ab bit deeper than usual.
Prediction?
Given Liverpool haven't lost to anyone in the top half this season, I'm inclined to go for a draw, keeping that record going.
Predicted XI
Mignolet - Clyne, Matip, Lovren, Milner – Can, Wijnaldum, Lallana – Mane, Coutinho, Firmino
Richard Jolly is a Football writer for ESPN, The Guardian, The National, The Observer, the Straits Times, the Sunday Express, Eurosport & the Blizzard. You can follow him on Twitter @RichJolly