Men's Team
1
Iheanacho: Stoke deserve credit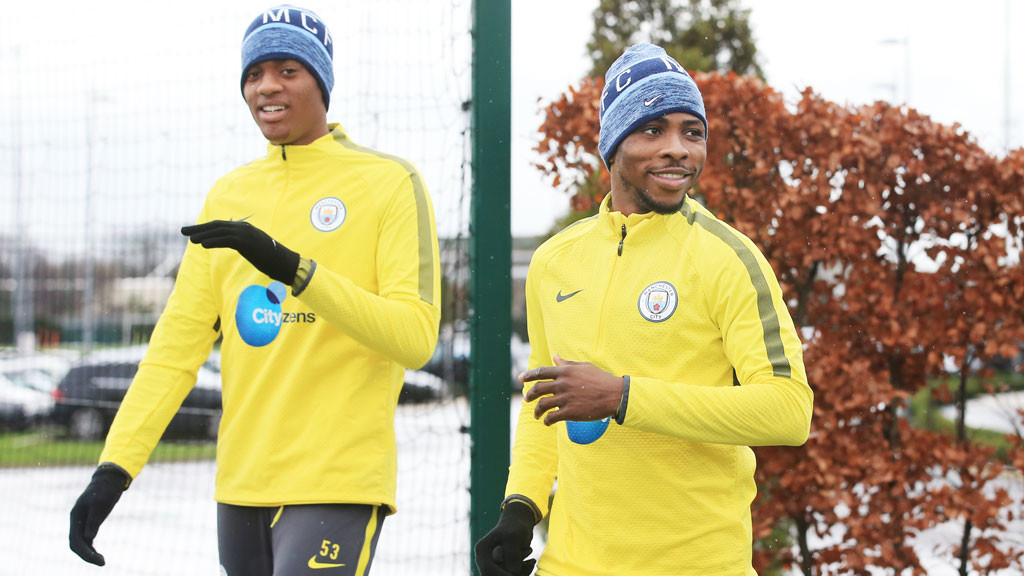 YOUNG GUNS: Tosin and Kelechi during the session
Kelechi Iheanacho praised the resilience of Stoke City after they held Manchester City to a 0-0 draw at the Etihad Stadium on Wednesday.
City dominated the second half but couldn't break the away side's resolve on a frustrating evening that leaves them third in the Premier League table, 10 points adrift of leaders Chelsea.
Iheanacho, a second-half substitute, says Stoke's defensive qualities made things difficult but believes City's performance deserves credit.
"I think we didn't do anything wrong," he said. "We really worked hard but in the first half and in the second half they really stood and looked like a team that work hard because they are a good team as well.
"They are strong, they really fight. We really fought to the end and to get a draw was unfortunate but I think we focus on the next games."
The 19-year-old was close to bagging the winner late on when Kevin De Bruyne's pinpoint ball into the box landed at his feet a few yards from goal.
His finish let him down, but he says it's vital for a striker not to dwell on missed opportunities.
"As a striker you need to take chances but when we miss chances we focus on the next one, and forget about the one we missed," he said.
"We need to focus as well to put the chance away if it comes.
"It came and of course I missed it, but I focus on the next one – that is going to count."
Guardiola reacts to Stoke draw
City now face a trip to Middlesbrough on Saturday in the FA Cup quarter-final, with a showpiece game at Wembley just a win away.
The importance of the occasion isn't lost on Iheanacho, who has described it as a "final," and he says hard work is all that stands in the way of City and a piece of major silverware.
"It is a big game on Saturday against Middlesbrough," he said. "It is a final for us to play.
"We have to go there to play the good football that we can do and we hope to get the win that we need so we have got a trip to Wembley for the semi-finals.
"There are strong teams in the FA Cup, of course - Chelsea and Manchester United play.
"We need to keep working hard and believe in ourselves and of course, if we work hard, we are going to win."
Iheanacho's game time has been reduced this season, with the form of Sergio Aguero and the arrival of Gabriel Jesus seeing his chances limited.
In recent weeks, he's seen action from the bench, coming on late in games to try and grab City a goal with his instincts inside the area.
He says it's a role that doesn't bring added pressure and has welcomed the competition from the other forwards in Pep Guardiola's squad, with the injured Jesus, he believes, a key player for the Club.
"No, it is not a hard situation," he says. "Everyone in our team can deliver – those on the bench and those playing.
"If you are called upon to come into a game to make something and help the team to win, you to put everything in 100 per cent to make sure the team win.
"Unfortunately we couldn't do it today.
"We are happy to have everyone around. Kun is doing well, Gabriel is doing well. I hope for him [Jesus] to recover quickly so he can come in the team because we really need him.
"We work together as a team. We need everyone as a team for us to get something after this season.
"Sergio is brilliant and has been doing really well. We hope to see more of that soon.
"On my part, any time I am in I need to give 100 per cent because everyone is important in the team.
"I think I have really done well [so far in my career] but everyone needs to improve. I need to keep working and keep improving. I have so many things to improve on. I need to keep learning."