First Team News
1
West Ham v Man City: TV info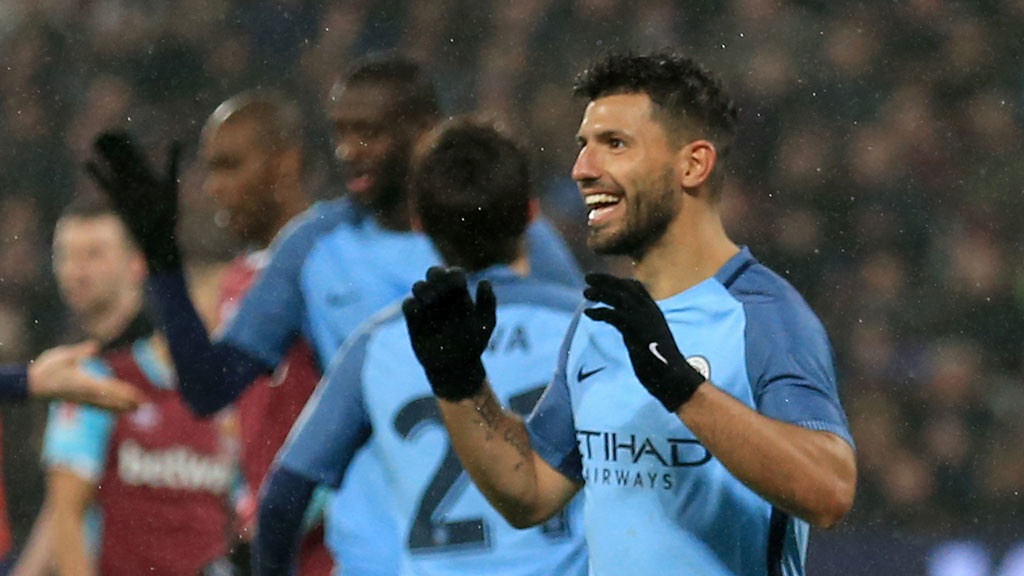 Sergio celebrates
Find out which TV channels West Ham v Manchester City in the Premier League is on around the world.
The match, which kicks off at 7.45pm, will be shown live on BT Sport 1 in the UK.
You can also follow it here on www.mancity.com via our matchday centre, or on the City Matchday app.
City will be looking for a repeat of the 5-0 FA Cup win on 6 January, while the Blues also downed Slaven Bilic's men 3-1 in the Etihad Premier League game.
Brazilian midfielder Fernandinho returns from suspension for City.
Find out where you can watch the game around the world with global listings courtesy livesoccer.tv
| | |
| --- | --- |
| Afghanistan | Ariana TV |
| Algeria | beIN SPORTS CONNECT Arabia |
| Angola | SuperSport 3 Africa |
| Anguilla | Flow Sports Premier |
| Antigua and Barbuda | Flow Sports Premier |
| Argentina | ESPN2 Argentina |
| Australia | Optus Sport,SBS One Australia |
| Austria | DAZN |
| Bahamas | Flow Sports Premier |
| Bahrain | beIN SPORTS CONNECT Arabia |
| Bangladesh | Star Sports Select HD1 |
| Barbados | Flow Sports Premier |
| Belgium | VOOsport World 1,Play Sports 2 |
| Benin | SuperSport 3 Africa,Canal+ Sport 2 Afrique |
| Bermuda | Flow Sports Premier |
| Bhutan | Star Sports Select HD1 |
| Bosnia and Herzegovina | SportKlub 1 Serbia |
| Botswana | SuperSport 3 Africa |
| British Virgin Islands | Flow Sports Premier |
| Bulgaria | Diema Sport |
| Burkina Faso | Canal+ Sport 2 Afrique,SuperSport 3 Africa |
| Burundi | Canal+ Sport 2 Afrique,SuperSport 3 Africa |
| Cameroon | SuperSport 3 Africa,Canal+ Sport 2 Afrique |
| Canada | TSN1,TSN GO,TSN4 |
| Cape Verde | Canal+ Sport 2 Afrique,SuperSport 3 Africa |
| Cayman Islands | Flow Sports Premier |
| Central African Republic | Canal+ Sport 2 Afrique,SuperSport 3 Africa |
| Chad | beIN SPORTS CONNECT Arabia,SuperSport 3 Africa,Canal+ Sport 2 Afrique |
| China | Ssports Live Streaming |
| Colombia | ESPN2 Colombia |
| Comoros | SuperSport 3 Africa |
| Congo | Canal+ Sport 2 Afrique,SuperSport 3 Africa |
| Congo DR | SuperSport 3 Africa |
| Costa Rica | SKY Planeta Fútbol,Sky HD |
| Cote D'Ivoire | SuperSport 3 Africa,Canal+ Sport 2 Afrique |
| Croatia | Sportklub 1 Croatia |
| Cyprus | Cytavision Sports 1,Cytavision Sports HD |
| Czech Republic | DIGI Sport 1 |
| Djibouti | beIN SPORTS CONNECT Arabia,Canal+ Sport 2 Afrique,SuperSport 3 Africa |
| Dominican Republic | Flow Sports Premier,Sky HD,SKY Planeta Fútbol |
| Egypt | beIN SPORTS CONNECT Arabia |
| El Salvador | Sky HD,SKY Planeta Fútbol |
| Equatorial Guinea | Canal+ Sport 2 Afrique,SuperSport 3 Africa |
| Eritrea | SuperSport 3 Africa |
| Ethiopia | SuperSport 3 Africa |
| Finland | Viasat Football HD,Viaplay Finland |
| France | SFR Sport 1 |
| Gabon | Canal+ Sport 2 Afrique,SuperSport 3 Africa |
| Gambia | SuperSport 3 Africa,Canal+ Sport 2 Afrique |
| Germany | DAZN |
| Ghana | SuperSport 11,Canal+ Sport 2 Afrique,SuperSport 3 Africa |
| Greece | OTE Sport 1 |
| Grenada | Flow Sports Premier |
| Guatemala | SKY Planeta Fútbol,Sky HD |
| Guinea | SuperSport 3 Africa,Canal+ Sport 2 Afrique |
| Guinea-Bissau | Canal+ Sport 2 Afrique,SuperSport 3 Africa |
| Honduras | SKY Planeta Fútbol,Sky HD |
| Hungary | Spíler TV |
| Iceland | Stöð 2 Sport |
| India | Star Sports Select HD1 |
| Indonesia | beIN Sports 2 |
| International | TalkSport Radio World |
| Iran | beIN SPORTS CONNECT Arabia |
| Iraq | beIN SPORTS CONNECT Arabia |
| Ireland | BT Sport 1,BT Sport Live Streaming |
| Italy | Sky Sport 3 HD Italia |
| Jamaica | Flow Sports Premier |
| Japan | DAZN Japan |
| Jordan | beIN SPORTS CONNECT Arabia |
| Kenya | SuperSport 3 Africa |
| Kosovo | SuperSport Kosova 2 |
| Kuwait | beIN SPORTS CONNECT Arabia |
| Lebanon | beIN SPORTS CONNECT Arabia |
| Lesotho | SuperSport 3 Africa |
| Liberia | SuperSport 3 Africa |
| Libya | beIN SPORTS CONNECT Arabia |
| Macau | Ssports Live Streaming |
| Macedonia | SportKlub 1 Serbia |
| Madagascar | SuperSport 3 Africa |
| Malawi | SuperSport 3 Africa |
| Malaysia | Astro Supersport |
| Maldives | Star Sports Select HD1 |
| Mali | Canal+ Sport 2 Afrique,SuperSport 3 Africa |
| Malta | Go Sports 2 |
| Mauritania | Canal+ Sport 2 Afrique,beIN SPORTS CONNECT Arabia |
| Mauritius | SuperSport 3 Africa |
| Mexico | Sky HD,SKY Planeta Fútbol |
| Mongolia | SPS HD |
| Montenegro | SportKlub 1 Serbia |
| Montserrat | Flow Sports Premier |
| Morocco | beIN SPORTS CONNECT Arabia |
| Mozambique | SuperSport 3 Africa |
| Namibia | SuperSport 3 Africa |
| Nepal | Star Sports Select HD1 |
| Nicaragua | Sky HD,SKY Planeta Fútbol |
| Niger | Canal+ Sport 2 Afrique,SuperSport 3 Africa |
| Nigeria | SuperSport 3 Africa,SuperSport 3 Nigeria,SuperSport 11,Canal+ Sport 2 Afrique |
| Norway | TV2 Sport Premium,TV2 Sumo |
| Oman | beIN SPORTS CONNECT Arabia |
| Pakistan | Star Sports Select HD1 |
| Palestinian Territory | beIN SPORTS CONNECT Arabia |
| Panama | Sky HD,SKY Planeta Fútbol,Flow Sports Premier |
| Philippines | beIN Sports 2 |
| Poland | Canal+ Sport Online,Canal+ Sport |
| Portugal | Sport TV2 |
| Qatar | beIN SPORTS CONNECT Arabia |
| Romania | Eurosport Romania |
| Russia | Match TV Football 1 |
| Rwanda | Canal+ Sport 2 Afrique,SuperSport 3 Africa |
| Saint Kitts and Nevis | Flow Sports Premier |
| Saint Lucia | Flow Sports Premier |
| Saint Vincent and the Grenadines | Flow Sports Premier |
| Sao Tome And Principe | SuperSport 3 Africa |
| Saudi Arabia | beIN SPORTS CONNECT Arabia |
| Senegal | SuperSport 3 Africa,Canal+ Sport 2 Afrique |
| Serbia | SportKlub 1 Serbia |
| Seychelles | SuperSport 3 Africa,Flow Sports Premier |
| Sierra Leone | SuperSport 3 Africa,Canal+ Sport 2 Afrique |
| Singapore | 102 (HD) mio Stadium |
| Slovakia | DIGI Sport 1 |
| Slovenia | SportKlub 1 Slovenia |
| Somalia | beIN SPORTS CONNECT Arabia |
| South Africa | SuperSport Maximo,SuperSport 3,SuperSport 3 Africa |
| South Sudan | SuperSport 3 Africa,beIN SPORTS CONNECT Arabia |
| Spain | Canal+ Multideporte 1,Movistar+ |
| Sri Lanka | Star Sports Select HD1 |
| Sudan | beIN SPORTS CONNECT Arabia |
| Swaziland | SuperSport 3 Africa |
| Switzerland | DAZN |
| Syria | beIN SPORTS CONNECT Arabia |
| Tanzania | SuperSport 3 Africa |
| Togo | SuperSport 3 Africa,Canal+ Sport 2 Afrique |
| Trinidad and Tobago | Flow Sports Premier |
| Tunisia | beIN SPORTS CONNECT Arabia |
| Turkey | Smart Spor 2 |
| Turks and Caicos Islands | Flow Sports Premier |
| Uganda | SuperSport 3 Africa |
| Ukraine | Futbol 1,OLL.tv |
| United Arab Emirates | beIN SPORTS CONNECT Arabia |
| United Kingdom | BT Sport 1,BBC Radio Manchester,BT Sport Live Streaming,BT Sport 4K UHD |
| United States | NBC Sports Live,Telemundo Deportes En Vivo,SiriusXM FC |
| Venezuela | ESPN Dos Venezuela |
| Vietnam | K +1 |
| Yemen | beIN SPORTS CONNECT Arabia |
| Zambia | SuperSport 3 Africa |
| Zimbabwe | SuperSport 3 Africa |