Men's Team
1
Man City v Burnley: TV info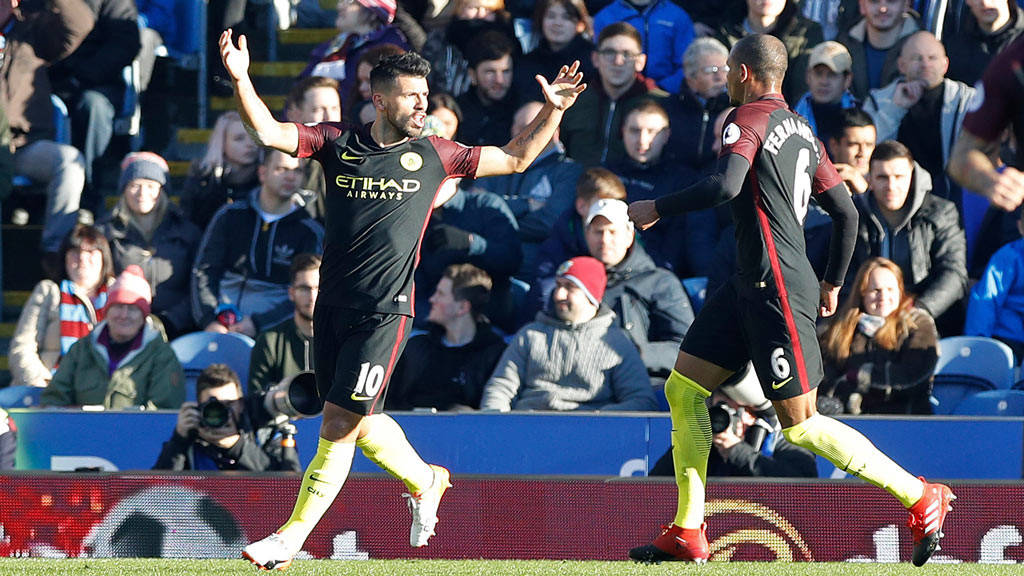 TEAMWORK: Aguero thanks his creator, Fernandinho
Find out when and where Manchester City v Burnley is being shown on television around the world.
The game, which kicks off at 3pm GMT, will not be televised in the UK.
City haven't beaten Burnley at home since the sides met in the second tier of English football back in December 2001 when the Blues ran out 5-1 winners. Since then two high-scoring draws in the Premier League at the Etihad have proved the Clarets to be tough opponents.
Take a look at where the Burnley game is being broadcast around the world in the guide below, courtesy of livesoccertv.com
| | |
| --- | --- |
| Angola | SuperSport 5 Africa |
| Anguilla | Flow Sports Premier |
| Antigua and Barbuda | Flow Sports Premier |
| Argentina | ESPN2 Argentina |
| Australia | Optus Sport |
| Bahamas | Flow Sports Premier |
| Barbados | Flow Sports Premier |
| Belgium | Play Sports 1,VOOsport World 1 |
| Benin | Canal+ Sport 1 Afrique,SuperSport 5 Africa |
| Bermuda | Flow Sports Premier |
| Botswana | SuperSport 5 Africa |
| Brazil | ESPN + Brasil |
| British Virgin Islands | Flow Sports Premier |
| Bulgaria | Diema Sport |
| Burkina Faso | SuperSport 5 Africa,Canal+ Sport 1 Afrique |
| Burundi | Canal+ Sport 1 Afrique,SuperSport 5 Africa |
| Cameroon | SuperSport 5 Africa,Canal+ Sport 1 Afrique |
| Canada | Sportsnet One,Sportsnet World Now |
| Cape Verde | SuperSport 5 Africa,Canal+ Sport 1 Afrique |
| Cayman Islands | Flow Sports Premier |
| Central African Republic | Canal+ Sport 1 Afrique,SuperSport 5 Africa |
| Chad | Canal+ Sport 1 Afrique,SuperSport 5 Africa |
| China | Ssports Live Streaming |
| Colombia | ESPN2 Colombia |
| Comoros | SuperSport 5 Africa |
| Congo | Canal+ Sport 1 Afrique,SuperSport 5 Africa |
| Congo DR | SuperSport 5 Africa |
| Costa Rica | Sky HD,SKY Planeta Fútbol |
| Cote D'Ivoire | Canal+ Sport 1 Afrique,SuperSport 5 Africa |
| Czech Republic | DIGI Sport 1 |
| Djibouti | SuperSport 5 Africa,Canal+ Sport 1 Afrique |
| Dominican Republic | Sky HD,SKY Planeta Fútbol,Flow Sports Premier |
| El Salvador | SKY Planeta Fútbol,Sky HD |
| Equatorial Guinea | Canal+ Sport 1 Afrique,SuperSport 5 Africa |
| Eritrea | SuperSport 5 Africa |
| Ethiopia | SuperSport 5 Africa |
| France | SFR Sport 1 |
| Gabon | Canal+ Sport 1 Afrique,SuperSport 5 Africa |
| Gambia | SuperSport 5 Africa,Canal+ Sport 1 Afrique |
| Ghana | SuperSport 5 Africa,Canal+ Sport 1 Afrique |
| Grenada | Flow Sports Premier |
| Guatemala | SKY Planeta Fútbol,Sky HD |
| Guinea | Canal+ Sport 1 Afrique,SuperSport 5 Africa |
| Guinea-Bissau | SuperSport 5 Africa,Canal+ Sport 1 Afrique |
| Honduras | SKY Planeta Fútbol,Sky HD |
| India | Star Sports Select HD2 |
| Indonesia | beIN Sports 2 HD |
| International | TalkSport Radio World |
| Israel | Sport 1 |
| Jamaica | Flow Sports Premier |
| Kenya | SuperSport 5 Africa |
| Lesotho | SuperSport 5 Africa |
| Liberia | SuperSport 5 Africa |
| Macau | Ssports Live Streaming |
| Madagascar | SuperSport 5 Africa |
| Malawi | SuperSport 5 Africa |
| Malaysia | Astro Supersport |
| Mali | SuperSport 5 Africa,Canal+ Sport 1 Afrique |
| Mauritania | Canal+ Sport 1 Afrique |
| Mauritius | SuperSport 5 Africa |
| Mexico | Sky HD,SKY Planeta Fútbol |
| Mongolia | SPS HD |
| Montserrat | Flow Sports Premier |
| Mozambique | SuperSport 5 Africa |
| Myanmar | Skynet Myanmar |
| Namibia | SuperSport 5 Africa |
| New Zealand | beIN Sports 5 New Zealand,PremierLeaguePass |
| Nicaragua | Sky HD,SKY Planeta Fútbol |
| Niger | Canal+ Sport 1 Afrique,SuperSport 5 Africa |
| Nigeria | SuperSport 5 Nigeria,Canal+ Sport 1 Afrique,SuperSport 5 Africa |
| Panama | SKY Planeta Fútbol,Flow Sports Premier,Sky HD |
| Philippines | beIN Sports 2 HD,PremierLeaguePass |
| Poland | Canal+ Sport Online |
| Portugal | Sport TV3 |
| Romania | Eurosport Romania |
| Russia | NTV+ Sport Online,Match TV Game,Match TV Football 2 |
| Rwanda | Canal+ Sport 1 Afrique,SuperSport 5 Africa |
| Saint Kitts and Nevis | Flow Sports Premier |
| Saint Lucia | Flow Sports Premier |
| Saint Vincent and the Grenadines | Flow Sports Premier |
| Sao Tome And Principe | SuperSport 5 Africa |
| Senegal | SuperSport 5 Africa,Canal+ Sport 1 Afrique |
| Seychelles | SuperSport 5 Africa,Flow Sports Premier |
| Sierra Leone | Canal+ Sport 1 Afrique,SuperSport 5 Africa |
| Singapore | 102 (HD) mio Stadium |
| Slovakia | DIGI Sport 1 |
| South Africa | SuperSport 5 Africa,SuperSport Maximo 2,SuperSport 5 |
| South Sudan | SuperSport 5 Africa |
| Spain | Movistar+,Movistar TV Fútbol |
| Swaziland | SuperSport 5 Africa |
| Taiwan | PremierLeaguePass |
| Tanzania | SuperSport 5 Africa |
| Thailand | beIN Sports 2 |
| Togo | Canal+ Sport 1 Afrique,SuperSport 5 Africa |
| Trinidad and Tobago | Flow Sports Premier |
| Turkey | Digiturk Play,Lig TV,Smart Spor 2 |
| Turks and Caicos Islands | Flow Sports Premier |
| Uganda | SuperSport 5 Africa |
| Ukraine | OLL.tv,Futbol 1 |
| United Kingdom | BBC Radio Manchester |
| United States | NBC Sports Live,Telemundo Deportes En Vivo,SiriusXM FC,CNBC |
| Venezuela | ESPN Dos Venezuela |
| Vietnam | K +1 |
| Zambia | SuperSport 5 Africa |
| Zimbabwe | SuperSport 5 Africa |