First Team News
1
Man City's review of January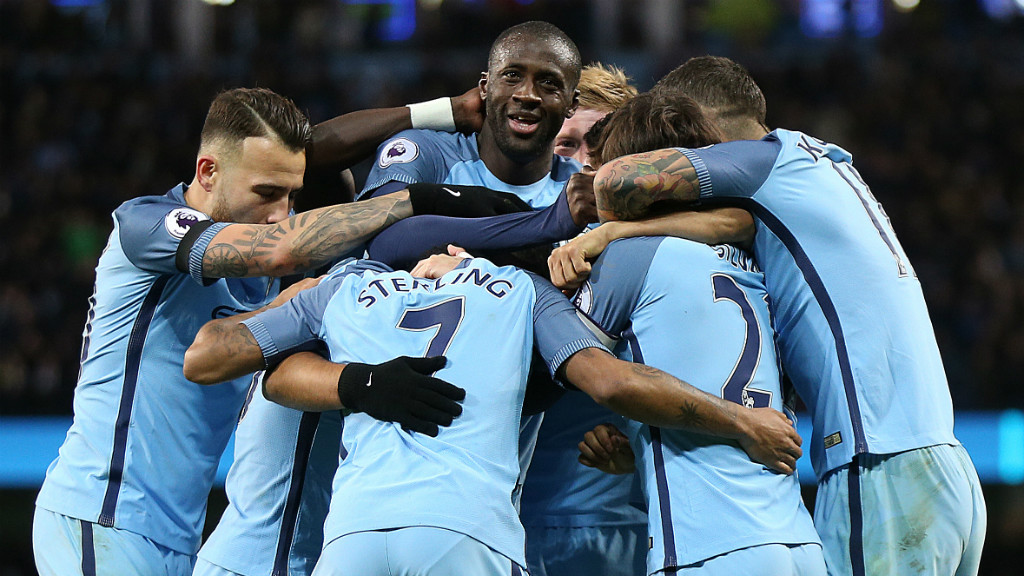 GET IN THERE: City celebrate following Sergio Aguero's excellent goal against Burnley
Manchester City played five matches in January. Our Club journalists have taken a look back at the highlights.
Two FA Cup wins for Pep Guardiola's side saw them safely through to the last 16 while they took four points from nine in the Premier League.
A mixed month, then, but which players, goals and games stood out?
Best Game
David Clayton - West Ham 0-5 Man City
Not a difficult choice.
City's first visit to the London Stadium was a memorable one with the Hammers completely outplayed from start to finish.
The Blues' movement and creativity was, in truth, given all the time in the world by the beleaguered hosts who allowed David Silva, Raheem Sterling and Kevin De Bruyne as much time and space as they wanted with predictable results.
Sterling had a hand in three of the goals, as did Sergio Aguero, as City looked every inch a Pep Guardiola side.
Caroline Oatway - West Ham 0-5 Man City
Pep Guardiola could not have dreamed of a better FA Cup debut, as City cruised past West Ham.
The Blues found themselves 3-0 up at half-time, thanks to Yaya Toure's penalty plus two goals in a minute – a Havard Nordtveit own-goal and a David Silva strike.
Slick, hungry and ruthless, the visitors were a class apart from their opponents, slicing through the Hammers defence with ease and limiting the hosts to very few chances.
Equally pleasingly, City did not sit on their half-time advantage either with two more history-making goals after the break. Sergio Aguero struck to become the Blues' third all-time top goalscorer, while John Stones bagged his first in sky blue.
It was an excellent display all-round.
Jack Mumford - Man City 2-2 Spurs
There's no doubt this was a disappointing result given the position of strength City found themselves in midway through the second half but it was also a performance to be proud of.
The kind of blood and thunder encounter the Premier League has become famed for was played out in an atmospheric Etihad Stadium and watched over by two of the best managers in the game.
City's pressing and intensity helped them to create several chances against England's masters of the style. Youngsters such as Leroy Sane and Raheem Sterling shone while fans were reminded of just how important the likes of Pablo Zabaleta and David Silva still are.
Rob Pollard - Crystal Palace 0-3 Man City
What was most exciting about the win over Palace was the youthful forward line City put out.
Gabriel Jesus is only 19 and this was his first start - but he produced a mature display that showcased both his technical quality and work rate. To lead the line in a new team against opponents who are more physical than you're used to was hugely impressive. He could hardly have done more.
Leroy Sane, I feel, is a future great and he again showed what he is capable of, and Raheem Sterling continues to score goals and influence games on a consistent basis.
Those three are the future of this football club and this was our first glimpse of them in action together.
Best Goal
David Clayton - David Silva v West Ham
Silva's calm finish against the Hammers is the goal I enjoyed the most.
It began when Sterling picked the ball up 40 yards from goal and with his path blocked, he played the ball to Aguero who returned the favour with a pass that set Sterling clear.
The City winger raced towards goal, spotted Silva's run into the box and played a low ball across for the Spaniard who coolly controlled the pass, waited for the keeper to commit himself before sliding the ball into the back of the net.
Caroline Oatway - Sergio Aguero v Burnley
Sergio Aguero never ceases to amaze. He's scored all kinds of goals in his career – some downright astonishing – and his strike against the Clarets stunned everyone: especially the two defenders he managed to deceive on the line!
It wasn't just the quality of the finish but the fact he was – as he so often is – in the right place at the right time to pick up the pieces, after Raheem Sterling had been thwarted by Tom Heaton.
It's that instinct and prowess that puts Kun a cut above. The first-time curling effort that followed and sneaked into the near post was absolutely exquisite, and thoroughly deserving of winning any game.
Jack Mumford - Raheem Sterling v Palace
An FA Cup tie at a traditional ground like Selhurst Park was just about as English an experience Gabriel Jesus could have wished for on his full debut.
The first half was a scrappy affair but Jesus' strength to hold off Martin Kelly and precision to play in Raheem Sterling had City fans purring over the new man.
Sterling's clinical finish also proved as a timely reminder of the talents of the young England winger.
Rob Pollard - Raheem Sterling v Palace
I agree with Jack - Sterling's goal against Palace was great to watch.
The finish was cool - but it was the turn and pass from Jesus that really impressed.
To produce something like that 43 minutes into your full debut in English football felt pretty special.
Best Player
David Clayton – David Silva
Silva has been at his best during January, just as he has for much of the season.
He started the month coming off the bench against Burnley to help transform a game that threatened to slip away from the Blues with a polished cameo, then ran the show in the FA Cup tie at West Ham.
In the first half against Everton, he was outstanding and his promptings made a powerful Spurs side look ordinary.
Another sparkling performance against Crystal Palace rounded of January and you know when the home support applaud his performance as – happened at West Ham and Palace – he's had a good day at the office.
Caroline Oatway - David Silva
David Silva is in sparkling form. He's returned to his magical best under Guardiola's leadership and has shone in recent weeks.
The Spaniard has been operating in a role which has given him free rein, and has been at the heart of everything as a result – exactly what he wants and thrives from.
He's enjoyed a splendid January with a goal, an assist and two Man of the Match displays.
In addition to his creative attributes though, El Mago has also been putting in the hard work to regain possession with tireless running and well-timed tackles. He's firing on all cylinders.
Jack Mumford - Leroy Sane
Given the electric form of the young German winger, it's hard to believe he only played two matches in January.
After his breakthrough performance against Arsenal in December, there was frustration all round when the 21-year-old was forced to sit out the festive period through injury.
However, he burst back on to the scene in the second half of January with a man of the match performance against Tottenham and a decisive strike against Crystal Palace. It's left many City fans wondering just how far he can go in the game…
Rob Pollard - David Silva
He was the stand-out player on the pitch in both FA Cup games and was at his creative best against Spurs, so, for me, this was David Silva's month.
At full flight, there's no better sight on a football pitch. He mixes artistry with industry and makes the game look effortless.