First Team News
1
Man City v Huddersfield: Where to watch on TV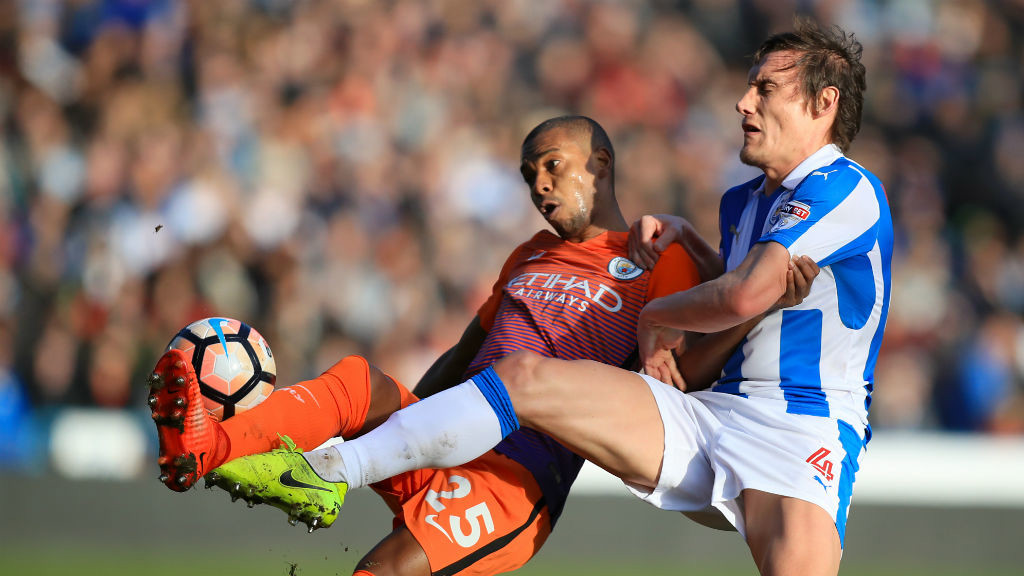 CHALLENGE: Fernandinho and Whitehead battle for the ball
Find out which TV channels are showing Man City's FA Cup fifth round replay against Huddersfield Town.
After a 0-0 draw in West Yorkshire, the Blues welcome the Championship side to the Etihad Stadium on Wednesday 1 March, kick of 7.45pm.
The two sides will battle it out for the right to take on Middlesbrough in the last eight of the competition and UK-based fans can watch the game live on BBC One, with coverage beginning at 7.30pm.
City fans around the world can find out how they can tune in below, courtesy of livesoccertv.com...
| | |
| --- | --- |
| Albania | SuperSport 4 Digitalb |
| Angola | SuperSport 3 Africa,SuperSport Select 2,SuperSport Select 2 Go |
| Armenia | Setanta Sports Eurasia + |
| Azerbaijan | Setanta Sports Eurasia + |
| Belarus | Setanta Sports Eurasia + |
| Benin | SuperSport Select 2,SuperSport 3 Africa,SuperSport Select 2 Go |
| Bosnia and Herzegovina | SportKlub HD Serbia |
| Botswana | SuperSport 3 Africa,SuperSport Select 2,SuperSport Select 2 Go |
| Brazil | ESPN + Brasil |
| Bulgaria | Diema Sport 2 |
| Burkina Faso | SuperSport Select 2,SuperSport Select 2 Go,SuperSport 3 Africa |
| Burundi | SuperSport 3 Africa,SuperSport Select 2 Go,SuperSport Select 2 |
| Cameroon | SuperSport 3 Africa,SuperSport Select 2 Go,SuperSport Select 2 |
| Canada | Sportsnet World,Sportsnet World Now |
| Cape Verde | SuperSport Select 2,SuperSport 3 Africa,SuperSport Select 2 Go |
| Central African Republic | SuperSport Select 2 Go,SuperSport 3 Africa,SuperSport Select 2 |
| Chad | SuperSport Select 2 Go,SuperSport 3 Africa,SuperSport Select 2 |
| Comoros | SuperSport Select 2 Go,SuperSport Select 2,SuperSport 3 Africa |
| Congo | SuperSport 3 Africa,SuperSport Select 2 Go,SuperSport Select 2 |
| Congo DR | SuperSport Select 2,SuperSport 3 Africa,SuperSport Select 2 Go |
| Cote D'Ivoire | SuperSport Select 2 Go,SuperSport 3 Africa,SuperSport Select 2 |
| Cyprus | PrimeTel 2 |
| Djibouti | SuperSport Select 2 Go,SuperSport 3 Africa,SuperSport Select 2 |
| Equatorial Guinea | SuperSport Select 2,SuperSport 3 Africa,SuperSport Select 2 Go |
| Eritrea | SuperSport Select 2 Go,SuperSport Select 2,SuperSport 3 Africa |
| Ethiopia | SuperSport Select 2,SuperSport 3 Africa,SuperSport Select 2 Go |
| France | beIN Sports MAX 5 |
| Gabon | SuperSport Select 2,SuperSport 3 Africa,SuperSport Select 2 Go |
| Gambia | SuperSport 3 Africa,SuperSport Select 2,SuperSport Select 2 Go |
| Georgia | Setanta Sports Eurasia + |
| Ghana | SuperSport Select 2 Go,SuperSport 3 Africa,SuperSport Select 2 |
| Guinea | SuperSport Select 2,SuperSport 3 Africa,SuperSport Select 2 Go |
| Guinea-Bissau | SuperSport Select 2,SuperSport Select 2 Go,SuperSport 3 Africa |
| International | Bet365 |
| Ireland | BBC One UK,BBC Radio 5 Live |
| Italy | Sky Sport 3 HD Italia |
| Kazakhstan | Setanta Sports Eurasia + |
| Kenya | SuperSport 3 Africa,SuperSport Select 2 Go,SuperSport Select 2 |
| Kyrgyzstan | Setanta Sports Eurasia + |
| Lesotho | SuperSport Select 2 Go,SuperSport 3 Africa,SuperSport Select 2 |
| Liberia | SuperSport 3 Africa,SuperSport Select 2 Go,SuperSport Select 2 |
| Macedonia | SportKlub HD Serbia |
| Madagascar | SuperSport 3 Africa,SuperSport Select 2,SuperSport Select 2 Go |
| Malawi | SuperSport Select 2,SuperSport Select 2 Go,SuperSport 3 Africa |
| Malaysia | Astro Supersport 4 |
| Mali | SuperSport Select 2,SuperSport Select 2 Go,SuperSport 3 Africa |
| Mauritius | SuperSport Select 2,SuperSport Select 2 Go,SuperSport 3 Africa |
| Moldova | Setanta Sports Eurasia + |
| Montenegro | SportKlub HD Serbia |
| Mozambique | SuperSport 3 Africa,SuperSport Select 2 Go,SuperSport Select 2 |
| Namibia | SuperSport 3 Africa,SuperSport Select 2,SuperSport Select 2 Go |
| New Zealand | ESPN2 Pacific Rim |
| Niger | SuperSport Select 2 Go,SuperSport Select 2,SuperSport 3 Africa |
| Nigeria | SuperSport Select 2,SuperSport 3 Nigeria,SuperSport 3 Africa,SuperSport Select 2 Go |
| Portugal | Sport TV3 |
| Romania | Digi Sport 4 Romania |
| Russia | Match TV Football 1,Setanta Sports Eurasia + |
| Rwanda | SuperSport Select 2 Go,SuperSport 3 Africa,SuperSport Select 2 |
| Sao Tome And Principe | SuperSport 3 Africa,SuperSport Select 2,SuperSport Select 2 Go |
| Senegal | SuperSport 3 Africa,SuperSport Select 2,SuperSport Select 2 Go |
| Serbia | SportKlub HD Serbia |
| Seychelles | SuperSport 3 Africa,SuperSport Select 2,SuperSport Select 2 Go |
| Sierra Leone | SuperSport 3 Africa,SuperSport Select 2 Go,SuperSport Select 2 |
| Slovenia | SportKlub HD Slovenia |
| South Africa | SuperSport 3 Africa,Maximo 360,SuperSport 3,SuperSport Select 2,SuperSport Select 2 Go |
| South Sudan | SuperSport Select 2 Go,SuperSport 3 Africa,SuperSport Select 2 |
| Swaziland | SuperSport Select 2 Go,SuperSport 3 Africa,SuperSport Select 2 |
| Sweden | Viasat Fotboll / HD |
| Tajikistan | Setanta Sports Eurasia + |
| Tanzania | SuperSport 3 Africa,SuperSport Select 2,SuperSport Select 2 Go |
| Togo | SuperSport Select 2,SuperSport Select 2 Go,SuperSport 3 Africa |
| Turkmenistan | Setanta Sports Eurasia + |
| Uganda | SuperSport Select 2 Go,SuperSport Select 2,SuperSport 3 Africa |
| United Kingdom | BBC One UK,BBC Radio Manchester,BBC Radio 5 Live |
| United States | Fox Sports GO,Fox Sports 1 USA,Fox Soccer 2GO USA |
| Uzbekistan | Setanta Sports Eurasia + |
| Zambia | SuperSport 3 Africa,SuperSport Select 2,SuperSport Select 2 Go |
| Zimbabwe | SuperSport Select 2,SuperSport 3 Africa,SuperSport Select 2 Go |