Men's Team
1
In Focus: Aguero v Monaco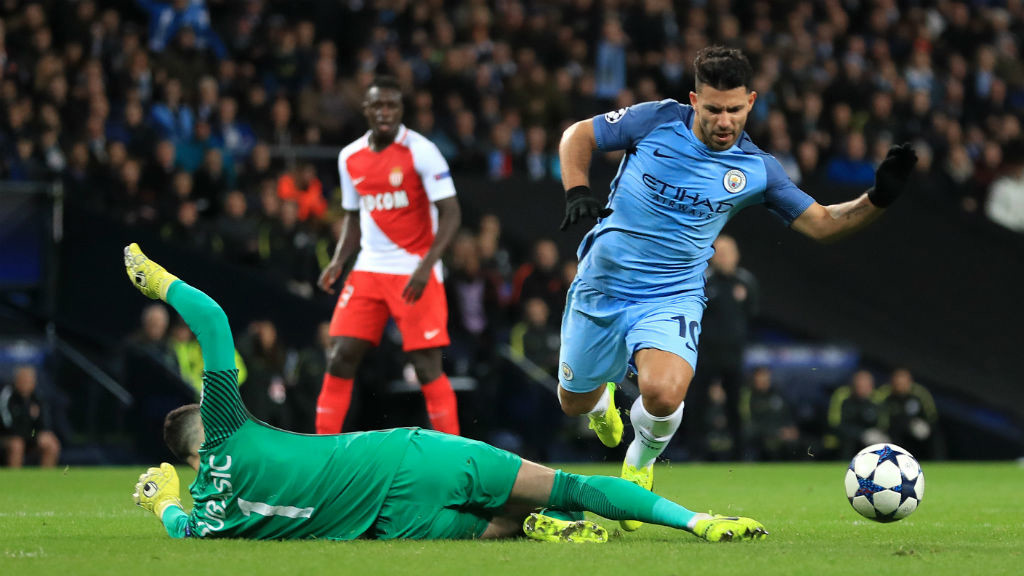 DECISION: The referee decided this wasn't a penalty
Dan Burke looks at Sergio Aguero's man-of-the-match performance against Monaco in a little more detail...
Sergio Aguero has a pretty good track record when it comes to picking his moments.
If he isn't scoring Premier League title winning goals in the dying seconds of injury time, he's netting vital ones in the Champions League, such as the two he scored against Bayern Munich in the Group Stage in November 2014.
On Tuesday night in City's remarkable 5-3 win over Monaco, he picked a fine, fine moment to display his best once again.
According to SAP, City's number 10 had 55 touches of the ball and completed 77% of his passes on Tuesday night, which highlights his all-round contribution to the team's play.
He scored his 19th and 20th goals of the season in all competitions – both of which were hugely important equalisers – and unselfishly laid one on for Leroy Sane to make it 5-3 when he could easily have claimed his sixth City hat-trick instead. He also could - and probably should - have won a penalty in the first half when he was tripped by Danijel Subasic inside the area.
Monaco struggled to contain him.
Perhaps the most interesting statistic from Aguero's night, however, is the eight ball recoveries he made. The boy from Buenos Aires set a fine example to his teammates and any budding young footballers watching by working and battling from the first whistle until he was substituted to a richly deserved standing ovation in the final minutes of the game.
He's an instinctive player and his instinct is one of the best there is. If he's capable of 20 goals by the end of February during a period of poor form then just imagine what he might be capable of if he really kicks on from here?
"Who can't see football is the best there is?" read his post-match tweet.
We can Sergio, and the pleasure is all ours.