Men's Team
1
Yaya Toure sounds Monaco warning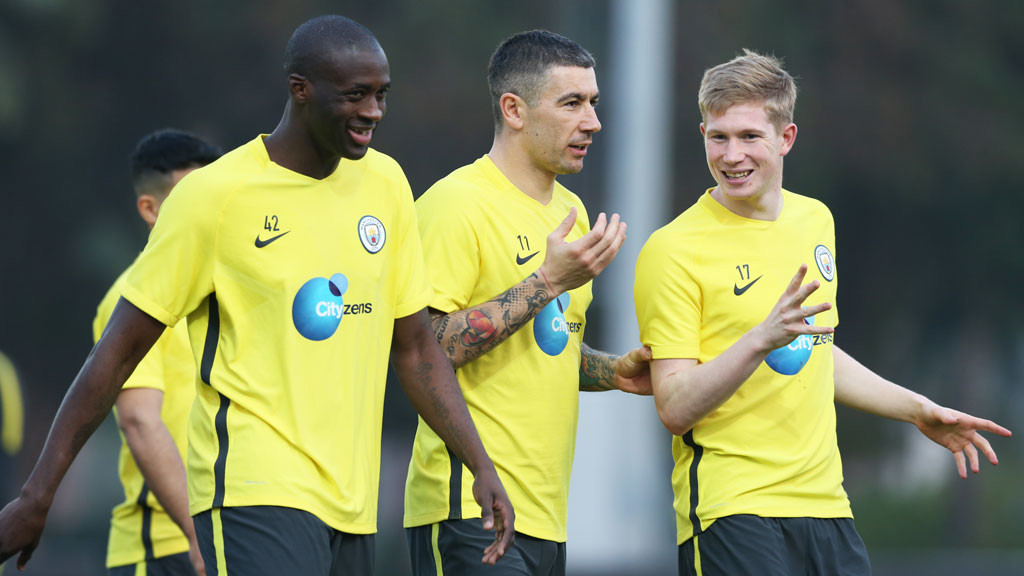 JOKES: Toure, Kolarov and De Bruyne share a joke in training.
Yaya Toure has fired a warning to his Manchester City teammates ahead of the second leg with Monaco in the Champions League last 16.
The Ivorian, who played a key role in the 5-3 first-leg victory, says the tie is not over, despite three goals in the last 20 minutes of Tuesday's game handing City the initiative ahead of the second leg in Monaco.
City's two-goal advantage makes them favourites and Toure feels their counter-attacking quality is suited to playing away from home – but the tie, he believes, is far from a fait accompli.
"We need to score two goals and we need to be careful – the game is not finished," the 33-year-old said.
"We have a game to play away in Monaco. We can't underestimate them."
Monaco were widely praised for the display at the Etihad Stadium.
Leonardo Jardim's side have scored a remarkable 76 league goals in the French top flight this season – more than any other team in Europe – and they showed why with a top-class attacking performance that saw them leading 3-2 with 20 minutes remaining.
Bernardo Silva was perhaps the stand-out player with an assured display that showcased his technical quality.
But he wasn't alone. Radamel Falcao underlined his standing as one of Europe's most potent finishers, and 18-year-old Kylian Mbappe enhanced his fast-growing reputation with a display full of pace and desire.
Afterwards, Toure was gushing in his praise for the Ligue 1 leaders, who he played for during the 2006/07 season.
"Brilliant," he said of their performance. "I know them for long because I was there. You can see how this team is always looking forward.
"They have a magnificent academy and guys who are working very well with the kids in there. They are inexperienced in this European Cup but you can see how they are hungry when they are going forward.
"They are not afraid to attack and they are not afraid to play 4-4-2 against a team like City. Full credit to them."
City, though, showed they, too, are one of the best sides in Europe going forward, with Leroy Sane, 21, and Raheem Sterling, 22, again impressing in wide areas.
Toure says their performances were key to the win and believes City have the capability to score goals against any side.
"They played massive," he said. "They were tracking back, going forward and scoring important goals.
"Today we see a real team because we were fighting, we were running everywhere.
"Until the end we have to continue and I think we showed that.
"As a team, we conceded goals but we are able to score goals because we have the strikers upfront who are unbelievable."