First Team News
1
Fernandinho: We don't doubt Aguero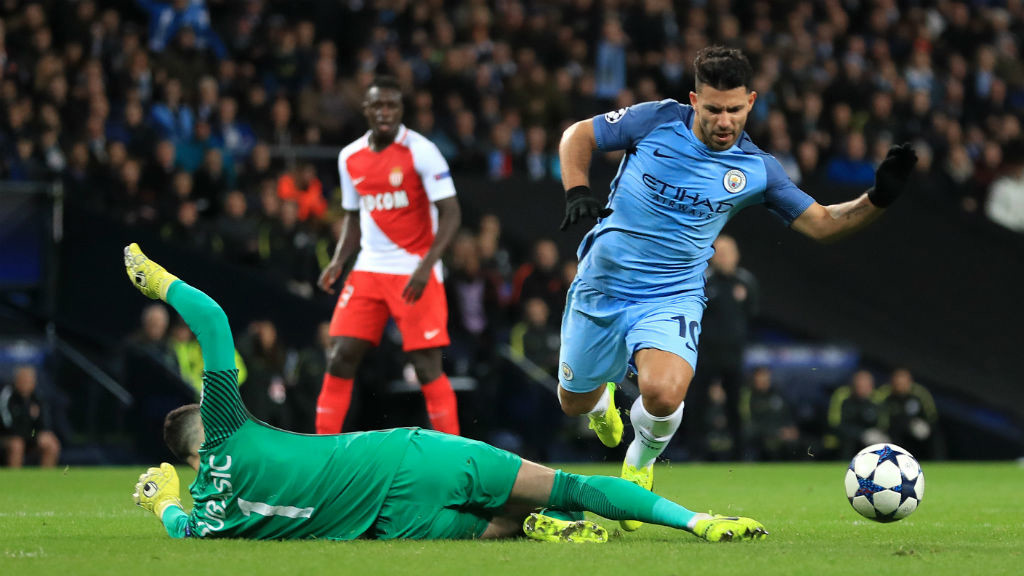 DECISION: The referee decided this wasn't a penalty
Manchester City midfielder Fernandinho says it would be foolish to doubt Sergio Aguero's quality.
The Argentine striker spent three consecutive games on the bench prior to the recent FA Cup tie with Huddersfield after Gabriel Jesus' excellent form saw the youngster given a starting role upfront.
But he has since returned to the starting lineup in Jesus' absence – and on Tuesday he scored twice in the 5-3 win over Monaco in the Champions League.
Aguero now has 20 goals in all competitions this season and is the first player in the Club's history to score 20 or more in a season on five separate occasions, with his first against Monaco City's 200th in European competition.
Fernandinho was impressed with his display against the Ligue 1 leaders and says Aguero's desire to adapt to Pep Guardiola's style of play is clear to see.
"Aguero is very important for us," he said. "His history at this club speaks for itself.
"With the arrival of Gabriel Jesus and with him scoring goals and providing assists, Aguero ended up on the bench for few games but no one ever had doubts about Aguero's qualities.
"Today he showed it - not only by scoring goals, but also the way he played. Recovering balls, running, pressing, helping the team.
"For a team that wants to reach the Champions League final, which is our aim, we need that spirit, no matter who is playing, we need to do that.
"This year we are showing that on our games and Aguero more than anyone else embraced that idea, so we are very happy about it."
Fernandinho says the victory over Monaco was impressive, given the quality of the opposition.
Leonardo Jardim's side were excellent for much of the contest, with Falcao, Kylian Mbappe, Bernardo Silva and Fabinho all impressing.
But City showed great character to win the game and put themselves in a commanding position ahead of the second leg.
"It was a great result for us, in a very difficult competition facing a tough team, very well organised," Fernandinho said. "Without a shadow of a doubt we are very happy with this result, now it's time to prepare very well the next game and guarantee that we go through the next stage.
"Thanks to God, we got an important result and now we need to go to France and get the result we need for the qualification.
"The game on Saturday [against Huddersfield] was hard - the pitch didn't help our team - but against Monaco we overcame all the expectations and we won against a very strong and great team."