First Team News
1
Gabriel Jesus: Guardiola and I are football crazy!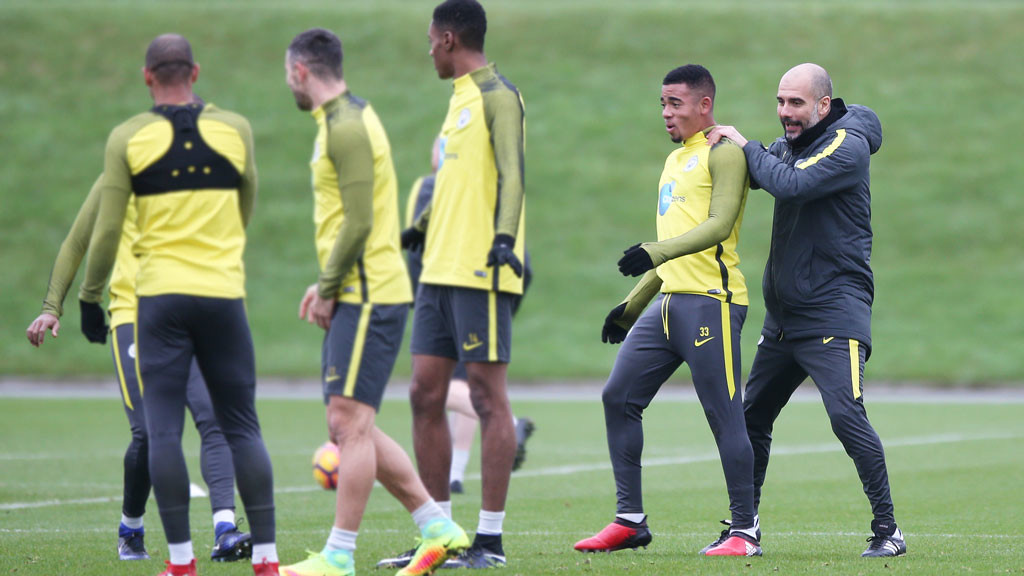 GETTING TO KNOW YOU: Pep keeps Gabriel Jesus on his toes
Man City striker Gabriel Jesus says he has been delighted to discover Pep Guardiola shares his level of passion for the beautiful game.
The Brazilian forward, who netted his first City goal on his first Premier League start in the 4-0 triumph at West Ham, has slotted seamlessly into life at his new Club and is enjoying working under the leadership of a manager he views as the best in the world.
"He's crazy about football, like me," Gabriel Jesus declared. "Twenty-four hours a day! When I'm not training or playing, I'm watching football or watching something football related on my phone, or about our next rival.
"We have that thing in common. I play football video games too. He's a good guy. For the short time I've been here I've realised he's a really good guy. He deserves everything he has won in his career.
"When I took the decision to join City, Pep Guardiola's call was very important. He called me, spoke to me about the project and explained that I was going to be an important part of it.
"I felt very happy. The prestige of Manchester City's shirt is also very important. I have always watched and followed the Premier League so those factors made me take the decision to come here.
"It was a huge influence. He was the only manager who called me. There were some clubs interested in me, but Guardiola was the only one who called me.
"He showed his interest in having me here – that I was going to come here to help; that he was counting on me. I was very happy and that was when I decided to join Manchester City."
Jesus has needed no time to adapt to the English game. Although he prepared thoroughly, he admits he did not expect to settle so quickly.
"I have to say it's going much better than I expected," he continued. "When I spoke to some players that had already played in the Premier League, they said it was going to be very difficult but I put in my head that by working hard, you can achieve your goals.
"That's what I did and what I always do. I came, I worked hard every day and tried to make my day matter. That makes me really happy. I am a bit surprised about my beginning here, but for the work I have done that's what I expected.
"Everything is going perfectly. The welcome of the club, the welcome of the fans... I can tell our fans are really cheerful, happy – always supporting us. That's very important.
"I have the pride to be able to say that I have the chance to play for Manchester City and see that the fans are really happy, so that makes me happy too."
Asked of his hopes for the remainder of the season, Jesus replied his aim is to help the Blues to achieve success by scoring as many goals as possible.
"I've just found out here that the table can be decided by goal difference," he stated. "It's different than in Brazil [where it comes down to head-to-head results].
"It's always good scoring goals – it's top of my list of aims. We have been training good and working on that.
"I'm very grateful to my teammates for welcoming me. They treat me very well. That has made a difference in the process of settling in here. Thanks to them I'm more calm too. I train calmly and play calmly as well. That's going to be very important to be able to achieve our goals.
"I play to win. I think all of us here think the same way. We need to believe in that, take part in every competition and try to become the champions. We must try to fight for the trophies and not only play the championship. I intend to win many trophies here."