Men's Team
1
Which TV channel is Man City v Bournemouth on?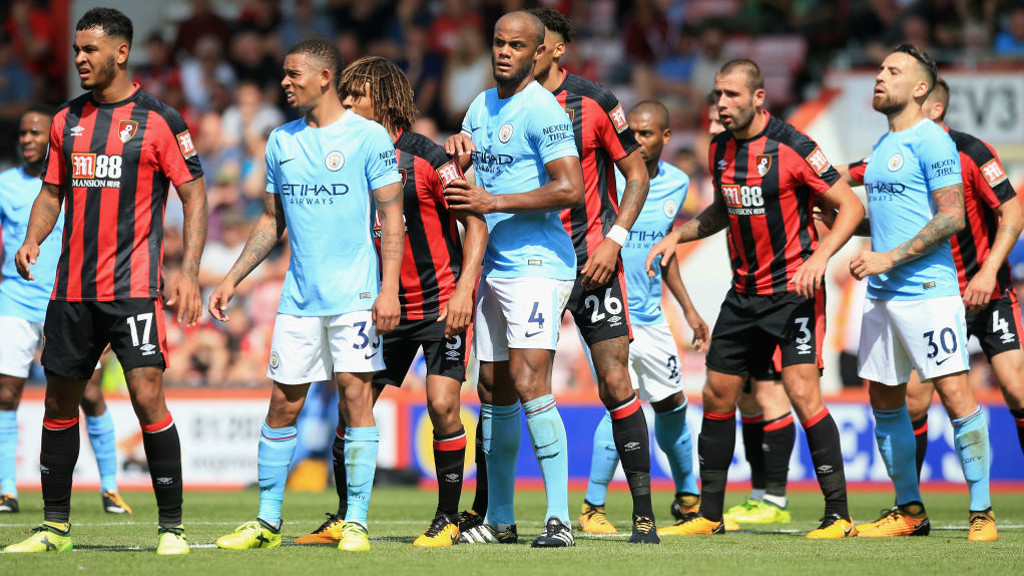 HOLD THE LINE: Kompany dishes the orders as City deal with a Bournemouth set-piece
City are back in Premier League action this weekend with the visit of Bournemouth to the Etihad Stadium.
The Blues host the Cherries at the Etihad Stadium on Saturday 23 December, having snatched a dramatic 2-1 win at Dean Court in the reverse fixture back in August, thanks to Raheem Sterling's injury time strike.
The game kicks off at 3pm (GMT) and will not be shown live in the UK.
Fans who can't make it to the Etihad can follow right here on mancity.com, via the City Matchday App and we will also have live updates on Twitter.
Supporters around the world can find out how they can watch in their country below, courtesy of livesoccertv.com.
| | |
| --- | --- |
| Algeria | beIN SPORTS CONNECT Arabia |
| Andorra | SFR Sport 1 |
| Angola | SuperSport 3 Africa,SuperSport Select 2 Go |
| Anguilla | Flow Sports App |
| Antigua and Barbuda | Flow Sports App |
| Australia | Optus Sport |
| Austria | DAZN Europe |
| Bahamas | Flow Sports App |
| Bahrain | beIN SPORTS CONNECT Arabia |
| Bangladesh | Star Sports Select HD1 |
| Barbados | Flow Sports App |
| Belarus | Belarus 5 |
| Belgium | Play Sports 1 |
| Benin | SuperSport 3 Africa,Canal+ Sport 2 Afrique,SuperSport Select 2 Go |
| Bermuda | Flow Sports App |
| Bhutan | Star Sports Select HD1 |
| Botswana | SuperSport 3 Africa,SuperSport Select 2 Go |
| Brazil | ESPN Brasil,Watch ESPN Brasil |
| British Virgin Islands | Flow Sports App |
| Brunei | beIN Sports 1 Thailand,beIN Sports Connect Thailand |
| Bulgaria | Diema Sport 2 |
| Burkina Faso | SuperSport 3 Africa,SuperSport Select 2 Go,Canal+ Sport 2 Afrique |
| Burundi | SuperSport Select 2 Go,SuperSport 3 Africa,Canal+ Sport 2 Afrique |
| Cambodia | beIN Sports 1 Thailand,beIN Sports Connect Thailand |
| Cameroon | SuperSport Select 2 Go,SuperSport 3 Africa,Canal+ Sport 2 Afrique |
| Canada | Sportsnet West,Sportsnet World Now,Sportsnet Pacific,Sportsnet East,Sportsnet Ontario |
| Cape Verde | Canal+ Sport 2 Afrique,SuperSport Select 2 Go,SuperSport 3 Africa |
| Cayman Islands | Flow Sports App |
| Central African Republic | Canal+ Sport 2 Afrique,SuperSport Select 2 Go,SuperSport 3 Africa |
| Chad | Canal+ Sport 2 Afrique,SuperSport Select 2 Go,SuperSport 3 Africa,beIN SPORTS CONNECT Arabia |
| China | PPTV Sport China,BesTV,Ssports Live,Guangdong Sports Channel,QQ Sports Live |
| Comoros | SuperSport 3 Africa,SuperSport Select 2 Go |
| Congo | Canal+ Sport 2 Afrique,SuperSport Select 2 Go,SuperSport 3 Africa |
| Congo DR | SuperSport Select 2 Go,SuperSport 3 Africa |
| Costa Rica | SKY Planeta Fútbol,Sky HD |
| Cote D'Ivoire | SuperSport Select 2 Go,SuperSport 3 Africa,Canal+ Sport 2 Afrique |
| Cyprus | Cytavision Sports HD,Cytavision Sports 1 |
| Denmark | Viaplay Denmark,6'eren,Eurosport Player Denmark |
| Djibouti | SuperSport 3 Africa,SuperSport Select 2 Go,beIN SPORTS CONNECT Arabia,Canal+ Sport 2 Afrique |
| Dominica | Flow Sports App |
| Dominican Republic | SKY Planeta Fútbol,Sky HD |
| Egypt | beIN SPORTS CONNECT Arabia |
| El Salvador | Sky HD,SKY Planeta Fútbol |
| Equatorial Guinea | Canal+ Sport 2 Afrique,SuperSport 3 Africa,SuperSport Select 2 Go |
| Eritrea | SuperSport 3 Africa,SuperSport Select 2 Go |
| Estonia | Belarus 5,Viasat Sport Baltic |
| Ethiopia | SuperSport 3 Africa,SuperSport Select 2 Go |
| Finland | Viasat Sport Premium,Viasat Football HD,Viaplay Finland |
| France | SFR Sport 1 |
| Gabon | SuperSport 3 Africa,Canal+ Sport 2 Afrique,SuperSport Select 2 Go |
| Gambia | SuperSport Select 2 Go,Canal+ Sport 2 Afrique,SuperSport 3 Africa |
| Germany | DAZN Europe |
| Ghana | SuperSport 3 Africa,Canal+ Sport 2 Afrique,SuperSport Select 2 Go |
| Greece | Cosmote Sport 1 HD |
| Grenada | Flow Sports App |
| Guatemala | Sky HD,SKY Planeta Fútbol |
| Guinea | Canal+ Sport 2 Afrique,SuperSport 3 Africa,SuperSport Select 2 Go |
| Guinea-Bissau | SuperSport 3 Africa,SuperSport Select 2 Go,Canal+ Sport 2 Afrique |
| Honduras | Sky HD,SKY Planeta Fútbol |
| Hong Kong | Now 621,620 PLTV,LeTV Sports Hong Kong |
| Hungary | Spíler TV |
| India | Star Sports Select 1,Hotstar,Star Sports Select HD1 |
| Indonesia | beIN Sports 1 Indonesia |
| International | Sport 24,TalkSport Radio World |
| Iran | beIN SPORTS CONNECT Arabia |
| Iraq | beIN SPORTS CONNECT Arabia |
| Ireland | Sky Sports Premier League Ireland |
| Italy | Sky Sport 3 HD Italia |
| Jamaica | Flow Sports App |
| Japan | SportsNavi Live,DAZN Japan |
| Jordan | beIN SPORTS CONNECT Arabia |
| Kazakhstan | Setanta Sports Kazakhstan |
| Kenya | SuperSport Select 2 Go,SuperSport 3 Africa |
| Korea Republic | SBS ESPN Korea |
| Kuwait | beIN SPORTS CONNECT Arabia |
| Laos | beIN Sports Connect Thailand,beIN Sports 1 Thailand |
| Latvia | Belarus 5,Viasat Sport Baltic |
| Lebanon | beIN SPORTS CONNECT Arabia |
| Lesotho | SuperSport 3 Africa,SuperSport Select 2 Go |
| Liberia | SuperSport 3 Africa,SuperSport Select 2 Go |
| Libya | beIN SPORTS CONNECT Arabia |
| Liechtenstein | DAZN Europe |
| Lithuania | Viasat Sport Baltic,Belarus 5 |
| Luxembourg | DAZN Europe,SFR Sport 1 |
| Macau | Ssports Live |
| Madagascar | SuperSport Select 2 Go,SuperSport 3 Africa |
| Malawi | SuperSport 3 Africa,SuperSport Select 2 Go |
| Malaysia | Astro SuperSport 3 |
| Maldives | Star Sports Select HD1 |
| Mali | SuperSport Select 2 Go,SuperSport 3 Africa,Canal+ Sport 2 Afrique |
| Mauritania | beIN SPORTS CONNECT Arabia,Canal+ Sport 2 Afrique |
| Mauritius | SFR Sport 1,SuperSport 3 Africa,SuperSport Select 2 Go |
| Mexico | SKY Planeta Fútbol,Sky HD |
| Monaco | SFR Sport 1 |
| Mongolia | SPS HD |
| Montserrat | Flow Sports App |
| Morocco | beIN SPORTS CONNECT Arabia |
| Mozambique | SuperSport 3 Africa,SuperSport Select 2 Go |
| Namibia | SuperSport Select 2 Go,SuperSport 3 Africa |
| Nepal | Star Sports Select HD1 |
| Netherlands | Ziggo Sport Select |
| Nicaragua | SKY Planeta Fútbol,Sky HD |
| Niger | SuperSport 3 Africa,Canal+ Sport 2 Afrique,SuperSport Select 2 Go |
| Nigeria | SuperSport 3 Africa,Canal+ Sport 2 Afrique,SuperSport 3 Nigeria,SuperSport Select 2 Go |
| Norway | TV2 Sumo,TV2 Sport Premium |
| Oman | beIN SPORTS CONNECT Arabia |
| Pakistan | Star Sports Select HD1 |
| Palestinian Territory | beIN SPORTS CONNECT Arabia |
| Panama | SKY Planeta Fútbol,Flow Sports App,Sky HD |
| Philippines | beIN Sports 1 |
| Poland | Belarus 5,Canal+ Sport Online,Canal+ Sport,nc+ GO |
| Portugal | Sport TV3 |
| Qatar | beIN SPORTS CONNECT Arabia |
| Romania | Eurosport Romania |
| Russia | Match TV Game,NTV+ Sport Online,Belarus 5,Match TV Football 1 |
| Rwanda | SuperSport Select 2 Go,Canal+ Sport 2 Afrique,SuperSport 3 Africa |
| Saint Kitts and Nevis | Flow Sports App |
| Saint Lucia | Flow Sports App |
| Saint Vincent and the Grenadines | Flow Sports App |
| Sao Tome And Principe | SuperSport 3 Africa,SuperSport Select 2 Go |
| Saudi Arabia | beIN SPORTS CONNECT Arabia |
| Senegal | Canal+ Sport 2 Afrique,SuperSport 3 Africa,SuperSport Select 2 Go |
| Seychelles | SuperSport Select 2 Go,SuperSport 3 Africa,Flow Sports App |
| Sierra Leone | SuperSport Select 2 Go,SuperSport 3 Africa,Canal+ Sport 2 Afrique |
| Singapore | 102 (HD) mio Stadium |
| Somalia | beIN SPORTS CONNECT Arabia |
| South Africa | SuperSport Select 2 Go,SuperSport 3,Maximo 360,SuperSport 3 Africa |
| South Sudan | SuperSport 3 Africa,beIN SPORTS CONNECT Arabia,SuperSport Select 2 Go |
| Spain | Movistar+,Movistar TV Fútbol |
| Sri Lanka | Star Sports Select HD1 |
| Sudan | beIN SPORTS CONNECT Arabia |
| Swaziland | SuperSport 3 Africa,SuperSport Select 2 Go |
| Sweden | Viasat Sport Premium,Viaplay Sweden |
| Switzerland | SFR Sport 1,DAZN Europe |
| Syria | beIN SPORTS CONNECT Arabia |
| Tanzania | SuperSport Select 2 Go,SuperSport 3 Africa |
| Thailand | beIN Sports 1 Thailand,beIN Sports Connect Thailand |
| Togo | SuperSport Select 2 Go,SuperSport 3 Africa,Canal+ Sport 2 Afrique |
| Trinidad and Tobago | Flow Sports App |
| Tunisia | beIN SPORTS CONNECT Arabia |
| Turkey | S Sport,Digiturk Play |
| Turks and Caicos Islands | Flow Sports App |
| Uganda | SuperSport 3 Africa,SuperSport Select 2 Go |
| Ukraine | Belarus 5,OLL.tv,Futbol 1 |
| United Arab Emirates | beIN SPORTS CONNECT Arabia |
| United Kingdom | BBC Radio Manchester |
| United States | SiriusXM FC,NBCSN,Telemundo Deportes En Vivo |
| Yemen | beIN SPORTS CONNECT Arabia |
| Zambia | SuperSport 3 Africa,SuperSport Select 2 Go |
| Zimbabwe | SuperSport 3 Africa,SuperSport Select 2 Go |