Men's Team
1
What TV channel is Shakhtar Donetsk v Man City on?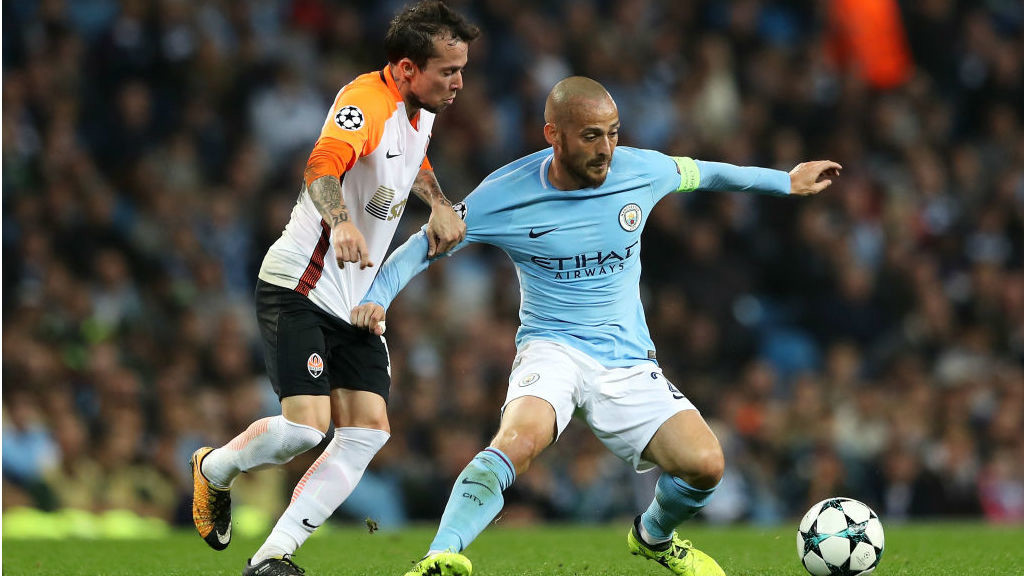 AT FULL STRETCH: David Silva battles it out against Shakhtar Doneskt
Find out how you can watch Shakhtar v City on TV, wherever you are in the world
City travel to the Ukraine to face Shakhtar Donetsk on Wednesday evening, kick-off 7.45pm.
The game been selected for TV coverage in the UK on BT Sport.
Fans who can't make the game can follow right here on mancity.com, via the City Matchday App and we will also have live updates on Twitter.
Supporters around the world can find out how they can watch in their country below, courtesy of livesoccertv.com.
| | |
| --- | --- |
| Algeria | beIN SPORTS CONNECT Arabia |
| Angola | SuperSport 6 Africa |
| Argentina | FOX Sports 2 Cono Sur,Fox Sports 2 Argentina,FOX Play Latin America |
| Australia | beIN Sports Connect Australia,beIN SPORTS 3 Australia |
| Austria | Sky Sport 9/HD,Sky Sport 1 HD,Sky Go Deutschland |
| Bahrain | beIN SPORTS CONNECT Arabia |
| Bangladesh | Sony ESPN,Sony ESPN HD,Sony LIV |
| Barbados | FOX Play Latin America |
| Belgium | Proximus 11+ |
| Benin | SuperSport 6 Africa |
| Bhutan | Sony ESPN HD,Sony LIV,Sony ESPN |
| Bolivia | FOX Sports 2 Cono Sur |
| Bosnia and Herzegovina | Klik SPORT,Arena Sport 4 |
| Botswana | SuperSport 6 Africa |
| Brazil | Esporte Interativo Plus |
| Burkina Faso | SuperSport 6 Africa |
| Burundi | SuperSport 6 Africa |
| Cameroon | SuperSport 6 Africa |
| Canada | TSN5,TSN GO |
| Cape Verde | SuperSport 6 Africa |
| Central African Republic | SuperSport 6 Africa |
| Chad | beIN SPORTS CONNECT Arabia,SuperSport 6 Africa |
| Chile | FOX Play Latin America,FOX Sports 2 Cono Sur |
| Colombia | FOX Sports 2 Cono Sur,FOX Play Latin America |
| Comoros | SuperSport 6 Africa |
| Congo | SuperSport 6 Africa |
| Congo DR | SuperSport 6 Africa |
| Costa Rica | FOX Play Latin America |
| Cote D'Ivoire | SuperSport 6 Africa |
| Croatia | Arena Sport 4,Klik SPORT |
| Curacao | FOX Play Latin America |
| Cyprus | Cytavision Sports 2,Cytavision Live |
| Denmark | Viaplay Denmark |
| Djibouti | SuperSport 6 Africa,beIN SPORTS CONNECT Arabia |
| Dominican Republic | FOX Play Latin America |
| Ecuador | FOX Play Latin America,FOX Sports 2 Cono Sur |
| Egypt | beIN SPORTS CONNECT Arabia |
| El Salvador | FOX Play Latin America |
| Equatorial Guinea | SuperSport 6 Africa |
| Eritrea | SuperSport 6 Africa |
| Ethiopia | SuperSport 6 Africa |
| Finland | Viasat Sport,Viaplay Finland |
| France | beIN Sports MAX 8 |
| Gabon | SuperSport 6 Africa |
| Gambia | SuperSport 6 Africa |
| Georgia | 1TV |
| Germany | Sky Sport 9/HD,Sky Sport 1 HD,Sky Go Deutschland,TeleClub Sport Live |
| Ghana | SuperSport 6 Africa |
| Greece | Cosmote Sport 5 HD |
| Guatemala | FOX Play Latin America |
| Guinea | SuperSport 6 Africa |
| Guinea-Bissau | SuperSport 6 Africa |
| Honduras | FOX Play Latin America |
| Hong Kong | Soccer Betting Channel 64,Cable TV Channel 203 HD |
| Iceland | Stöð 2 Sport 4 |
| India | Sony LIV,Sony ESPN,Sony ESPN HD |
| Indonesia | beIN Sports Connect Indonesia,beIN Sports 3 Indonesia |
| International | Sport 24 Extra,UEFA Champions League App |
| Iran | beIN SPORTS CONNECT Arabia |
| Iraq | beIN SPORTS CONNECT Arabia |
| Ireland | Eir Sport 2,BT Sport ESPN |
| Italy | Premium Play,Premium Calcio 1 HD |
| Jordan | beIN SPORTS CONNECT Arabia |
| Kenya | SuperSport 6 Africa |
| Kuwait | beIN SPORTS CONNECT Arabia |
| Lebanon | beIN SPORTS CONNECT Arabia |
| Lesotho | SuperSport 6 Africa |
| Liberia | SuperSport 6 Africa |
| Libya | beIN SPORTS CONNECT Arabia |
| Macedonia | Klik SPORT,Arena Sport 4 Serbia |
| Madagascar | SuperSport 6 Africa |
| Malawi | SuperSport 6 Africa |
| Maldives | Sony ESPN,Sony LIV,Sony ESPN HD |
| Mali | SuperSport 6 Africa |
| Malta | Go Sports 4 |
| Mauritania | beIN SPORTS CONNECT Arabia |
| Mauritius | SuperSport 6 Africa |
| Mexico | FOX Play Latin America |
| Montenegro | Arena Sport 4 Serbia,Klik SPORT,Arena Sport 4 |
| Morocco | beIN SPORTS CONNECT Arabia |
| Mozambique | SuperSport 6 Africa |
| Namibia | SuperSport 6 Africa |
| Nepal | Sony LIV,Sony ESPN,Sony ESPN HD |
| Netherlands | Ziggo Sport Extra 2 |
| Nicaragua | FOX Play Latin America |
| Niger | SuperSport 6 Africa |
| Nigeria | SuperSport 6 Africa |
| Norway | Viasport +,Viaplay Norway |
| Oman | beIN SPORTS CONNECT Arabia |
| Pakistan | Sony ESPN HD,Sony LIV,Sony ESPN |
| Palestinian Territory | beIN SPORTS CONNECT Arabia |
| Panama | FOX Play Latin America |
| Paraguay | FOX Sports 2 Cono Sur |
| Peru | FOX Play Latin America,FOX Sports 2 Cono Sur |
| Philippines | beIN Sports 3 |
| Poland | nSport+,nc+ GO,Canal+ Sport Online |
| Portugal | Sport TV3 |
| Qatar | beIN SPORTS CONNECT Arabia |
| Romania | Telekom TV Live |
| Rwanda | SuperSport 6 Africa |
| Sao Tome And Principe | SuperSport 6 Africa |
| Saudi Arabia | beIN SPORTS CONNECT Arabia |
| Senegal | SuperSport 6 Africa |
| Serbia | Arena Sport 4,Arena Sport 4 Serbia,Klik SPORT |
| Seychelles | SuperSport 6 Africa |
| Sierra Leone | SuperSport 6 Africa |
| Slovenia | SportKlub 4 Slovenia |
| Somalia | beIN SPORTS CONNECT Arabia |
| South Africa | SuperSport 6,SuperSport 6 Africa |
| South Sudan | beIN SPORTS CONNECT Arabia,SuperSport 6 Africa |
| Spain | beIN Sports Connect España,Movistar+ |
| Sri Lanka | Sony ESPN HD,Sony ESPN,Sony LIV |
| Sudan | beIN SPORTS CONNECT Arabia |
| Swaziland | SuperSport 6 Africa |
| Sweden | Viaplay Sweden,TV3 Sport HD Sweden |
| Switzerland | Sky Sport 1 Switzerland,TeleClub Sport Live |
| Syria | beIN SPORTS CONNECT Arabia |
| Tanzania | SuperSport 6 Africa |
| Togo | SuperSport 6 Africa |
| Trinidad and Tobago | FOX Play Latin America |
| Tunisia | beIN SPORTS CONNECT Arabia |
| Turkey | Tivibu Spor 3 |
| Uganda | SuperSport 6 Africa |
| Ukraine | Futbol 2 |
| United Arab Emirates | beIN SPORTS CONNECT Arabia |
| United Kingdom | BBC Radio Manchester,BT Sport ESPN |
| United States | WatchESPN,Fox Soccer Plus,ESPN3 USA,fuboTV,FOX Soccer Match Pass |
| Uruguay | FOX Play Latin America,FOX Sports 2 Cono Sur |
| Venezuela | FOX Play Latin America |
| Yemen | beIN SPORTS CONNECT Arabia |
| Zambia | SuperSport 6 Africa |
| Zimbabwe | SuperSport 6 Africa |